Think of China, and what comes to mind? Cheap land, cheap labor, and low manufacturing costs. One does not imagine that high-tech industries such as biotechnology and nanotechnology would be a priority for a government still struggling to feed its population. Yet, since 1993 the Chinese government has provided substantial backing to develop a national expertise in biotech and life sciences, thanks to early support from then vice premier Zhu Rongji.
Shanghai is at the head of this initiative. The city has set up a high-tech industrial park at Zhangjiang, in the fast-growing Pudong New Area east of the city of Shanghai, to nurture startups and foreign-invested ventures in biotech, pharmaceuticals, and life sciences. And just down the road in WuXi is the home of one of the country's top-performing biotech firms: WuXi PharmaTech. The Fast 500 Asia, a ranking of the fastest-growing technology companies in the Asia Pacific region,...
THE SHANGHAI ADVANTAGE
As China's biotech center, Shanghai offers key attractions to international biotech firms. Among them is increased spending. In the past, it was said that Chinese R&D was all about development, as the government pushed for its startups and offshoots to generate revenue. That's changing as the government understands the importance of investing in research. Between 1997 and 2002, it doubled its investment to $9.9 billion. That still left China's combined private and public spending on R&D at 1.29% of its gross domestic product (GDP), roughly half that of the United States, which spent 2.7% of GDP on R&D in 2002. But it was a huge leap from the 0.6% China spent in 1996.
The National Science Foundation now ranks China as the world's third-largest investor in biotech R&D, after the United States and Japan, in terms of purchasing-power parity dollars. Ernest Preeg, author of The Emerging Chinese Advanced-Technology Superstate, forecasts that even if the growth rate of Chinese R&D slows to just two-thirds its former rate, China will be spending 2.1% of its GDP on research by 2010.
China is also investing in people. The number of science and engineering PhDs that China produced totaled 8,153 in 2003, almost double the figure for 1996. China is still dwarfed by the United States, although the number of US doctoral degrees earned in science and engineering fell from 27,243 in 1996 to 25,509 in 2001, the last year for which competitive figures are available. And labor is cheaper: Scientists in China earn roughly 30% less than their US counterparts who have equivalent levels of schooling and education. Setting up facilities in China is far cheaper too, as are research operating costs.
Controversies such as animal testing that can stymie R&D in the United States and Europe are not yet a factor in China, where no advocacy groups are active. Such groups are banned by the government. Moreover, research on stem cells and cloning is encouraged.
China's established hospital network offers opportunities for clinical development, and the nation's emerging role as a global economic and trading force puts it high up the list of every major country, institution and company, regardless of industry. In a typical example of growing links, the Netherlands' Eindhoven University signed a deal with the Northeast University of China in Shenyang, capital of Liaoning province, to set up a biotech institute. Dutch partners in the project include Neusoft Group and Royal Philips Electronics. An open research environment, an influx of overseas-educated Chinese returning to the mainland, and strengthening intellectual property laws due to World Trade Organization accession all contribute to the growth of biotech in this sector in China.
LET'S BE PARTNERS
China already has about 750 R&D centers backed by foreign investments, many of them joint ventures with local partners. In 1994, US firms spent $47 million on R&D at their Chinese affiliates in which they had majority ownership. By 2000, they were spending $506 million. This solid support is now beginning to pay off: Shanghai-based research institutes and biotech firms in health care have developed a substantial pipeline of novel and reformulated therapeutics, with more than 120 compounds in preclinical and clinical trials, according to China-based biotech consultancy General Biologic Group. And in other sectors such as aqua farming and animal feed, local companies are also innovating successfully.
More than a decade of effort has finally sparked multinational interest (see sidebar). In 2002, SK Group of South Korea officially inaugurated SK Bio-Pharmaceuticals Tech Shanghai Co., with funds coming from a $400,000 biotech investment fund set up by the company. In 2003, global pharmaceutical firm Roche of Switzerland announced plans to open an R&D center in Shanghai, which is the second overseas-funded biotech center after Novozyme of Denmark established a life science R&D center in China.
THE DRAWBACKS
The rapid growth of a sophisticated industry such as biotech naturally raises problems in China's still-developing market. The biggest concern is intellectual property protection. China has also had to deal with unreliable clinical results and an extremely bureaucratic regulatory environment. Furthermore, locally trained scientists are often considered lacking in creative-thinking and problem-solving skills because of the rigid educational system, and sometimes they have little experience with the latest technologies. Laboratory facilities can also be substandard. Chinese biotech professionals returning with skills and experience from working in the United States, Europe, and Japan sometimes have trouble readjusting to China's business and academic environment.
Intellectual property rights enforcement, while improving, remains problematic. On the business side, biotech ventures, like all commercial and academic entities in China, face the common problems of contract enforcement, limitations in human resources, and frustration with government relations. And biotechnology investors in China have no easy exit to capital markets unless the company has a US or offshore shell, and even then they face obstacles.
Industry associations are emerging in Shanghai and elsewhere to provide a forum to address these common concerns within the industry and with the government. The biotechnology industry remains at an early stage of development, and to nurture it, say business leaders, the government must continue reforms to enforce intellectual property rights and contracts, offer access to funding from capital markets, and provide funding to attract skilled biotech professionals working overseas to return to China. This would be a tall order for any government.
Shanghai and San Diego: Sister Cities
© Cardoni Gianluca
San Diego, Calif., is seen as a model in China for developing thriving life-science and biotech clusters. A mutually lucrative scenario is developing between San Diego's dynamic life-science and high-tech industries and China, while San Diego attorneys are running interference in what is still a new and risky frontier. San Diego has a huge cluster of biotech, semiconductor, telecom, and software companies, the same industries that Chinese companies are focusing on.
Companies involved in cross-border collaborations include the San Diego-based Aviva Biosciences, Capital-Bio of Beijing (founded by a former scientist at San Diego-based Nanogen), and Acon Laboratories of San Diego with a manufacturing partner, Aeon Biotech in Hangzhou, China. The Acon-Aeon venture is billed as the first US Food and Drug Administration-licensed manufacturer of rapid diagnostic products in China.
Opportunities abound, which is something not lost on Ian Wisenberg of Biocom, a life-science industry association representing more than 450 companies in San Diego and Southern California. Biocom aims to help US companies sell products and license technology in China.
Partnerships at Home and Abroad
© Cardoni Gianluca
Biotech and financial companies are beginning to invest serious resources in Shanghai-based efforts. Here's a sampling:
In June this year, Mitsui & Co. set up a $28 million (US) fund to invest in venture businesses in Japan and China. The major trading house will soon set up an office in Shanghai to look for prospective investment targets. While this is its fourth venture capital fund, it is the first that will invest in Chinese firms. The new fund is to invest in Chinese domestic information technology and biotech firms, as well as restaurants and others that have a short time span from investment to going public, according to the company. Based on the performance of this and its other funds, Mitsui plans to establish a flagship fund of 10 billion yen sometime in fiscal 2006 that will gather funds from a broad range of investors from outside the firm.
The Shanghai-based Chinese National Center for Drug Screening (NCDS), affiliated with the Shanghai Institute of Materia Medica (part of the Chinese Academy of Sciences) is a key national organization based for technology innovation in drug development. The NCDS has a strategic collaboration deal with Cellomics of Pittsburgh, Penn., whereby the Center applies Cellomics' live-cell, high-content screening (HCS) technologies in China. A workshop in April brought together 60 researchers from around the country to see how HCS capabilities could be applied to drug discovery.
Genencor International has announced that it plans to build a new manufacturing facility in the WuXi National Hi-Tech Industrial Development Zone. Genencor has also purchased the remaining approximately 15% interest in Genencor (WuXi) bioproducts from its joint venture partner, the WuXi Enzyme Factory, and intends to operate the new facility as a wholly owned entity. Once completed, the company plans to transfer operations and personnel from its existing manufacturing facility in downtown WuXi to the new facility, which will be several miles away. Genencor decided to relocate to the WuXi Hi-Tech Industrial Park after reviewing site and financing options in several other regions in China. The facility is due to open in 2006.
Shanghai Sunway Biotech has licensed worldwide rights to Onyx-015, a therapy from Emeryville, Calif.-based Onyx Pharmaceuticals. Onyx-015 showed an ability to shrink tumors in midstage clinical trials, but the company abandoned the therapy in 2003. Sunway researchers duplicated its approach after reading a paper that Onyx scientists published in 1996. Onyx's technology was not protected by patents in China because the company had not applied for them. Nonetheless, Sunway now says it wants to develop and sell the treatment in countries where Onyx does have patents, including the United States.
Interested in reading more?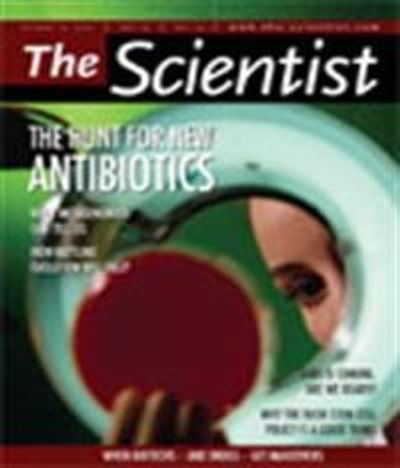 Become a Member of
Receive full access to digital editions of The Scientist, as well as TS Digest, feature stories, more than 35 years of archives, and much more!