EAVESDROPPING ON BACTERIA: Members of the Baltimore Under Ground Science Space learn to assemble a genetic circuit that will indicate when bacteria are "talking" with one another.COURTESY OF BUGSSBioinformatician Patrik D'haeseleer can expertly dissect the metagenomics of plant enzymes and map the genomes of soil bacteria, but before last year he was a novice at plating bacteria and isolating DNA. "I always regretted not being able to do more on the wet lab side," says D'haeseleer, who works at Lawrence Livermore National Laboratory and the US Department of Energy's Joint BioEnergy Institute in California.
In 2010, D'haeseleer received an e-mail from a small group of biology enthusiasts in the San Francisco Bay Area soliciting donations to start a community-operated laboratory. Community lab spaces, also called hackerspaces or hacklabs, have long been popular for engineers, computer programmers, and artists, but the idea of a wet lab workspace for...
The hackerspace raised $35,000 from its online fundraising campaign, surpassing the original $30,000 goal. "It was remarkable how many people came to the cause just by hearing about it," says Eri Gentry, cofounder of the space. "Deep within almost everybody is this love of nature and desire to understand what's going on inside of and around us."
Gentry and the other five cofounders used the funds to rent 2,400 square feet of raw space in Sunnyvale, California, and collected equipment, mostly donated, to fill it. When the nonprofit laboratory, christened "BioCurious," opened its doors in October 2011, D'haeseleer was one of the first members to join.
BioCurious is one of a dozen community DIY biology (DIYbio) hackerspaces in the United States that serve as havens for geeks, engineers, entrepreneurs, and anyone curious about biology. Today, through volunteered time, money, and equipment, and some creative funding schemes, these labs are popping up all over the country and around the world. According to DIYbio.org, a support organization for DIY biologists, there are currently 15 DIY groups in North America, 11 in Europe, two in Asia, and two in Australia/New Zealand. DIYbio community labs accept all manner of biocurious individuals. The labs require basic safety training for new members, then provide access to laboratory equipment and reagents, training in lab techniques and biotechnology, a supportive community, and, paramount to all, space to dabble.
"The goal is just to provide lab space for anyone to do whatever the hell they want," says Cory Tobin, cofounder of a Los Angeles DIYbio lab called LA Biohackers. "It's for people who want to learn biology for any reason."
Across the country, no two community biolabs are alike, and neither are their members. "It's a real eclectic mix of people," says Tom Burkett, founder of a brand-new community lab in downtown Baltimore that has already attracted molecular biology graduate students, artists, computer scientists, retirees, and more. "There are a lot of people who are really interested in biotechnology for lots of different reasons, but it wasn't previously accessible to them."
Critical mass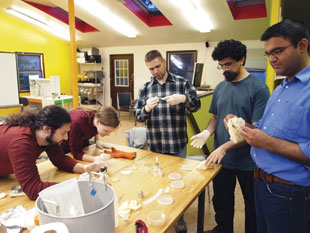 BIOTECH 101: In a weekly class at Boston's Open Source Science Lab, biocurious individuals work on streaking the culture plates they poured.COURTESY OF BOSSLABIn 1976, Apple cofounders Steve Jobs and Steve Wozniak built their first commercial circuit boards in Jobs's bedroom and garage. But unlike engineering or computer programming, molecular biology experiments aren't easy to tackle in one's home. Equipment such as PCR machines and autoclaves are expensive, and most reagent suppliers won't ship to home addresses. Because of these limitations, some argue that equipped community lab spaces are essential for the DIYbio movement.
"We don't 'support' the DIY movement, we are the incarnation of the DIY movement," says molecular biologist Ellen Jorgensen, president and cofounder of Genspace, New York City's community biolab in downtown Brooklyn. "If you want to do anything more meaningful than turn bacteria green, you really have to be part of a group and pool your resources."
Interest in DIYbio community labs is on the rise. In 2010, a Los Angeles DIYbio e-mail list blossomed into group meetings at local coffee shops and finally coalesced into a core team of individuals—including Tobin, a graduate student at the California Institute of Technology and DIYbio enthusiast—that rented a room at a local tech hackerspace. "You definitely need a large city to do it in," Tobin says. "You need a critical mass of people who can all chip in enough money every month."
Local interest was also key to BioCurious's success, says Gentry. "I know how lucky we are to be in the Bay Area with a wealth of resources and a strong Meetup community," she says, referring to the community event-planning website. "When we ask for help, we usually get it."
Participation is also growing at Boston's Open Source Science Lab, or BOSSLAB. Tucked into a room of a two-story house in Somerville, Massachusetts, BOSSLAB is run by Avery Louie, an undergraduate mechanical engineer at Olin College. In 2009, two local DIYbio enthusiasts leaving town bequeathed Louie a rent-free room full of laboratory equipment. "I realized I had a problem. I had a lab with no one in it," he says. Louie dashed off a series of e-mails to local Boston bio enthusiasts and soon had enough participants to fill multiple safety and lab techniques classes. He currently uses the $200-per-person class fee to pay for reagents and lab supplies, and plans to continue running classes to attract more individuals to the space. "It all depends on who comes and what they want out of it," says Louie.
But a large city and local interest is not always enough to launch a community laboratory, as Michal Galdzicki discovered in Seattle, which is home to a thriving DIY movement and an enthusiastic online community of bioentrepreneurs. In 2010, the virtual community began to meet in person and officially founded a Seattle DIYbio group. The group had aspirations to find wet lab space and launch a community research project, but after numerous meetings at local restaurants and pubs, the group failed to meet either of those goals. "We'd meet and have a pint rather than do a project," says group member Galdzicki, a bioinformatician at the University of Washington School of Medicine.
The goal is just to provide lab space for anyone to do whatever the hell they want. It's for people who want to learn biology for any reason.—­Cory Tobin,
Cofounder, LA Biohackers
In September 2011, Galdzicki declared online that "DIYbio-Seattle is dead." In retrospect, he attributes the failure to the lack of a ringleader. "At some point, someone has to take a leadership role and take on the responsibility for the group," says Galdzicki. No one did, and the group dissolved.
Now, science illustrator and neurology student Bergen McMurray is trying to revive it. "After a year of wishing there were a biomaker space in Seattle, I just decided to start one," she says. An entrepreneur with experience running a small company, McMurray arranged a 6-month deal for a low-rent space at Hackerbot Labs in south Seattle, and is currently attempting to find donated equipment to furnish it. "We are definitely still in the gestation phase," she says.
Making ends meet
Just as important as commitment and leadership is the funding to equip and sustain a community laboratory. "Out of all hackerspaces, DIYbio is notoriously expensive," says McMurray.
The largest initial cost for a community laboratory is equipment, so most organizations have attempted to furnish their labs primarily through donations—and some creative thinking. LA Biohackers furnished their downtown Los Angeles lab through a combination of donations, auctions at local universities, and dumpster diving: members found two thermal cyclers behind a dumpster at the University of California, Los Angeles, and a DNA sequencer at the University of California, Santa Cruz. "They're old, but they still work," says Tobin.
Equipment aside, just paying the rent for a space can be difficult. After sponsoring a team from Baltimore at iGEM, a premiere undergraduate synthetic biology competition, in the summer 2011, Tom Burkett, a biotechnology professor at the Community College of Baltimore County, realized there was lots of local interest in a community wet lab space. Burkett initially reached out to the National Science Foundation for help, but received no funding support. So when he found a 2,700-square-foot location in downtown Baltimore last summer, "it was time to put up or shut up," says Burkett. He paid the rent from his own pocket, and launched the Baltimore Under Ground Science Space, BUGSS. The facility opened last September for weekend workshops and now offers $85 monthly memberships. "I'll do it for a year, and see if it can become sustainable within that time," says Burkett.
To pay the bills, most community labs rely on member fees and contributions. LA Biohackers, for example, which recently moved to a 1,350-square-foot space in a downtown LA warehouse, plans to charge members $50 per month to use the space, and NYC's Genspace, which opened in December 2010 in Brooklyn, collects $100 per month from 20 regular members. DIYbio labs also frequently offer classes as a source of income, such as Genspace's PCR & Pizza and a Biohacker Boot Camp.
But Burkett is not optimistic that membership and class fees will sustain his new Baltimore lab in the long run. To give himself the best chances of success, he and two cofounders started a for-profit arm of the laboratory called Chesapeake BioWorks, a start-up designed to sell biotechnology education and training materials to schools and DIY biologists. "Lots of for-profit companies have a nonprofit to support the mission of the for-profit," says Burkett. "We're trying to turn that around a little bit."
Here to stay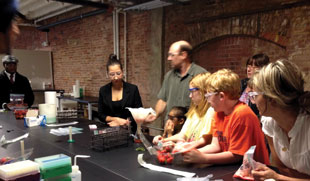 SWEET DNA: DIYers of all ages learn to extract DNA from strawberries using common household ingredients, then examine the chromatin fibers under a microscope at the Baltimore Under Ground Science Space.COURTESY OF BUGGSBiology community laboratories are still young and have yet to prove their staying power, but that hasn't discouraged a growing following. "We get calls every month from people trying to set up a group like ours in another city," says Genspace's Jorgensen.
"I don't see community interest in biological work going away," adds Gentry. "The dream is to help anybody who wants to get involved in science to do so."
In San Francisco, BioCurious is still going strong after a year of operation: the lab is open 10 hours a day, 7 days a week; is staffed by 50-plus volunteers; and offers lab safety and biotech classes for the community. They also host two community projects, one of which is led by D'haeseleer. Over the last year, his team built a bioprinter from scratch, using an old inkjet printer and motors scavenged from CD drives. They've already printed bacteria on a plate in the shape of "I ♥ BioCurious" and have plans to eventually print plant cells onto sheets and roll them into stems to graft onto live plants. They even have aspirations to print a photosynthetic leaf, says D'haeseleer.
"It's really invigorating to just try out ideas, and there's no one to tell you they're stupid," says D'haeseleer. "Everyone is there to learn something, and we're all teaching each other."
Interested in reading more?
Become a Member of
Receive full access to digital editions of The Scientist, as well as TS Digest, feature stories, more than 35 years of archives, and much more!