© SIRUP/ISTOCKPHOTO.COMAfter more than a decade of work on a drug to increase female libido, German pharmaceutical company Boehringer Ingelheim threw in the towel. Since 1999 it had poured buckets of time and money into flibanserin, a once-daily pill that company executives hoped would become the first approved drug for treating female sexual dysfunction (FSD), a condition broadly defined to include low sexual desire, trouble reaching orgasm or pain during sex. Flibanserin was designed to increase libido by altering levels of neurotransmitters in the brain, but in 2010, a US Food and Drug Administration (FDA) advisory committee rejected the drug, arguing that its benefits—in Phase 3 trials, women who took flibanserin felt more desire and had more "satisfying sexual events"—did not outweigh its side effects, which included dizziness and fatigue that caused 15 percent of users to discontinue treatment. Following the FDA's rejection, Boehringer shuttered the program, opting...
A year later, North Carolina–based Sprout Pharmaceuticals, acquired the drug from Boehringer and quickly resubmitted it to the FDA, this time with data from 14 additional studies including 3,000 new patients, which showed that, in a month's time, flibanserin doubled a woman's number of satisfying sexual experiences, increased her desire, and decreased her distress. But side effects still included drowsiness and dizziness, as well as nausea. Once again, the FDA was not turned on. In October 2013, the agency rejected the drug for the second time, stating that its "modest" effect did not outweigh its risks.
There are currently six types of drugs on the market for men suffering from sexual dysfunction, primarily erectile dysfunction, approved and sold under 25 different names and formulations. Still, the FDA has not approved a single drug for low sexual desire in women. It's not for lack of a market, gynecologists agree. In addition to anecdotal reports of women seeking treatment for sexual dysfunction, off-label use of hormone products to treat the condition is not uncommon.
In fact, drug makers and media outlets often suggest that the market for female sexual dysfunction (FSD) could be as large as 43 percent of American women—a statistic from an oft-cited 1999 survey of 1,749 women.1 A later survey of more than 31,000 women (funded by Boehringer) reported that the true proportion of women suffering from FSD—which medical and FDA criteria define as not only the lack of sexual desire or satisfaction, but distress about it—is actually closer to 12 percent.2 But "that's still quite high," says Jan Shifren, associate professor of obstetrics, gynecology, and reproductive biology at Harvard Medical School and lead author of the study. "That's one in eight women who are distressed about a sexual problem."
Luckily for those women, Sprout hasn't given up on developing an approvable drug, nor have a small number of other biotech companies. Each seeks to be the first in an untapped market estimated to be worth more than $2 billion. But it's an uphill climb: the field's history of failure has scared away investments from Big Pharma, and there is little guidance from the FDA on what it will take for the agency to approve such a drug.
"It's not the easiest indication," admits Carl Spana, president and CEO of Palatin Technologies, a New Jersey–based company developing a therapeutic for FSD. "But we hope the drugs are soon to come."
Just one approval would make all the difference, adds Leah Millheiser, director of the Female Sexual Medicine Program at Stanford University School of Medicine. In 1998, "Viagra opened the door for men. We need that same thing for women," she says.
Sex on the brain
Flibanserin isn't the only potential FSD drug that did not (ahem) climax. In late 2011, a testosterone ointment called LibiGel, developed by Illinois-based BioSante Pharmaceuticals, proved to be no more effective than a placebo in two Phase 3 trials that enrolled more than 1,000 women for six months of therapy. Pfizer made a run at treating women with Viagra, but failed in 2004 because the drug had little effect on female arousal. The FDA rejected Procter & Gamble's testosterone patch, Intrinsa, the same year, saying that while it had a meaningful effect on female desire and satisfaction in the study population—women whose ovaries had been removed—the company presented too few data to prove the treatment's long-term safety.
In addition to a difficult regulatory environment, researchers hoping to develop an FSD drug are also challenged with a limited understanding of the cause of low libido in women. Diminished female sex drive is assumed to come largely from the brain. "Ninety-nine percent of libido is from the neck up," says Shifren. The actual neurological mechanism by which that occurs is unknown, however. In 2009, Millheiser and colleagues identified a potential piece of the puzzle. Using functional MRI scans, they found lower activation of the entorhinal cortex, an area of the limbic system involved in laying down positive emotional memories, in women with low libido than in those with normal sex drives.3 The finding suggests women suffering from low desire may not successfully store memories from healthy sexual events, and therefore cannot later retrieve those memories to motivate themselves to initiate or enjoy new sexual experiences. "It may not be the whole story, but it was a significant difference," says Millheiser.
Drug companies have not waited for the full story to be written, and instead have simply begun targeting parts of the brain known to be associated with sexual function. Flibanserin is a small molecule that binds to two different serotonin receptors in the brain and is thought to affect sexual desire by increasing brain levels of dopamine and norepinephrine—hormones believed to excite the sexual response—as well as decreasing levels of serotonin, which is thought to have an inhibitory effect. While Sprout continues to work toward the drug's approval, New Jersey–based S1 Biopharma is developing a similar FSD drug called Lorexys. The oral, nonhormonal drug, which began a Phase 2a clinical trial last year, is a combination of two antidepressants, bupropion and trazodone, which, like flibanserin, attempts to rebalance levels of dopamine, serotonin, and norepinephrine in the brain.
We have to trust the FDA is looking out for safety, but at the same time we have to look at why is there this discrepancy between what they're approving for men and women.—­Leah Millheiser,
Stanford University School of Medicine
Taking a different approach, Palatin Technologies is set to launch a Phase 3 trial for its FSD drug candidate bremelanotide, a synthetic hormone that acts in the hypothalamus, where it targets the melanocortin receptor, believed to be involved in upregulating a woman's sexual response to appropriate cues. (See "Let's Talk About Sex.") "A lot of women with FSD can sense sexual cues, but don't get the response they used to get," says CEO Spana. "Bremelanotide helps to restore that response." Bremelanotide is taken episodically, like Viagra, rather than daily like flibanserin, but it is delivered into the bloodstream via an injection in the leg, which may turn off potential users. Spana says the company is also looking into a patch technology that could be developed after the drug is approved in its current form.
And at Netherlands-based biotech Emotional Brain, researchers are developing two drug candidates for FSD: Lybrido and Lybridos. The former combines testosterone with sildenafil, the active ingredient in Viagra that promotes blood flow to the genitals; the latter combines testosterone with buspirone, which suppresses serotonin release. The company has completed Phase 2 trials for both drug candidates and is now planning the Phase 3 trials.
Although each company is testing different compounds, they share one overarching challenge—proving their drug truly improves low sexual desire in women enough to warrant the risk of side effects. And without robust, accepted ways to measure changes in libido (see "Quantifying Libido" below), documenting improvement can be nearly impossible.
Battle of the sexes
In October 2013, when the FDA declined once again to approve flibanserin, Sprout president Cindy Whitehead was surprised. "Candidly, yes. We really felt we had met [their] requirements," says Whitehead. Anita Clayton, a psychiatrist and professor of clinical obstetrics and gynecology at the University of Virginia School of Medicine and a paid consultant for Sprout, S1, and Palatin, was downright angry. "There's this attitude that women can't think for themselves, or weigh options and choices," says Clayton. "[The FDA] is acting in this paternalistic way, to say there really can't be any risk—none, zero, nothing—or else we're not going to approve this drug for women."
Indeed, marketed drugs for male sexual dysfunction are not without side effects. Earlier this year, for example, a large NIH-funded study found that prescription testosterone raises the risk of heart attacks in older and middle-aged men. But just two months later, the FDA approved yet another testosterone replacement therapy, Endo Pharmaceuticals' Aveed, which also has warning labels for serious lung problems and anaphylaxis. "Yet no one batted an eyelash!" says Millheiser. "We have to trust the FDA is looking out for safety, but at the same time we have to look at why is there this discrepancy between what they're approving for men and women."
In January, Clayton and seven different women's groups, including the National Organization for Women and the Society for Women's Health Research, met with the FDA's head of pharmaceuticals, Janet Woodcock, to express concerns over the agency's flibanserin rejection. That's not to say all women's organizations support the approval of flibanserin. A group of women's consumer and health organizations, including the American Medical Women's Association and the National Women's Health Network, a nonprofit women's health advocacy organization, wrote a public letter to Woodcock in support of the FDA's decision. "The benefits [of flibanserin] did not outweigh the risks," they wrote, citing the drug's "worrisome side effects profile" and "unknown long-term effects." And in an article published in Slate in April, journalist turned congressional investigator Paul Thacker accused Sprout of engineering and spreading the idea that flibanserin's rejection was due to sexism at the FDA.
The FDA "carefully weighs the risks and benefits of each drug the agency reviews," according to FDA spokesperson Andrea Fischer. The agency has also identified FSD as one of 20 disease areas of "high priority and focused attention," she notes.
The debate remains heated, but Sprout has made clear that it will continue to seek approval for the drug. In response to its October rejection, Sprout took the rare step of filing an appeal through the FDA's Formal Dispute Resolution process. In February this year, the company received a response from the FDA: do three additional Phase 1 studies to test for any driving impairment while taking flibanserin and to assess the drug's effect on two enzyme pathways in the liver to understand potential drug interactions. Whitehead hopes this means they are close to a conclusion. "We now have a very straightforward path ahead," she says. Sprout expects to complete the studies by the end of the summer and resubmit in early fall.
If flibanserin is approved, some 13 years after the first study of the drug began, companies hope it will blaze a path for other drugs. "Everybody is just saying, 'Somebody cross the finish line already,'" says Whitehead. "Let's just get women some options. It's been a long time coming."
© JOWAHA/ISTOCKPHOTO.COMIn men, the most common form of sexual dysfunction is erectile dysfunction, which is straightforward to measure—one can see and count erections—and often simple to treat with drugs that increase blood flow to the penis, as the most common cause is vascular. But sexual problems in women have proven more difficult to characterize. "The big issue with women is low sex drive. Well, how do you quantify that? What's an objective measure that a doctor can record?" asks Leah Millheiser of Stanford University School of Medicine. "This has been the problem with finding a drug for women."
One of the drug endpoints that flibanserin did not initially meet in 2010 was increased desire as documented in a daily electronic diary. Academic research indicates that women do not think about desire on a daily basis, and it appears now that the US Food and Drug Administration (FDA) may be willing to accept a monthly assessment of desire as an endpoint instead. A second endpoint in FSD drug trials asks women to count satisfying sexual events, similar to men counting erections to assess effectiveness of an erectile dysfunction drug. But once again, argues Carl Spana, "it's a flawed endpoint." Women with FSD aren't going from zero sexual events to five sexual events per week, but rather having a little more sex that is a lot more satisfying. "If you talk to women, actually listen to them, it's quite a meaningful change," says Spana, president and CEO of Palatin Technologies. But the FDA-required endpoint asks only for numbers of events, so no matter how good the sex or how happy the woman, if there are no large increases in the number of sexual events, a drug may not be judged effective enough by the FDA to warrant approval. In the future, the FDA will be "actively soliciting patients' perspectives on their condition and its impact on daily life," according to an FDA statement sent to The Scientist.
So companies continue to seek new ways to measure changes in desire—Palatin Technologies' upcoming clinical trial will include structured interviews that ask women to describe how meaningful their sexual experiences are—but endpoints remain a bone of contention in the field.
References
E.O. Laumann et al., "Sexual dysfunction in the United States: prevalence and predictors," JAMA, 281:537-44, 1999.
J.L. Shifren et al., "Sexual problems and distress in United States women: prevalence and correlates," Obstetrics & Gynecology, 112:970-78, 2008.
B.A. Arnow et al., "Women with hypoactive sexual desire disorder compared to normal females: A functional magnetic resonance imaging study," Behav Neurosci, 158:484-502, 2009.
Interested in reading more?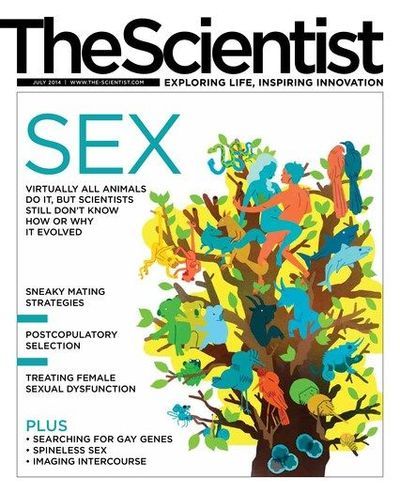 Become a Member of
Receive full access to digital editions of The Scientist, as well as TS Digest, feature stories, more than 35 years of archives, and much more!