Frank Eeckman, cofounder and chief scientific officer of Centient Consulting, a San Diego firm that advises biotechnology and pharmaceutical companies, once heard a venture capitalist describe a biotech startup company as a "boat on fire," meaning that everyone on the boat needs to paddle as hard as they can lest all be lost.
While less bureaucracy, the freedom to try different jobs, intellectual satisfaction, and potentially lucrative stock options lure many scientists into small biotech companies, leaving a solid position in industry or academia can be a relatively risky move. A sizeable proportion of biopharmaceutical startups close up shop every year (see bar chart).
"Only a subset of people really fit into (the startup) environment," says Eeckman. Scientists should be prepared to work long hours, explain and promote their research to investors or other nonscientists, and have a teamwork-oriented mindset that keeps the group rowing the boat towards shore. However,...
WHY A STARTUP?
Opportunities to join biotechnology startups are ample; there are 4000 private biotech companies worldwide, with approximately 50% based in the United States.1 "For good, smart people, this industry is so vibrant," says Gary Kurtzman, chief operating officer and managing director of BioAdvance, a Philadelphia-based company that helps life scientists found startups in the region.
One primary attraction for scientist is the ability to translate lab work into technologies that help people. Jean-Pierre Sommadossi, current CEO of Idenix, says he left behind 17 years of academia and a tenured position to found the Cambridge, Mass.-based startup in 1998, because he liked both discovery and development, and he wanted to bring his ideas to market. The company went public in July 2004.
Nathaniel A. Brown decided to leave GlaxoSmithKline to become chief medical officer at Idenix, because the small company offered the possibility of trying different jobs, and taking on bigger responsibilities. Without a big bureaucracy, it was also much easier for Brown to make decisions. At the pharmaceutical giant, it took months of committee work to make a decision about a clinical trial, he says, while the same conclusion can be reached at Idenix in 10 minutes of talking to three or four key people.
However, small size has its downside. Without a bureaucracy, people are held more accountable for their decisions, says Brown. The small number of employees means that often not enough hands are available to finish crucial tasks before the money runs out. Such tight deadlines forced Marc Brown, chief technology officer at the UK-based startup MedPharm, to work a "ridiculous" amount during the company's early days, around 80 hours per week, he recalls. (Now that the company employees 36 people, Brown says he has cut his time down to around 60 to 70 hours per week.)
If funding runs out, there might not be enough money available for salaries. What's more, having only enough money for a year or two of operation can mean little or no time for mistakes. Sommadossi recalls that within Idenix's first 18 months, he had to discontinue development of a drug after he realized it was unlikely to make it to market. With only six months of cash left, he and his coworkers scrambled to find another drug candidate, and the technology they discovered is now in Phase III clinical trials. Sometimes, the decisions people make at startups can be critically important, he says.
Clearly, having a high tolerance for risk and uncertainty helps. Malcolm Sims of the innovation and enterprise unit of Queen Mary University in London says he has helped academic researchers found 25 startups. Of those 25, only five have either made it onto a stock market or been bought by other companies, and the same number have become "dormant." For the remaining 15, it's too soon to tell, he says. "There's an expectation of a quite high failure rate," Sims notes. This may be particularly true in the United Kingdom, he says, where, in the fiscal year 2002-2003, a survey showed that one university-backed startup emerged from every $38 million of research income. In contrast, American universities generated an average of $100 million in research income before creating a startup, showing that UK schools form more startups, and provide more opportunities to fail, relative to their research incomes.
HOW TO PICK A WINNER
To increase the odds of choosing a successful company, Orgambide recommends meeting the scientists who did the seed research. "If the science is flawed, you will detect that," he says. However, a good company needs more than just good science; it also needs to the science to make money. Only one out of approximately 5,000 drug candidates eventually becomes a product, and only one-third of those make enough money to turn a profit.1
While it helps to ask the startup's managers why they believe a technology will make money, it's also a good idea to formulate an opinion based on market research reports or articles on recent biotech trends. Know the company's history and its main competitors. Attend business courses, seminars, or events featuring people who have established biotech companies, recommends Sims.
How Healthy is the Startup? Top Questions to Ask
• What kind of business experience do managers at the company have?
• How much money does the company have left?
• Why do you think the company will make money?
• What is the size of the target market, and is it growing?
• What exactly will my responsibilities be?
• Is the lab built? Will I be able to do science right away, or is there more prep work needed?
• Does the company have strong patent protection?
• Who is on the Scientific Advisory Board?
• Who are the investors, and can I meet them?
It may be particularly risky to choose a startup that bases its future on a so-called "me too" drug, or a variation on an existing product, says Stefan Gross, staff scientist at Cambridge, Mass.-based Altus Pharmaceuticals, who helped found a startup that was later bought. Market size is not infinite, he says, and there is room for only a small number of companies. The ideal technology is "flexible," meaning it can have different applications, or different sources of income.
A good shortcut is to look at who is funding the startup, says Eeckman. Meet the investors, if possible, and determine if they have already invested in successful biotechnology companies. If so, chances are they know what they are doing, he says, and if they have faith in the company, it's likely on the right track.
Idenix's Brown says he was able to judge the company's prospects after seeing some preclinical data. He was already an expert in antiviral drugs (the company's focus) and therefore knew that a market existed for what they were doing. He saw that the company was backed by MPM Capital, a venture capital firm based in Boston and San Francisco that had a good track record of investing in successful biotech companies. Brown also knows most of the scientific advisors, and trusts their judgment. "If they believe in Idenix, I probably should too," he says.
Scientists should also look closely at the management team, says Orgambide, and make sure the top people have experience with business, which venture capitalists like to see. Scientists should "believe managers have the ability to steer the ship," says Kurtzman.
Scientists should ask about specific job responsibilities, says Tamara Zemlo, director of scientific and medical communications at The Science Advisory Board based in Arlington, Va. "There might be all these hidden responsibilities that you are not aware of," she advises. Asking how far along the company is – for instance, is the lab built? – will tell you if you can jump right into research, or if a lot of preparation work remains.
Another factor to consider is the amount of time the company has before the most recent wave of funding runs out. Determine how much money the company has left, and whether it's possible to finish the work in the amount of time that money will buy.
One way to decide if you're cut out for this work is to ask friends or colleagues if they think it's a good fit for your personality. If so, it may be worth the risks and work involved. Despite the long hours and pressures of starting a company, MedPharm's Brown says it was all worth it. "I am happy I did it."
Eeckman recounts the industry equivalent of an urban legend, which suggests that scientists with a can-do mindset would be a perfect fit for a fledgling company. The story is about a biotech startup that moved offices, and on the first day at the new facility, each employee found a box containing an unassembled desk where he or she was supposed to work. At lunchtime, the managers visited every employee to see how they had handled the situation. "And everybody who had a desk had a job," says Eeckman.
Interested in reading more?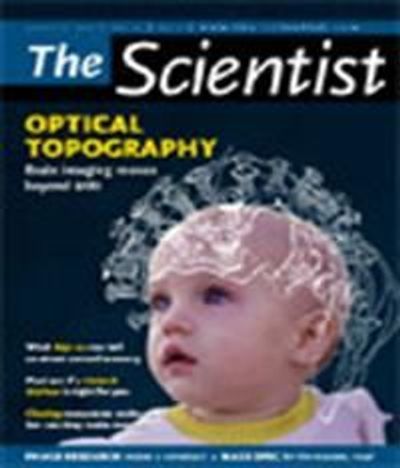 Become a Member of
Receive full access to digital editions of The Scientist, as well as TS Digest, feature stories, more than 35 years of archives, and much more!