In the fall of 2003, Karen Gotting-Smith thought her new job as project leader at AstraZeneca in charge of launching the cholesterol-lowering drug Crestor (rosuvastatin) in the US and global market would be relatively straightforward. After all, Crestor had already been approved in Europe the year before, and just that summer got a nod from a public Food and Drug Administration advisory committee.
But launching Crestor turned out to be much more complicated than Gotting-Smith anticipated. In 2001, Bayer Pharmaceutical withdrew its statin Baycol from the market after finding it could induce a fatal release of muscle cells into the bloodstream, thereby causing public sentiment toward statins - which inhibit the cholesterol-forming enzyme HMG-CoA reductase - to become tainted. On top of it all, Crestor had the disadvantage of being the sixth statin to enter the market.
Gotting-Smith and her team had to come up with...
The Crestor challenge was like ones she had faced since the beginning of her career. Today, in her new role at AstraZeneca as Vice President of Continuous Improvement and Business Performance, her primary goals are to not only increase the speed and efficiency at which drugs come to market, but to increase the quality - all while reducing costs. "I've always been someone very much looking for a challenge to overcome, in many aspects of my life," she says. It's a quality that will likely come in handy in her newly-created position, a version of which seems to be popping up across the industry.
Learning the ropes
Gotting-Smith started her scientific career with an interest in oncology - particularly, wanting to know why it remained such a recalcitrant disease with so many minds devoted to curing it. To her, the challenge of understanding and treating cancer was irresistible. "That's why oncology captured my imagination," she says.
As a PhD student, she studied hormones in breast and prostate cancer, then decided that she wanted to be more involved in bringing treatments to patients, rather than working at a bench. Once she finished her PhD, she worked as a pharmaceutical sales rep at Sandoz (now Novartis) until the clinical research associate position she had been eyeing at Imperial Chemical Industries (now part of AstraZeneca) finally opened up.
As a clinical research associate, Gotting-Smith was in charge of setting up clinical trials for the anti-androgen drug Casodex (bicalutamide) to treat prostate cancer. She established trial sites in hospitals and then monitored the collection of data and patient recruitment. During those years, "that's really where I developed a love and passion for drug development." Gotting-Smith was soon promoted to drug team leader for prostate cancer and had physicians reporting to her during the development of Casodex and another prostate drug, the testosterone-lowering LHRH agonist Zoladex (goserelin acetate). Zoladex is currently the second best-selling drug of its class in the world.
In 1994, Gotting-Smith turned her sights on Japan. Her company (by then called Zeneca) had some early trials of Casodex underway in Japan but the drug hadn't been approved by the Japanese regulatory agency.
Gotting-Smith spent two years traveling back and forth between England and Japan, working with the Japanese team to organize their clinical data and establish a dosing regimen. As one of the first female, non-physicians who made the trip to Japan on behalf of Zeneca, and being tall - 5 feet 10 inches - "every aspect of me was so alien," she remembers with a laugh. "I really concentrated on developing strong relationships with the clinical team out there." And strong relationships helped her stay optimistic. In 1999 Casodex was approved in Japan, and it's been a top-selling oncology drug ever since.
At the end of 1998, Gotting-Smith's husband (also an employee at Zeneca, even though they met during their undergraduate years) had the opportunity to relocate to the company's Wilmington, Del., location. No sooner had the family moved than the merger of Zeneca with Astra was announced and Gotting-Smith's job role changed again.
During the merger, she participated in working groups to integrate the two companies' clinical programs, and was soon promoted to global product developer. In this new role, she began managing all aspects of bringing a drug to market, from toxicology and regulatory elements, to manufacturing, marketing and patents. Tackling such wide-ranging areas didn't faze her. "I never am intimidated" by such large new challenges, Gotting-Smith says. "I always have the confidence that people [I'm managing], they're the ones with the skills. I don't need to be an expert in those areas, I just need to lead them, help them make good decisions, and integrate the whole team."
Gotting-Smith has the traits that make her a great motivator, says Bob Holland, AstraZeneca's VP for the neuroscience therapy area, who worked closely with Gotting-Smith before the 1999 merger. "People have to see that their leaders really do believe in what they're trying to get accomplished. And Karen's people see that she really does."
When tackling the Crestor challenge, Gotting-Smith's team devised a Web site where people could come and see the most recent data on the drug. The company updated charts and graphics at least once a month, demonstrating that Crestor had a good safety and efficacy profile. Her team also launched a global pharmacoepidemiology study of Crestor (the largest such study the company had ever done) which looked back at all the people who had taken the drug and showed that it was in line with the safety and efficacy of the other statins on the market.
In 2005, once Crestor had reached blockbuster status, Gotting-Smith became head of all clinical development in the US, with the primary charge to reduce costs of clinical trials. To that end, she initiated the outsourcing of all trial monitoring to external companies effective in September of last year, and in March of this year began transitioning all US data management to India.
Also while in this position, Gotting-Smith launched six pilot clinical trials to see if they could get contracted and up and running faster than the traditional trial, by implementing "Six Sigma" protocol, designed originally to reduce manufacturing inefficiencies. Using these principles, which include eliminating time-wasting steps, there was some level of improvement - either in time or cost - in each trial, and the new principles were expanded or applied throughout the company.
The streamline challenge
In her new position as Vice President of Continuous Improvement and Business Performance, which she officially began in May of this year, Gotting-Smith is tapping her more than 15 years' worth of experience to further streamline and up the efficiency of drug development. Her three prime directives are to help decrease the amount of time it takes for a drug to come to market from the 12-year industry standard to 8 years, increase the quality of the drugs in development, and lower the cost. (Gotting-Smith declined to give exact targets on cost reduction or quality improvement.) In addition, she will be helping AstraZeneca achieve its goal of releasing two new drug products every year, starting in 2010.
In a typical week, Gotting-Smith has daily video and teleconferences with scientists and project managers, all working to streamline the process of bringing drugs to market. Two smaller teams of approximately eight improvement directors report directly to her, and are responsible for managing the company's portfolio and implementing the improvement strategies they come up with together. Five networks of similar teams across the world check in with Gotting-Smith on a regular basis as well.
In order to meet new efficiency goals, it makes sense to create such a position, says Martin Watterson, co-director of the Northwestern University Center for Drug Discovery and Chemical Biology. "You want to make fewer compounds that are smarter," meaning the compounds have a higher chance of making it to the market. Currently, only about one in 11 drugs that go into development make it to the market, and choosing which one to pursue depends on cost-risk assessments. "You need somebody to be in charge of that," says Watterson.
This new position in AstraZeneca could better coordinate how every level of the company is moving to improve the efficiency of drug development, Joseph DiMasi, director of economic analysis at the Tufts Center for the Study of Drug Development, writes in an E-mail. "The pharmaceutical firms have been benchmarking their drug development processes for more than a decade," he says. They're doing this "with an eye toward increasing the speed and reducing the cost with which new drugs are brought to market."
A version of Gotting-Smith's position exists in several of the other large pharmaceutical companies. At the beginning of this year, Pfizer appointed a global head of continuous improvement, in charge of bringing better drugs to the market more quickly. Bristol-Myers Squibb has a senior vice president of strategy and improvement who is responsible for upping efficiency across the company's entire portfolio, as well as a vice president of research and development who has similar responsibilities on the R&D side. And Johnson & Johnson appointed a new head of drug development at the end of last year, who is responsible for streamlining development across the whole portfolio, and the company had been implementing the Six Sigma protocol for several years.
But will any of it work? Companies looking to improve efficiencies have a long way to go: In the past 20 years companies have grown so big that costs have become uncontrollable, says Pedro Cuatrecasas, biochemist and adjunct professor of pharmacology and medicine at the University of California, San Diego. Plus, it doesn't make sense to apply across-the-board protocols like Sigma Six to pharmaceutical development, he adds. "Every drug is different, with different properties and different problems. Each needs different attention. Just to introduce a new system for making decisions or for streamlining ends up just causing greater confusion."
Gotting-Smith, however, hasn't lost an ounce of her optimism. "I still feel I'm in the industry to do what I joined it to do: To develop drugs." As far as external expectations of what pharmas like AstraZeneca should be able to achieve, "My role now is to work with a very large organization, globally complex, with challenging diseases that they're developing drugs for to overcome those challenges. We all have to rise to the challenge of expectations."
Interested in reading more?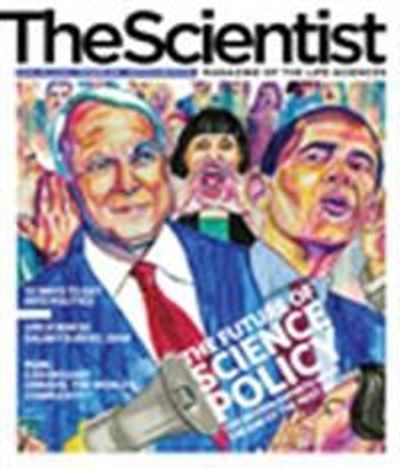 Become a Member of
Receive full access to digital editions of The Scientist, as well as TS Digest, feature stories, more than 35 years of archives, and much more!