Last November, California voters passed a $3 billion proposition, fondly known as Prop. 71, to fund stem cell research. Another science-related proposition passed at the same time, but without the worldwide media attention. That measure, Prop. 69, authorized a huge expansion of California's forensic DNA database.
Effective immediately, law enforcement workers will collect DNA samples from all adult and juvenile felons, not just violent offenders. And by 2009, every adult arrested in California on suspicion of a felony or certain misdemeanors – convicted or not – will have to provide cheek-swab samples for analysis. California is not alone. Prop 69 is just one of the most recent examples of the move in the United States to make DNA databases more comprehensive. All 50 states have long required felons convicted of murder or sex crimes to forfeit a DNA sample, but now the trend is to go beyond registering only violent...
UK LEADS THE WAY IN DNA DATABASES
In the United States, such DNA sweeps have so far been rarely employed. The latest high-profile example comes from the small Massachusetts town of Truro, where police investigating a three-year-old murder asked male residents to volunteer saliva samples. In other countries, including Great Britain and Germany, DNA dragnets have been used more routinely. The United Kingdom was home to the first DNA sweep in 1987, when police used the tactic to investigate the murders of two teenagers; it led to the arrest of Colin Pitchfork, though indirectly. Police discovered that he had paid another man to submit a DNA sample for him.
The United Kingdom is well known to be at the fore of forensic DNA data banking, with police permitted to take DNA samples from "anyone suspected of, charged with, reported for, or convicted of a recordable offence." Britain's National DNA Database currently contains close to 3 million offender profiles, and the Forensic Science Service says its fully automated profiling system allows it to process and bank more than 40,000 samples per month.
Cost has so far not been a major issue in this massive undertaking, according to Helen Wallace of the watchdog group GeneWatch UK. The group recently published a report criticizing the UK's national database as lacking transparency and safeguards, and as essentially creating a "permanent list of suspects" that includes people never actually charged with a crime. Money, along with a host of concerns, could become a big issue, Wallace says, if the government moves toward a population-wide DNA database, an idea that has been repeatedly bandied about in recent years.
COUNTING THE COST
In California, an Orange County businessman, whose brother and sister-in-law were killed by a serial murderer in the pre-DNA era, bankrolled Prop. 69. A $7 million loan to the Department of Justice from the state's General Fund will help get the expansion rolling. The yearly costs to local law enforcement agencies are supposed to be covered by a $1 surcharge for every $10 convicted offenders are ordered to pay as part of their sentences (for a host of crimes, right down to littering). The revenue that the penalty fee generates is expected to "more than fully offset" the annual cost of the database expansion, says Nathan Barankin, communications director for State Attorney General Bill Lockyer.
California's Legislative Analyst's Office estimates that the measure, once it's fully implemented and the initial influx of new samples levels off, will bring the cost of the state's DNA database to $20 million per year. Not everyone, however, is convinced that the criminal-penalty fee will cover the cost of the cash-strapped state's database expansion.
Friedman contends that officials have failed to appreciate the full scope of the footwork, lab work and paperwork involved in Prop. 69. She notes, for example, that the retroactive law requires collecting DNA from people out on parole and on probation. "I personally feel it's very doubtful it will cover the costs," she says. Other critics of the database expansion, including privacy advocates and the National Black Police Association, say the measure could be much more expensive than estimated, as it makes up to 500,000 people immediately eligible for DNA collection.
Pennsylvania has a new all-felons law in effect this year, and officials there predict it will greatly boost the workload at the single State Police forensics lab that processes offender samples. The expectation is that 130,000 kits will come to the lab in the first year, a more than 10-fold increase over years past, says Harry Fox, director of the State Police's scientific services division. After that, the yearly total should be between 30,000 and 40,000 kits.
But unlike California, the Pennsylvania law is a "nonfunded mandate." Some grant money from the National Institute of Justice will pay for new equipment and overtime pay, according to Fox. "But, while these are nice, we still need the people to do the work," he says
About eight people normally analyze samples at the state's main DNA forensics lab in Greensburg, where all offender samples are processed, while a similar number handle crime-scene DNA evidence. Some workers in the latter group have been reassigned to help with the influx of samples, according to Fox. The crime lab has been awarded a grant that would partially fund two new positions, he says, but the state has yet to approve those slots. Like California, Pennsylvania will be switching to cheek swabs in order to cut the cost of having healthcare professionals collect blood samples from inmates. The cheek swab kits, supplied by Bode Technology Group in Springfield, Va., will cost the Pennsylvania lab about $6 apiece, versus $3.25 for the blood collection kits the state gets from Tri-Tech, a company in Southport, NC.
Applied Biosystems of Foster City, Calif., is a manufacturer of the STR kits used for DNA analysis in forensic laboratories. The company makes the AmpFLSTR Identifiler PCR Amplification Kit ($3,025 for 200 tests), which amplifies the 13 loci required by CODIS as well as two additional loci. It also produces the Profiler Plus and COfiler, which when used together can amplify all 13 loci in two reactions ($2,194 and $1,974 respectively, for 100 tests). The company's main competitor is Promega, which makes the Power-Plex16 system ($1,895, 100 tests). The results are typically analyzed using the ABI Prism 310 or 3100 genetic analyzer along with Genotyper software.
The expansion of forensic DNA databases may not be much of a boon to these companies, however, given that convicted felons are still a rather limited population. "Whatever companies are going to gain from this, [they] aren't going to make huge profits," says Nate Cosper, an analyst at Frost & Sullivan. And in general, he notes, "I think that the whole DNA sequencing market is in a race to the bottom in terms of costs."
MORE SAMPLES, MORE CRIMES SOLVED
Experts say that expanding DNA databases will indeed solve more crimes. Florida has been incrementally adding qualifying offenses to its database since 2001 and is expected to go "all-felon" as of July 1, 2005. "Every time we've added offenses to the database, we've increased the number of hits we get," says Sue Livingston, forensics quality manager for the Florida Department of Law Enforcement. "Hits" are matches between crime-scene DNA and an offender/arrestee profile, or between evidence from different crime scenes. The state lab is expected to process more than 120,000 samples in the first year the law is in effect, as compared to the usual annual total of 35,000 to 40,000.
Law enforcement officials also point to the state of Virginia, which created the nation's first forensic DNA database in 1989 and began including all felons in 1990. Virginia's databank had nearly 230,000 offender and arrestee profiles as of Jan. 31, and according to the state's Department of Criminal Justices Services, it has produced more than 2,400 hits.
About 80% of those hits would have been missed if Virginia's database were limited to violent offenders, according to Steven Sigel, deputy director of the state's Division of Forensic Science. What's more, he says, people whose previous convictions had been property crimes were found to have perpetrated more than one-third of the violent crimes solved because of database hits.
"Clearly," he says, "the DNA databanks are more effective when all felons are included." But even Virginia can have trouble keeping up with the workflow. Late last year, the Justice Department granted the state $2.1 million to help it clear a six-month backlog of untested DNA samples. The money was allocated to new hires, overtime pay, expanded facilities, and new equipment.
Indeed, it's been no secret that DNA backlogs are a national problem. In December 2003, the Justice Department-funded National Forensic DNA Study Report concluded that the number of unanalyzed crime-scene DNA samples in the United States is "massive." Evidence from more than half a million crimes had either not been submitted by local law enforcement for analysis or was backlogged in forensics labs nationwide. The report described the nation's state and local DNA forensics labs as generally "overworked, understaffed, and insufficiently funded."
The problem has clearly gotten the attention of the federal government. The funds Virginia won last year for backlog reduction came as part of the first payout from the Bush administration's DNA initiative.
HANDLING QUALITY CONTROL
With the massive growth in forensic DNA databases, questions beyond cost have naturally surfaced. Among them are worries about quality control; as more DNA samples flow into forensics labs, will the potential for error increase?
If past cases are any indication, it's an important question. In 1998, a 16-year-old boy was convicted in a carjacking and rape case, after the Houston Police Department's crime laboratory testified that DNA at the crime scene matched the boy's profile, although it turns out, it did not. He was released in 2003 after reanalysis of the data showed that the mixed DNA sample from the crime scene could match the DNA profile of 1 in 15 blacks in the United States, rather than be an exact match to the boy's DNA profile, as originally stated. The DNA analyst who testified in the case blamed inadequate training for her mistake. The Houston DNA lab was closed after an audit showed it routinely mishandled evidence and misinterpreted data.
Stephen Saloom, policy director of the Innocence Project, which uses DNA evidence to aid the wrongly convicted, says his group strongly supports the idea of requiring all public and private forensics labs to be accredited, be it through the American Society of Crime Laboratory Directors/Laboratory Accreditation Board (ASCLD/LAB) or another entity. "Each lab processing evidence must be held to some kind of standard," Saloom argues.
A provision in the new Justice for All Act states that public crime labs must become accredited by a nonprofit professional association by Oct. 30, 2006. Of course, accreditation takes time and money. For a large lab system like California's, Keaton says, the initial cost of accreditation would be close to $50,000. After the preliminary inspection, which assesses a range of factors including personnel competence, evidence-handling procedures, and security systems, a yearly fee is imposed, based on the size of the lab or lab system.
Right now, at least some labs in 43 states are accredited, says Ralph Keaton, executive director of ASCLD/LAB in Garner, NC. But only three states – New York, Oklahoma, and Texas – require accreditation of crime labs. Keaton says: "We believe it really is a thing most states should do."
Interested in reading more?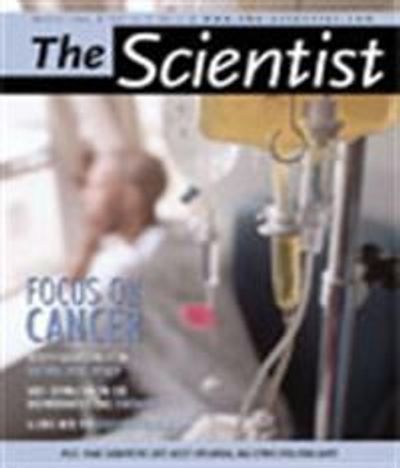 Become a Member of
Receive full access to digital editions of The Scientist, as well as TS Digest, feature stories, more than 35 years of archives, and much more!