Research collaborations often form the bedrock of truly great science. Scientific alliances can also help businesses commercialize their basic research or reveal the next blockbuster drug. In recent years, economic and competitive pressures have encouraged research collaborations between universities and industry, and between small biotech companies and Big Pharma. While these associations frequently prove to be beneficial for all parties, research collaborations can sometimes trap the unwary, creating legal entanglements and endangering intellectual property rights. Recent US court decisions on such cases, as well as pending legislation, may affect research relationships in 2005 and beyond.
One of the most common reasons for a soured research relationship is a patent dispute. In some cases, organizations have convinced courts to include one of their inventors on a patent solely owned by a former collaborator. "This would be the legal equivalent of open warfare," says David J. Aston, a partner with the Palo...
JOINT OWNERSHIP PROBLEMS
The US government grants inventors limited property rights to an invention, such as the right to exclude others from making, using, or selling the patented invention for a certain period of time. A patent owner can take advantage of this exclusionary right by granting a patent license or by suing a party for infringing the patent. Typically, an inventor who works for an organization will have an obligation to assign these ownership rights to the employer.
When two or more people collaborate on an invention, they file a patent application jointly and share ownership rights in the patent, regardless of whether the inventors worked for different organizations. Joint inventors need not have physically worked together or even worked on the invention at the same time. Patent law also does not require each inventor to contribute equally or even to contribute to all patent claims.
Unless there's an agreement to the contrary, each joint patent owner may use the invention without the consent of the other. A joint patent owner can also license patent rights without consulting a co-owner. However, cooperation becomes vital if one party wants to sue for infringement of the patent. Aston notes that "joint ownership does create problems in enforcing a patent, because both owners must join in an infringement suit."
Ethicon Corp. v. US Surgical Corp., a 1998 decision from the Court of Appeals for the Federal Circuit, illustrates the perils of joint patent ownership. The case concerned a patent that named InBae Yoon as the sole inventor. Yoon, a medical doctor and inventor, granted an exclusive license to Ethicon in Somerville, NJ. Ethicon and Yoon sued US Surgical Corp. in Norwalk, Conn., for infringing the patent.
While the suit was pending, US Surgical learned that Yoon had collaborated with Young Jae Choi, an unpaid technician, who had ended the collaboration after 18 months. Apparently, Choi believed that Yoon found his work unsatisfactory and unlikely to produce any marketable product.
After US Surgical obtained a patent license from Choi, the company asserted that Choi had co-invented two of the patent's 55 claims. The court agreed and held that Choi was a co-owner of the entire patent. When Choi refused to join Yoon and Ethicon as a co-defendant, the judge dismissed the patent infringement suit for past damages. Choi's license to US Surgical eliminated any damages for future infringement. Ethicon lost the case and gained a competitor.
DOCUMENT, DOCUMENT, DOCUMENT
Organizations considering a research alliance must plan to be vigilant before, during, and after the partnership. Patricia D. Granados, a shareholder in Heller Ehrman White & McAuliffe's Washington, DC, office, stresses that parties must first decide if they have a right to collaborate on a particular project: "What obligations do the two parties have to employers or funding agencies or third parties generally?" For example, a collaborator can affect rights in possible future patents by using a research tool obtained through a materials-transfer agreement from a third party.
If the groups decide that they can collaborate, then each party should plan a "brainstorming session and document in their lab notebooks all the ideas they have prior to entering into the collaboration or having discussions with another party," recommends W. Murray Spruill, a partner in Alston & Bird's Research Triangle, NC, office and chair of the firm's biotechnology and pharmaceutical patent group. Depending on the completeness of the idea for an invention, he advises filing a provisional patent application, a relatively inexpensive, simpler version of a regular patent application. This tactic can provide evidence about the invention's conception date.
Courts have decided that conception occurs when a person can describe the invention in sufficient detail to allow another to make and use the invention. An inventor is defined as a person who contributes to the conception of an invention. Since envisioning an invention is a mental act, courts require corroborating evidence for conception.
"Generally, anything can be used to show that a person conceived of the invention," says Sandra P. Thompson, an attorney in Bingham McCutchen's Costa Mesa, Calif., office. The best types of evidence include properly dated and signed lab notebooks, computer files with date stamps, E-mail, and notebooks documenting meetings and brainstorming sessions. Throughout a research alliance, Thompson recommends that "all parties should be told up front to keep good notes of all meetings that might be related to the collaboration just in case things need to be documented later."
The care with which researchers document their collaborative efforts can determine who will be named as an inventor on a patent. Consider the US Federal Circuit court's July 2004 decision in Eli Lilly and Co. v. Aradigm Corp. In 1995 and 1996, scientists from Eli Lilly in Indianapolis, and Aradigm in Hayward, Calif., held four meetings to discuss a possible collaboration that would combine Lilly's knowledge of insulin compounds and Aradigm's expertise in aerosolized drug delivery.
In 1999 Aradigm obtained a patent that covers an aerosolized administration of lispro, Lilly's insulin analog. Alleging that Aradigm had improperly appropriated information from Lilly's scientists during their meetings, Lilly sued and requested the court to add two of its scientists to the Aradigm patent. But Lilly failed to convince the court that its researchers were joint inventors, because the company could not provide any direct evidence of their contribution to the invention.
Not all patent hazards arise from curdled collaborations. A simple exchange of confidential information between congenial research team members may torpedo patent rights in the team's invention.
DANGER: CONFIDENTIAL INFORMATION
With the best intentions, Congress created an ambush for collaborators when it passed the Patent Law Amendments Act of 1984. Before the amendment, nonpublic information of research team members could be used to show that the team's invention would have been obvious, and therefore, nonpatentable. The Amendments Act provided a safe harbor to encourage communication among collaborating researchers. Now, unpublished work developed by one researcher cannot be used as evidence for obviousness if the researchers work for the same institution, or are under an obligation to assign their invention to the same owner.
When Congress devised this safe harbor, research collaborations typically occurred between scientists within the same organization. But that has changed. The Bayh-Dole Act of 1980 granted universities the power to commercialize their inventions, a power that promotes collaborations between academia and industry. As interorganizational collaborations became routine, the question arose as to whether the safe harbor stretched to encompass these types of alliances. In 1997, the Federal Circuit answered the question, and the answer was no.
In OddzOn Products, Inc. v. Just Toys, Inc., the court decided that confidential information disclosed by an outside party to an inventor was prior art that could be combined with other information to render an invention obvious. According to this ruling, scientists on a research team involving multiple organizations can inadvertently create a barrier to patent protection by exchanging confidential information, unless a single person or organization holds patent ownership rights in the team's invention. This means that collaborators from different organizations may create patent-defeating prior art simply by exchanging data, such as unpublished results of preliminary experiments.
The case created a significant problem for many interorganizational projects, particularly for those involving a public research institution. Wendy A. Choi, a partner in Woodcock Washburn's Philadelphia office, notes that the OddzOn decision affects research that falls under the Bayh-Dole Act, which limits the transfer of ownership in patent rights. In addition to this federal restriction, many states discourage the assignment of a university's inventive rights to a private-sector collaborative partner. As Congressman Howard L. Berman (D-Calif.) warned during a 2002 hearing on the OddzOn case, the decision "can cause a chilling effect on collaborative research."
By the end of June 2004, both houses of Congress passed the Cooperative Research and Technology Enhancement (CREATE) Act to override OddzOn. Choi anticipates that "the CREATE Act would strengthen the validity of patents arising out of joint R&D programs, such as those between universities, nonprofit organizations, and the private sector" by treating an invention made during a collaborative effort as if it had a single owner. She emphasizes, however, that there are conditions for entering this extended safe harbor: A joint R&D agreement must have been in effect before the invention was made; the invention must have arisen from activities within the scope of the agreement; and the patent must name the parties of the agreement. She also cautions that the Act applies prospectively, that is, the extended safe harbor will be available only for patents granted on or after the date of enactment of the CREATE Act.
After the Senate passed the CREATE Act, Senators Patrick Leahy (D-Vt.) and Orrin Hatch (R-Utah) tucked it into the Department of Justice Appropriations Authorization Act, 2005–2007 (S. 2863). The appropriations bill with its patent statute-amending hitchhiker may pass into law by the year's end.
Even if the bill passes, congressional fixes will never eradicate all collaboration hazards. The best way for scientists to minimize the risk of a court shifting patent ownership rights is to document their inventive contributions, and to remain vigilant for other intellectual property problems. "Actively managed," says Arundeep S. Pradhan, director of technology & research collaborations at Oregon Health & Science University in Portland, "these relationships are highly beneficial for all involved."
Phillip Jones pjones@the-scientist.com
Interested in reading more?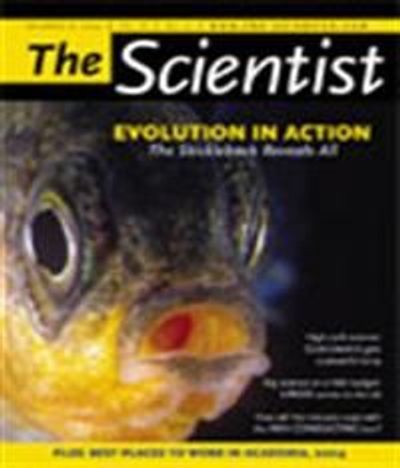 Become a Member of
Receive full access to digital editions of The Scientist, as well as TS Digest, feature stories, more than 35 years of archives, and much more!