Not too long ago, filing a new drug application with the US Food and Drug Administration could mean sending four 48-foot trucks stuffed with 100,000 pages of documentation off to the agency's headquarters in Rockville, Md. "I saw several of those get hauled away from loading docks," says Nathaniel Brown, speaking of his years as global clinical development leader for lamivudine at Glaxo.
But for Brown, now chief medical officer and executive vice president of clinical development for Idenix, those days are gone. The Cambridge, Mass.-based startup has planned since its inception to file electronically with the FDA for approval of its hepatitis B drug telbuvidine. By the end of this year, the company will send off two CD-ROMs with its complete new drug application (NDA). They'll be walked into the FDA's central document room, signed for, and the agency will let them know by E-mail that the document has...
FILING PAINS
The FDA has been accepting documents in electronic format since 1997, and complete NDAs since 1999. But the process still has some kinks to iron out in terms of standardizing the applications and making sure companies stick to the standards, notes Levin. Many companies are filing some documents electronically and filing others on paper, which makes things doubly complicated. The FDA currently requires companies new to electronic submissions to first file a dummy set of data to check that the software that the company is using is in order and compatible. If it isn't, the company has to go the paper route.
Six Tips for Making the Electronic Switch
Robin Zumbrunnen and Kim Logan of the contract research organization Quintiles have helped biotech and pharma companies file hundreds of submissions electronically. They offer the following tips to companies planning the move from paper to electric:
1. Invest in training. This is something some companies overlook, says Logan. Training can't be a one-time deal, but must be ongoing, she adds. "A lot of companies could take the hugest step forward by going ahead and investing in that internal training and education across all the functions," says Logan.
2. Think with the end in mind. Investigators putting together study reports should do so with an eye to making them ready to pop into an electronic marketing application.
3. Make things easier. Companies should develop authoring standards and create some templates for electronic submissions documents that comply with FDA standards. "The FDA actually cares about things like margins, fonts, and how your table looks, how your narrative text looks," says Zumbrunnen.
4. Get in the electronic habit. Many companies are still storing documents on paper. Zumbrunnen recommends moving to electronic archiving immediately, perhaps by image scanning paper documents.
5. Get out there. Key people should be getting out to relevant conferences and joining trade groups like the Drug Information Association and the Regulatory Affairs Professional Society. "This really is an amazing industry in terms of how willing people are, particularly in the regulatory environment, to share information," says Zumbrunnen.
6. Go to the source. The FDA has an excellent Web site, says Logan, and the agency has shown itself to be extraordinarily willing to work with companies seeking to move to electronic submissions.
The common technical document (CTD) – approved by the International Conference on Harmonization, which consists of representatives of industry and regulators in the United States, Europe, and Japan – has been a key element of FDA streamlining efforts, although the agency does not require its use. In fact, one FDA difficulty is that while industry is shifting toward the CTD, its use is still not universal, and the format is fairly new to many reviewers, notes Gina Schmidt, Wyeth's senior director of regulatory submissions management. European and Japanese regulators made use of the CTD mandatory in 2003, while FDA says use of the CTD is "highly recommended." By 2009, Europe plans to make use of the electronic version of the CTD mandatory as well.
Despite the necessary learning curve of getting to know the CTD format, electronic filing is making life easier for FDA reviewers, who can now click through hyperlinked documents from high-level views of a compound to extremely detailed data on individual patients, rather than paging their way through hundreds of volumes of paper looking for the appropriate data and making side trips to the document control room. "We received significant positive feedback from the agency with regard to what the electronic submission has done from a reviewer perspective," says Brenner. Schmidt points out that in developing Wyeth's format for the electronic CTD (eCTD), the company went beyond the minimum requirements for navigating through the application. "We really tried to do everything we possibly could to allow them to access the information very quickly." It's even possible for reviewers to bring an NDA submission home and work on it on a laptop.
Industry leaders say the FDA has gone out of its way to help companies to file electronically. Last September, when Rockland, Mass.,-based Serono filed a clinical supplement to its Rebif BLA, the agency had some difficulties with its file. "They were so happy that we had filed electronically that they were actually willing to give us some extra time to revise the submission without penalizing us on the clock," says Pamela Williamson Joyce, VP of regulatory affairs and quality assurance. Serono hired Image Solutions of Whippany, NJ, to help get the filing into shape. "They helped us in doing the reformatting and interpreting some of the lingo that was in the guidances," Joyce explains. "Basically, they QC'd and made heavy corrections."
Serono has now begun filing NDAs, BLAs, and supplements electronically, using an XML backbone adapted from a platform originally developed as a publication repository. The cost of the work, done in-house, ran into the hundreds of thousands of dollars. The company also has gained the expertise to do all of the necessary formatting, bookmarking, and hyperlinking internally. One side benefit, Joyce notes, is that learning these skills is a lot more interesting for employees than running a copier and collating massive quantities of paper. "There's a benefit in terms of job satisfaction and employee retention."
GOING INTERNATIONAL
Pretty much every country, even if they are not official signatories to the CTD, will now accept submissions in that format. This is not to say it's possible to use an identical format for global filing – each country has specific demands that must be met – but the standardized format has dramatically cut the amount of time it takes to file in multiple markets. Take Cambridge, Mass.,-based Idenix, for example. By using the CTD, says David Hallinan, vice president of regulatory affairs, the company expects to file in all its key markets within six months of FDA filing. Filing in Canada, Europe, Japan, and elsewhere used to require completely reformatting an application, a process that could take as long as two years.
With the CTD, Wyeth was able to file for regulatory approval of Tygacil in the United States, Canada, Australia, Switzerland, and the European Union simultaneously, on December 15, 2004, which Brenner believes may be an industry first. Not every agency in the world is as far along as the FDA in having the infrastructure to accept applications electronically, but that is where the field appears to be moving. Even within the FDA, most investigative new drug applications still come in on paper. The agency also has been slow to make electronic filing mandatory, although it did last year begin requiring that postmarketing safety reports be filed electronically. Levin said the agency is also weighing whether to require other documentation, such as clinical data and the drug registration listing process, to be filed electronically as well.
Electronic applications have given rise to a thriving side business – companies like Image Solutions and Octagon Research Solutions in Wayne, Pa., set up specifically to help pharma and biotech companies develop the infrastructure to file eCTDs. Wyeth's process of getting ready to file eCTDs, done internally without the help of outside consultants, helped the company change the way it does business, says Schmidt. "Something that is inherent in electronic submissions in general is the ability to find details that may otherwise go unnoticed in the paper world," she explained. "You're only one click away from a detail. I think what has changed from Wyeth's point of view is our attention to those details."
Interested in reading more?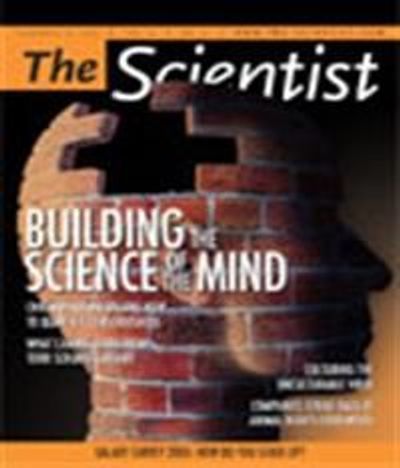 Become a Member of
Receive full access to digital editions of The Scientist, as well as TS Digest, feature stories, more than 35 years of archives, and much more!