After two pipe bombs damaged their buildings in 2003, and after employees had been repeatedly harassed at their homes by animal rights activists wielding bullhorns and sirens, Chiron Corp. decided enough was enough. The Emeryville, Calif., biopharmaceutical company last year filed a lawsuit against the activists. They won a preliminary injunction restricting their protests. "When all the activity against us began, we thought if we kept our head down, it would go away," says Chiron spokesman John Gallagher. "In fact, it did not." Since winning the injunction, he said, "it's been pretty quiet."
Even as Chiron and other companies in the United States and the United Kingdom have discovered the value in using the law to fight back against animal rights activists, extremists are adopting new and increasingly violent tactics in their drive to shut down biomedical laboratories, biotech, and pharmaceutical companies that use or rely on animals in research....
TARGET BY ASSOCIATION
In addition to going after companies and their customers, extremists are also focusing on firms that provide support services such as accounting, insurance, and delivery to those involved in animal research. In the United Kingdom, where the animal rights movement originated, there has been a recent upsurge in arsons and car bombings.
How to Prepare for an Extremist Attack
Here are some tips from industry experts and law enforcement officials.
• Get to know your local and federal law enforcement officials. Don't wait until an incident occurs.
• Establish a communications system to let employees know about potentially hostile activities and to remind them about security procedures.
• Assess and upgrade security procedures, externally for facilities and internally for information (employee names, addresses, and so on).
• Establish and disseminate a crisis plan to respond to threats ranging from protests to arsons and bombings.
• Review hiring practices, especially for areas involving lab animals. Activists have been known to take low-paying, animal-caretaking jobs to obtain sensitive company information, sometimes over a period of 1 to 2 years.
• Fight back. Don't be afraid of publicity. Seek court injunctions and restraining orders, if appropriate. "Companies that are willing to fight back, in whatever way, are less likely to be targeted," says Barbara Davies, communications director for the Research Defense Society in London.
In June, a car owned by the finance director of a brokerage firm was torched because his company had raised funds for a biopharmaceutical company that used Huntingdon Life Sciences, an international animal testing contract research organization that has been the focus of some of the most violent protests. The brokerage quickly severed ties with the biotech. "The attacks are getting somewhat more indiscriminate," says Barbara Davies, communications director the Research Defense Society in London.
The number of such "tertiary targets" dropping business with companies involved in animal research is becoming particularlyworrisome said Philip Wright, director of science and technology at the Association of the British Pharmaceutical Industry (ABPI). Recently, Stop Huntingdon Animal Cruelty (SHAC) posted the names of 50 companies it claimed were doing business with Huntingdon – among them a fuel company, a roofer, and a bakery. SHAC denies conducting illegal activities.
Last year, under similar pressure, 113 companies in the United Kingdom severed ties to Huntingdon and other life science companies, ABPI reported. "If this trend continues, it is by no means fanciful to suggest that pharmaceutical companies will seriously consider whether it is still appropriate to carry out this essential research in the UK," Wright said. But the major targeted companies are also fighting back. Huntingdon, Chiron UK, Phytopharm, Daiichi UK, Yamanouchi Pharma, and others have obtained injunctions against SHAC, limiting their range of legal protests.
USING THE LAW
Such companies have been making use of new laws, and benefiting from more aggressive civil and criminal prosecutions, the combination of which is being credited for a modest reduction in other activities, such as protests at employees' homes. Amendments to strengthen the UK's Serious Organized Crime and Police Act took effect July 1, for the first time making it illegal for extremists to threaten animal research organizations with economic loss or to make home visits for the purpose of causing alarm or distress. "As a cop, this is another sharp instrument in my tool bag to deal with these people," says superintendent Steve Pearl, who heads the National Extremist Tactical Coordinating Unit, a countrywide task force.
In the United States, Chiron, Huntingdon, and other biotechs have obtained injunctions against SHAC-USA and other groups. Six members of SHAC-USA face trial next February on charges of animal enterprise terrorism and other federal crimes. The defendants, including SHAC-USA president Kevin Kjonaas (also known as Kjonas or Jonas), have pleaded not guilty.
The United States needs to follow the United Kingdom's lead and update laws to give businesses additional protection and to close loopholes, says Frankie Trull, president of the National Association for Biomedical Research. Until then, life science companies should go on the offensive, including filing lawsuits and seeking injunctions against extremists. "Silence translates into guilt," says Trull. "The research community has nothing to hide."
Interested in reading more?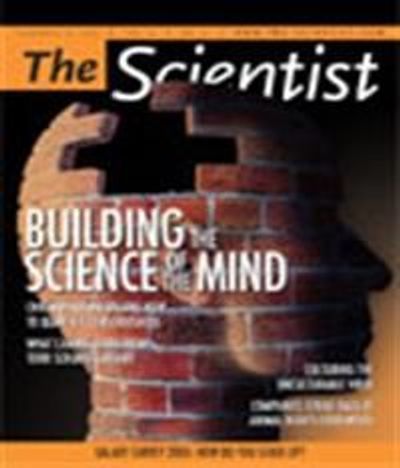 Become a Member of
Receive full access to digital editions of The Scientist, as well as TS Digest, feature stories, more than 35 years of archives, and much more!