Getty Images
Shannon Thomas was working on her PhD in organic chemistry at the University of California, Santa Cruz, when she came across a trade publication advertisement for a patent agent. "They wanted someone with good communication skills and technical expertise to assist and be a liaison with lawyers," she says. "It sparked my interest. I had no idea that kind of job existed."
So during her final year of graduate school in 2002, Thomas took a course to prepare for the patent bar exam. She was hooked. "The more I learned, the more I thought this was cool stuff," she says. With her PhD under her belt, she passed the exam and now works as a patent agent at Morrison & Foerster in Palo Alto, Calif. This month she's back in school, taking evening law classes at Santa Clara University. "When I started as an agent I didn't envision...
MAKING THE SWITCH
Unlike most other areas of law, a law degree is not required to do patent work. Passing a one-day examination administered by the US Patent and Trademark Office (USPTO) allows a scientist to become a patent agent licensed to prosecute and represent patents before the agency. Currently more than 6,900 patent agents are registered with the USPTO. While some of these agents are in law school, others don't want to become lawyers. "They are happy with what they're doing because they groove on technical challenges," says Mike Kirk, executive director of the Amer-ican Intellectual Property Law Association in Arlington, Va. Patent agents can't argue cases in a court of law, however; only lawyers can litigate patents and intellectual property disputes.
In a typical science-law career track scenario, a PhD or postdoc joins a law firm as a scientific or technical adviser and quickly passes the patent bar exam; he or she can then represent clients before the USPTO. Many decide to go on to law school, usually part-time at nights and on weekends, to become attorneys specializing in patent and intellectual property law.
Such scientists are eagerly sought by law firms, university technology-transfer and legal offices, biotechnology and pharmaceutical companies, and by the USPTO itself. The USPTO's biotechnology branch is "a unique marriage of law and science," says John Doll, codirector of the branch. "It attracts people who love science and have a great interest in understanding the law."
In 1989, Princeton graduate Richard Lebovitz was in his third year of a biology postdoc at Johns Hopkins when a friend told him about the government patent office. "It had never occurred to me but it sounded interesting," Lebovitz says. "I figured I would try it." He got a job as a patent examiner and began working with a few dozen former postdocs in the then-fledgling arena of biotechnology patents.
Lebovitz got hooked on law. While at the USPTO he enrolled in the evening program at George Mason University School of Law in Arlington, Va. Today, he is an attorney with Millen, White, Zelano & Branigan, also in Arlington. "The USPTO is a good way to get experience fast," Lebovitz says. Being a biotech or pharmaceutical patent examiner "gives you the opportunity to work in a particular area of science and see the advancements of every scientist working in that particular area from all around the world," Doll says. The agency is seeking to hire 35 more biotech, drug, and organic chemistry examiners. Starting salaries range from $36,500 to $57,400, depending on the applicant's academic degree. Many patent examiners springboard from the USPTO to law firms.1
Other scientists segue into patent work through their existing jobs. Dave Carpenter was completing his third and final year of a postdoc at Genentech in South San Francisco when the in-house legal department needed a scientific adviser in bioinformatics. Carpenter made the switch. "I wasn't tired of science and liked working at the bench," says Carpenter, who has a PhD in molecular genetics and developmental biology from the University of Cincinnati. "But at legal you get a bigger picture of what the company is about. It's more than just getting a particular result on a Western blot."
Carpenter has since passed the USPTO exam and studies law at night at Golden Gate University in San Francisco. "Being a scientist helps prepare you for the legal profession through training in analytical and critical thinking," he says. "And it's good if you can write scientific papers well. The style is different but structuring the arguments is the same."
ADVANTAGES OF A PATENT AGENT
Typical starting salaries for patent agents and scientific or technical advisers at law firms range from $60,000 to $90,000, depending on the firm and location. Lawyers working in-house at a biotech or drug company usually earn less than do their counterparts at law firms, but both typically earn more than bench scientists.
"Unless you become one of the leading lights in science, pay scales in the legal environment will be higher than [what] most scientists look at," says Rochelle K. Seide, who was an assistant professor of medical genetics and microbiology at Northeastern Ohio Universities College of Medicine, when she became intrigued with the legal aspects of biomedical ethics. Not only is the pay greater for scientists who switch to law, but also they may even learn more about science than they did while working directly in research, says Seide, who is now a patent attorney with Baker Botts in New York. She deals with clients in biotechnology, chemistry, and pharmaceuticals.
"In science, you have to develop tunnel vision to work on your project. But in law, you have to become more of a generalist," Seide says. "I learned a lot of science along the way, probably a lot I never would have learned had I stayed in my previous life. I get to see a broad spectrum of people and a broad spectrum of inventions and technologies. I see a lot of emerging, cutting-edge new stuff."
Switching to law can also offer scientists more social interaction than they would get in the typical research laboratory, says Gerald Dodson, a partner at Morrison & Foerster. "Some scientists don't feel comfortable spending their life at the bench," he says. "They want a broader experience. The bench is just too narrow for them and they see law as offering more social contacts."
That is one reason why Ramon Tabtiang traded in his postdoc in proteomics and protein engineering at Massachusetts Institute of Technology for a job as a patent agent and technology specialist at Fish & Richardson in Boston. "I had no affinity for lab work and there was little human interaction on a daily basis," says Tab-tiang, who earned his PhD in biochemistry from the University of California, San Francisco, in 1998. Today he finds patent law to be broader and more varied than scientific research. "You can work for many different companies and be involved in different technologies and different scientific goals."
Generally speaking, scientists who move from the bench to the bar are satisfied with their decisions. But they also advise others to do their homework and be sure patent work is for them, as returning to the bench might not be easy. "In many circles [patent work] is looked down upon, and some people see it as selling out," Thomas says. "It would be hard to go back, especially if you are not using your research skills in a field that is changing quickly."
Others, however, view the transition as merely a shift. "The thread that binds is the background in science," says Katherine Polizzi, a molecular biologist-turned-attorney at Morrison & Foerster. "It's not a negative, but it is a departure from what a traditional scientist is involved in."
Ted Agres tagres@the-scientist.com
Interested in reading more?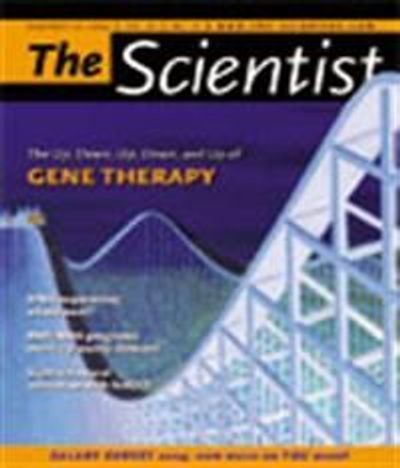 Become a Member of
Receive full access to digital editions of The Scientist, as well as TS Digest, feature stories, more than 35 years of archives, and much more!