At the P1 Kart Circuit about 20 miles south of Tucson, Ariz., the desert air is filled with the whine of racing-grade go-karts tearing around a serpentine track at 65 miles per hour. These aren?t Disney Land fun rides. Beyond the boundary fence, Rob Ashley tinkers with his own racing kart, which was damaged when a recent cold snap cracked his water-cooled, single-cylinder, 125 cc engine.
Ashley, 49 and until recently the CEO of AmpliMed, a privately-owned pharmaceutical company focusing on cancer compounds, has always been somewhat of a velocity junkie. He raced go-karts in his native England as a teenager and has always been drawn, in one way or another, to the track. ?I?ve been into racing since I was knee-high to a grasshopper,? he says, southwestern lingo mixing with a British accent.
As he taps the welded engine into place on his kart and torques the mounting bolts...
A Unique Scientific Portfolio
Ashley, originally from Barnton Village near Northwich in England, graduated from Oxford with a master?s degree in biochemistry in 1979, and has broadened his scientific understanding with each new step in his career. After leaving Oxford, Ashley landed a job with the British bioscience company Amersham International, where he worked at a radiopharmaceutical manufacturing plant and got his first taste of the excitement of drug production and distribution through, ?a lot of risk taking and a lot of long nights.?
At Amersham, as a brash but inexperienced 20-year-old (calling himself a ?smart little young whippersnapper?) working among veterans of the radiopharmaceutical business, Ashley says he quickly learned the real import of hands-on experience. It took only a few instances, in which Ashley let his youthful exuberance spur him into questioning his more experienced coworkers? knowledge of the industry, to be put in his place. ?You may think that the way people are doing things doesn?t make sense, but the guys who have done it before always, always do it better,? Ashley says. ?That?s a real insight I?ve carried with me ever since.?
"He?s like a sponge for absorbing something new, and he relishes it.? -John McPherson
Ashley says that working as part of that Amersham team ? which received radioactive materials coming in from all over the world, processed them in what was then a state-of-the-art plant, manufactured pharmaceutically useful products from them, tested the products, and shipped them, all in the course of a day ? solidified his decision to devote his career to the pharmaceutical industry. ?There was nothing more exciting than that,? Ashley says. ?It was tremendous.?
Within about a year, Ashley was in charge of the team, and he eventually transitioned from research and development into a position in Amersham?s fledgling marketing department. After eight years at Amersham, Ashley was appointed the head of the company?s UK sales force, where he and a small team of salespeople ?kicked ass.? Ashley says that he and his sales team increased Amersham?s share of the UK radiopharmaceuticals market from 65% to 80% in just one year. He had learned the intricacies of the business side of drug development and become well-versed in the science behind radiopharmaceuticals on the job.
America Comes Calling
In 1988, as Ashley was looking for the next challenge, the US company Squibb Diagnostics tapped him to lead the development and marketing of brain radio-imaging agents, which are pharmaceutical compounds tagged with radioactive isotopes to track cerebral blood flow and aid in diagnosing strokes, Alzheimer?s disease, depression, and other brain abnormalities, similar to the products Ashley had developed in England. He jumped at the chance and, though the development of those particular radio-imaging agents never came to fruition, Ashley stayed on as the commercial development manager for Squibb, which had by then become a division of pharmaceutical giant Bristol-Myers. He headed up a program to design and develop a new imaging contrast for magnetic resonance imaging, called ProHance. Ashley was asked to play several roles at Squibb ? regulatory consultant, research, preclinical, and clinical coordinator ? all while educating himself in the area of MRI science. He thrived.
Brian Gallagher, then president of Squibb Diagnostics, recalls the celerity with which Ashley tackled the challenges of learning a new field of medical science. Gallagher, now the CEO of Magen Biosciences in Cambridge, Mass., says Ashley took only about two months to understand MRI and the product he was tasked with developing. ?Rob could sit down with any neuroradiologist in the country, including professors, and speak at their level intelligently about what we were doing, almost as if he was a colleague of theirs,? Gallagher says, ?He?s like a sponge for absorbing something new, and he relishes it.?
Because he was juggling so many responsibilities at Squibb, the small, self-propelled company served as Ashley?s CEO training ground. ?At Squibb I learned how to integrate all the component parts of the drug development business,? says Ashley, adding that the experience ?provided me with the types of skills necessary to go out and run a company like AmpliMed.?
Ashley excelled yet again at Squibb, and when that division was sold, he joined Gallagher in a private biotech company called Collagenex that Gallagher had recently started. Working first from their bedrooms and later out of their Pennsylvania offices, the two built a successful company, developing and commercializing Periostat (doxycycline), the first oral systemic drug for treating periodontitis. After ten years with Collagenex, a company he fondly remembers as ?his baby,? Ashley made the move to Tucson and into the driver?s seat at AmpliMed. Terry Winters, a founding board member and original investor in AmpliMed, remembers hiring Ashley as CEO in 2004. ?I felt he was ready to run his own show,? he says. ?Rob is strong in all the departments that you need a CEO to be strong in.?
The Next Race
Ashley resigned from AmpliMed in the middle of March for what he says were a combination of reasons, one of which was that ?the company is slimming down to an appropriate size, and there?s no longer a need for an expensive CEO.? Ashley says that he and the board of directors reached an agreement that AmpliMed was no longer in need of his services because the company is shifting its focus and its finances toward the clinical rather than the commercial realm of drug development, at least in the short term. Ashley says that right now the company?s money is better spent on its clinical infrastructure as they ready their star drug, Amplimexon, for the rigors of Phase II clinical trials.
Ashley plans to spend his newly freed time relaxing. ?I?ve devoted 28 years of my life to making companies grow and be successful,? he says. ?But there?s a point at which you owe yourself a little bit of something.? According to Ashley, that ?little bit of something? will consist of working on his golf game, losing weight so that his go-kart will zoom faster around the track, and of course, racing.
Ashley pulls back into the pits at the P1 Kart Circuit, whips off his visored helmet, revealing an ear-to-ear grin, and beads of sweat collecting on his contented face. ?That was so much fun,? Ashley manages amongst panting breaths, ?[Racing] is the ultimate release.? The setting sun cues Ashley?s retreat from the race track, and he packs up his kart, draining its fluids and wheeling it back to its trailer, his smile scarcely dissipating.
So what?s next for Rob Ashley? Though he says that his time away from the pharmaceutical industry will be spent enjoying life?s simple pleasures, Ashley says that his unique experiences and skills make him eminently employable in the drug development game. He also happens to have as hard a time keeping his mind from racing as he does keeping his wheels off the track. ?I?d be very surprised if I can last two months without any sort of formal job,? he says. He?s already filed for a trade name (Ashley Biopharm LLC) and a domain name (Ashleybiopharm.com).
Whether Ashley will eventually build his own biotech company, man the helm of another burgeoning operation in need of his talents, or strike out into yet unconquered territory is an open question. This much, however, is certain: On any given Saturday, among the revving engines, shimmering heat, and blowing sand 20 miles south of Tucson, you can find Ashley in the driver?s seat of a purring machine, taking life?s corners at breakneck speed, and smiling all the while.
Interested in reading more?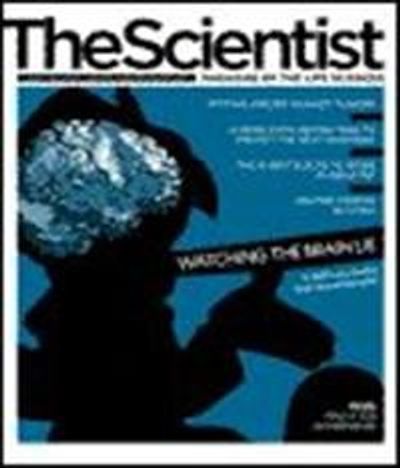 Become a Member of
Receive full access to digital editions of The Scientist, as well as TS Digest, feature stories, more than 35 years of archives, and much more!