Photos courtesy of Charles River and Jackson Laboratories
James C. Foster, CEO of Charles River Laboratories, celebrated the company's five years of public trading by ringing the closing bell at the New York Stock Exchange on June 13. He had a reason to mark the occasion.
Overall, the Wilmington-Del. based company has about a 50% share of the estimated $1.4 billion market in lab animals, according to Frank Pinkerton, a Banc of America Securities analyst who makes a market in Charles River Laboratories' (CRL) stock. Since going public in 2000, the company has moved from a loss of $11.2 million to a net income of $89.8 million. It reported an 11.3% increase in net sales in its research models and services division at the end of last year, and a 32% operating margin, compared to 12%–13% operating margins for its other divisions.
Although rodent wrangling has its rewards, it's not...
NEW WAYS OF MAKING MONEY
CRL, subject to Wall Street pressure, has probably been the most aggressive. Fisher says the biggest growth potential is in "more specialized animal models and service opportunities." The service side includes contract breeding of unique strains and providing animal husbandry and technical staff. The main clients, pharmaceutical and biotechnology companies, are looking to outsource what they consider to be noncore activities, says Fisher.
CRL makes money by conducting tests to verify the genetic purity of those models for labs and other suppliers, Fisher says. The company also sells serology panels to test for viral and bacterial agents. Testing has become increasingly important, especially as previously unknown agents make their way into colonies. For example, the murine norovirus 1 (MNV-1) was detected for the first time in mice at a US diagnostic lab within the last six months. Other noroviruses, such as Norwalk virus, have caused outbreaks of food poisoning in humans, particularly on cruise ships.
All the CRL colonies have tested negative for MNV-1 so far, but some customers have sent samples from their colonies that have come up positive, says Fisher. No one is certain of the origin of the agent or it's potential significance in mice. Infection causes mild or no symptoms in mice, unless they are immunocompromised, and the virus doesn't cross species. However, CRL has developed a PCR assay that can be used by labs for screening for the virus, says Fisher.
Both CRL and Taconic Farms have secured contracts with government agencies such as the Department of Defense and the National Institutes of Health to manage animal facilities and produce mice. Pinkerton says he expects contract staffing to be a growth area for CRL. Academic and government-funded sites often don't have the resources to care for mice, much less provide the special water and feeds and the isolation that the specialty strains require, he notes.
While CRL does not create any specialty strains, it does create colonies from strains it licenses, and distributes Jackson Lab mice in Europe. Even so, specialty strains are a growing area for the company. "It seems that the more the industry knows, the more it wants to know," says Fisher. As drug makers improve in vitro screening, they will have a greater need for testing the resulting candidates, and specialty rodents will fit the bill.
THE SPECIALTY MOUSE THAT ROARED
Both Jackson Lab and Taconic Farm breed specialty strains, which can be a costly proposition. Manipulating the mouse genome is the first step in creating transgenics, knockouts, and knockins, and it can be difficult to produce large numbers of the animals. The mice don't breed as well as many of the inbred strains, so the companies have to commit more resources to produce the same number of mice. The good news is, "The methods for manipulating their genome are well understood and documented," says Todd Little, vice president of operations for Taconic Farms. Specialty mice generally cost several hundred dollars each, but can run much higher. CRL says its most expensive mouse is $50 per animal and the most expensive rat is $200. Taconic says it sells mice costing hundreds of dollars each.
These unique mice have "fueled substantial growth at Taconic for the past 10 years," says Little. In many cases, academic or industry researchers discover or create new strains and may or may not patent the models. It's often easier to license or share that model with a commercial supplier, which then standardizes the breeding, maintains the colonies, and sells or freely distributes the offspring. The owner may collect the royalties, or Taconic might acquire full-scale marketing rights. Taconic also has intellectual property rights to some of the "more popular process technologies" for creating mouse strains, Little says.
Jackson Lab says it's the major specialty supplier in the world. The company produces more than 2,700 strains, 97% of which are available only from its labs. "We have 1,063 strains on the shelf at any given time," says Susan Airhart, a senior director who focuses on alliances and business development, adding that only 6% are widely used at any time. "We maintain the remaining strains, regardless of their profitability, as part of our nonprofit mission," says Airhart.
Jackson Lab developed two standard mouse models used in diabetes studies: B6.V-Lepob (ob/ob) and BKS.Cg-m+/+Leprdb (db/db). The organization is creating even more specific models, such as the NONcNZ010/LtJ, a mouse introduced this spring that more closely mimics the often obesity-driven type II diabetes seen in humans. Other emerging models that are available only from Jackson Lab include those developed in collaboration with Loretta Mayer and Patricia Hoyer at the University of Arizona College of Medicine to study the impact of perimenopause on complex diseases in women.
"I think that research in general is going to go towards more specialized strains, because they better support current approaches to drug development, which is increasingly focused on finding therapies that address the mechanism of disease," Airhart says.
CONTROLLING GENETIC DRIFT
Like CRL, Jackson Lab has also expanded its research assistance capabilities to drug industry clients, for instance, by helping a company design mouse experiment protocols, says Bill Bardosh, chief business development officer for the mice and services business at Jackson Lab. But as a research-oriented institution, Jackson Lab has historically been more involved with academic labs and has found a niche advising universities on their vivaria.
Some universities have stepped into the arena themselves by building vivaria to attract and keep top scientists. But academia can't and probably won't keep up with the demand for verification of genetic purity and health. Johns Hopkins University, for instance, maintains about 80,000 rodents in one large vivarium that opened in late 2003, says Newcomer. The growth in specialized strains has pushed academia to build its own facilities, but these operations are unlikely to supplant the commercial suppliers. The Hopkins vivarium "is used to support our own mini-production activities that are directed by the scientific interest of individual labs," he says.
Universities aren't well-positioned to control genetic drift. The suppliers can do a much better job because of the expense and because they have the base strains, says Newcomer. "In a sense, they're at the top of the pyramid." It may seem like a futile fight against evolution, but it's a necessary undertaking. One of Jackson Lab's main weapons against drift is to periodically infuse female breeders with embryos frozen from the founder stock. "This is important to ensure reproducible results over time," says Airhart. Without safeguards to prevent drift, the Jackson Lab brand could be tainted, particularly from researchers' customary practice of sharing mice. Some so-called JAX mice "have been separated from the JAX lab for 10 years," says Airhart. Jackson Lab is trying to ensure that only mice that have come from its labs in the last year receive the JAX label.
Suppliers also invest heavily in "maximum barrier" breeding and housing areas. Any materials are sterilized before they enter, and the HEPA-filtered air is exchanged multiple times per hour and maintained at a positive pressure. Also, suppliers want to ensure that enough mice are available to ship when a client calls. "Ideally, you're trying to find that optimal blend so you aren't overproducing or underproducing," says Fisher. Managing supply to meet demand has become even more difficult as researchers use more specialized rodent strains.
Periodic animal rights protests have given lab animal suppliers pause, but most companies say that rodent operations are rarely targeted. All the suppliers say they comply with standards set by the Association for Assessment and Accreditation of Laboratory Animal Care. That international membership organization accredits labs; inspection results, however, are kept confidential.
In a recent poll conducted by Peter D. Hart Research Associates on behalf of the Foundation for Biomedical Research, 76% of 1,002 adults surveyed said they thought that animal research had contributed a great deal or a fair amount to advances in human health. While technology is making it possible to manage with fewer animals, animal models – and rodent models, in particular – will likely continue to form the foundation of much of biomedical research. Predicts Little: "There will be a consistent demand for rodents."
Interested in reading more?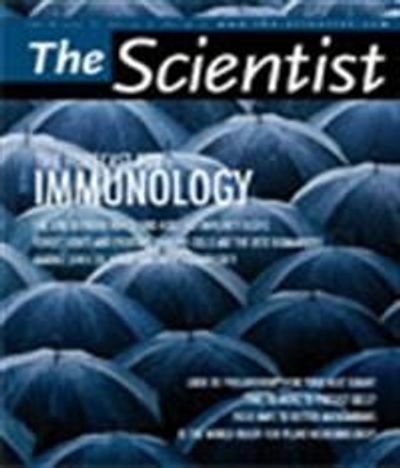 Become a Member of
Receive full access to digital editions of The Scientist, as well as TS Digest, feature stories, more than 35 years of archives, and much more!