This spring, Johnson & Johnson began airing new ads for its birth control patch, and viewers may have noticed that the message was significantly more sobering than in past ads. In the television spot, an enthusiastic young woman wants to get started on the company's Ortho Evra patch, but her gynecologist stops her: "Let's talk," the doctor says, just before going over a list of potential side effects-blood clots and stroke among them.
This is a far cry from what American viewers have grown accustomed to in their drug advertisements. More often, ads feature actors smiling and dancing as a TV announcer reels off a list of potential side effects at an incomprehensible speed. The new, more candid direct-to-consumer (DTC) advertising is in part due to tougher government regulations being discussed in the wake of market withdrawals.
The COX-2 inhibitor was launched by Merck in the United States in 1999...
DTC ADVERTISING THROUGH THE YEARS
DTC ads were never illegal in the United States, although their use began to pick up steam in the 1980s. There was an FDA moratorium on the ads in the mid-1980s, but by 1995, the federal agency held public hearings on the subject, which led to a loosening of restrictions on broadcast ads in 1997. At the time, the rules were relatively strict, and most TV ads were "reminder advertisements," which provided the name of the drug but not the condition it was meant to treat, or "help-seeking advertisements," which discussed a condition but did not mention any specific treatments.
The FDA rules were clarified again in 1999, and now TV and radio ads need to mention only the most important risks of a medication, a requirement that has been criticized. But even in print ads, consumers often don't read the lengthy lists of possible contraindications or adverse effects. "DTC is not information, it is simply marketing," says Albert Schumacher, president of the Canadian Medical Association (CMA).
There is no requirement that companies submit their ads for FDA approval before they run, but they must submit them when the ads are launched. That means, according to the FDA, "when a DTC ad appears...FDA may be seeing [it] for the first time as the American public."
Last November, AstraZeneca began airing a television ad featuring a middle-aged woman named "Katie," who took medication, ate right, but still had cholesterol problems. The narrator stated that Crestor's low-density lipoprotein (LDL) cholesterol-lowering effect "was clearly the best," according to a "head-to-head test." In fact, the FDA wrote in a March 8 letter, the "10-mg dose of Crestor was not statistically significantly more effective at LDL-C lowering than Lipitor," the number-one selling drug in the world. The FDA ordered AstraZeneca to take the ads off the air.
Since January, similar notices have gone to Boehringer Ingel-heim Pharmaceuticals about its Aggrenox capsules, to Amgen about its Enbrel product, to Centocor about its Remicade product, to Pfizer about Celebrex, and to GlaxoSmithKline about its Coreg tablets.
The FDA's Division of Drug Marketing, Advertising, and Communications issued 12 warning letters in 2004, compared with an average of four or five letters in previous years. This is a sign of stepped up enforcement, according to FDA spokesperson Laura Alvey. A warning letter addresses violations that are "so serious that the agency thinks a corrective campaign is necessary to correct the false and misleading information," she says.
Stepped up enforcement is not the only thing drug companies can look forward to: Congress is now weighing how the FDA can better ensure consumer safety once prescription drugs reach the market. Some lawmakers have said there may need to be new regulations on the industry-from subjecting drug ads to earlier FDA approval, to requiring drugs be on the market at least three to five years before companies launch consumer-directed advertising.
During March testimony before a congressional committee, a senior FDA official said that-thanks to the billions the drug industry spends yearly on DTC ads-potentially unsafe prescription drugs are getting into the hands of people who don't need them. FDA chief-nominee Lester Crawford has pointed to inappropriate or misleading drug ads as something he will look into.
Johnson & Johnson's chief executive, William Weldon, the newly installed president of the board of the Pharmaceutical Research and Manufacturers of America (PhRMA), has called on other drug companies to follow his company's lead with ads that are more up front about drug risks.
"We have adopted a series of guiding principles that underscore the right way to use medicines, that better balance information about risks and benefits, and that help consumers understand that all medicines have side effects that are best discussed with one's doctors," says Jeff Leebaw, corporate spokesperson for Johnson & Johnson. "We have a couple of current advertisements that demonstrate our approach to direct to consumer education, and they have been well received by members of Congress, other pharmaceutical companies and consumers. We feel that voluntary approaches are the most appropriate way to address this issue."
DTC ADS AROUND THE WORLD
New Zealand is the only other country that allows DTC advertising of prescription drugs. Mintzes believes that because the government there relies on industry self-regulation and does not require risk information, the ads tend to exaggerate a drug's benefits and "are worse in terms of being misleading about product characteristics."
China has grown so saturated with illegal ads for prescription drugs that in March, the Chinese Ministry of Health announced plans to ban drug and medical ads. Most of the ads tend to run in newspapers, although China's advertising laws allow such ads to appear only in professional medical journals.
Canada does not allow DTC advertising by pharmaceutical companies. But in the 1990s, laws were reinterpreted liberally by Health Canada, the nation's health-regulation agency. Jirina Vlk, a Health Canada spokeswoman, acknowledges that these exceptions could have the same effect as the more aggressive DTC ads seen in the United States. The ads, which are in print and on TV, mention that "if you have such and such symptoms, call your doctor, and the [drug] manufacturer knows that if you [do], the doctor will prescribe this product," says Vlk.
Meanwhile, Canadian broadcasters are pressing Health Canada to relax regulations for other types of advertising. Many aren't happy about the prospect. "There is no doubt in my mind that [this] would be detrimental," says CMA's Schumacher. "Our patients need objective, evidence-based, reliable, plain-language information about prescription drugs, not a 30-second ad." In the United Kingdom, as in the rest of the European Union and all other industrialized countries, prescription drug advertising to the public is illegal.
DO DTC ADS HELP PATIENTS?
PhRMA notes that a 2003 FDA survey of physicians found that patients' awareness of possible treatments increased with DTC ads, and that the ads encouraged doctor-patient dialogue that resulted in the prescription of needed treatments. The trade group's own survey found that DTC ads convinced "consumers to seek more information, raised awareness about their medical conditions or available treatments, and led them to visit their doctor to discuss diseases that might otherwise go undiagnosed."
Uwe Reinhardt, a Princeton University professor of economics and public affairs who has criticized drug industry spending habits, says companies should be free "to tell the world about new products that they think will help people." Moreover, he says, the dangers of DTC advertising can be exaggerated.
"We have read hundreds of stories about how American physicians fail to give patients [beta-blockers] after heart attacks," he says. "Perhaps it would be good if the public were apprised that beta-blockers could help them." Reinhardt does worry that such advertisements can be "annoying and intrusive," increase the demand for doctor visits, and often don't include information about price.
Even the industry seems to recognize that the traditional arguments for DTC ads are not standing up to the increased scrutiny caused by the problems with COX-2 inhibitors. This month, PhRMA announced that it is developing voluntary guidelines to improve DTC ads, a move made in part to regain public confidence. "We obviously have room for improvement," Billy Tauzin, the new CEO of PhRMA, told Reuters. The industry needs to "recapture the trust of the American people." However, he also said the trade group will continue to fight policies such as a proposed ban on DTC ads for the first five years after a drug is approved. Tauzin, a former congressman from Louisiana, took the helm at PhRMA in January.
It is clear that Americans are becoming more skeptical about what they see. The Kaiser study found that in 2000, 60% of people felt ads did an "excellent" or "good" job explaining the potential benefits of a drug. By 2005, however, just under 20% of adults said they could trust what pharmaceutical companies said in their ads "most of the time." One-third said they could "hardly ever" or "never" trust the ads.
"The pause about these ads is that they're not educational pieces; they're delivering visibility to a product," says Mollyann Brodie, a Kaiser Family Foundation researcher. "Some people take away the wrong information from the ad. In some cases, they take away that there are more serious side effects than there really are, or vice versa. In some cases, they don't recognize that some groups of people shouldn't be taking the drugs." The ads do work in one way, however. The study found that for every dollar that companies spend on DTC advertising, they get an additional $4.20 in drug sales – or an additional $2.6 billion in 2000.
Mintzes says that in her DTC studies, she found that when patients requested an advertised drug, 75% of the time they walked out of their doctors' offices with the drug in hand-even when the doctor knew the drug was not medically needed. "A consultation is a social interaction as well as a medical event," Mintzes says. "The doctor may want to appear to the patient to be responsive to their wishes and may not want them to go to another doctor."
The new candor by drug companies is welcome news even if it is spurred by a fear of stricter regulations, watchdog groups say. "The movement by the pharma companies to include more information on risks from drugs will hopefully lead to more careful prescribing of pharmaceuticals by health providers," says Margaret Weber, a coordinator with the Interfaith Center on Corporate Responsibility, a coalition of faith-based institutional investors that wants to hold drug companies more accountable. "If a company is being fully transparent and accurate in disclosure, one would think it should not fear any FDA preapproval."
Interested in reading more?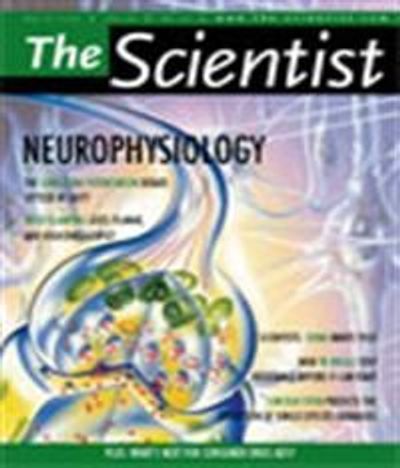 Become a Member of
Receive full access to digital editions of The Scientist, as well as TS Digest, feature stories, more than 35 years of archives, and much more!