In 2006, researchers at Micromet — a small biotech with US headquarters in Bethesda, Md. — started up a human clinical trial on a novel type of antibody to treat cancer. As their CEO, Christian Itin knew of the compound's potential and had ushered it through many developmental growing pains. After the first round of dosing, patients were experiencing the typical symptoms of an immune response, such as chills and fever, which suggested that the antibody was working.
The problem, however, was that the researchers didn't see any of the potent antitumor activity observed during preclinical testing. They grew frustrated, unable to figure out what was wrong. They couldn't rely on lessons learned years ago in classic antibody therapy development because Micromet's antibody, which triggers a patient's own T cells instead of targeting foreign antigens, was so different from what other companies had created....
A nose for business
As a postdoc at Stanford University's biochemistry department in 1996, Itin was caught by the wave of biotechnology startups in Silicon Valley. Only about two years into his research on membrane trafficking, Itin and a handful of friends from Stanford began thinking about the growing popularity of gene chip technology and how there might be a strong method to quantitatively measure the expression of a protein. Six months after he started working on the idea and developing a presentation, Itin and colleague Stephen Nock left their postdoc positions and embarked on pitching the idea of a protein profiling chip to investors.
The project didn't launch as quickly as they had hoped. After nearly a hundred meetings, there was a lot of interest from potential investors and several second-pitch meetings, but no sponsor committed. It was hard to stay optimistic, says Nock, but Itin did. "He was pretty optimistic the whole time that someone would [accept] the project."
Finally, in 1998 a sponsor came on board, giving Itin's startup, Zynomyx, the money to go into development. By the time the profiling chip officially launched in 2000, Itin was already on to other things.
During this time of courting potential investors, Itin met Patrick Baeuerle, Micromet's chief scientific officer in Munich, Germany. Baeuerle was the former director of drug discovery at Tularik in San Francisco and also served as professor of immunology at the University of Munich. Baeuerle was excited about a novel type of antibody that Micromet was trying to get off the ground.
Members of the immunology department at Munich University founded Micromet in 1993. The company's scientific founder, Gert Riethmüller, was the head of the Institute of Immunology at the university and also one of the first to describe micrometastases — tiny spreading tumors that often go undetected. This phenomenon forms the basis of the company's name.
Less than six months after their first meeting, Baeuerle contacted Itin and asked if he would like to come on board at Micromet. Itin quickly accepted the offer, and the following year he joined as the company's head of intellectual property and licensing.
Before becoming CEO in March 2004, Itin served as vice president of corporate and business development and the chief business officer. Although he has mostly been involved on the corporate side of the company, Itin works closely with Baeuerle on the scientific development side as well. "It's an interesting spirit at Micromet between [Itin] and Patrick Baeuerle," says Ulrich Grau, the chief scientific officer at Enzon, one of Micromet's early collaborators. "They work very well as a team, and I have no doubt that they will make an impact in their field with combined skills and brains."
Partnering up
Micromet's antibody, called BiTE (for bi-specific T cell engager) is different from other antibodies on the market that are injected into patients and target cells in the body. BiTE triggers the patient's own T cells and gives them the ability to recognize markers on tumor cells. In particular, the antibody acts as a small adaptor with two binding arms, one of which links the CD3 on T cells. The other links to an antigen on tumor cells, such as CD19, in what Itin calls the "kiss of death."
Early animal-model tests showed that the company's first BiTE antibody, called MT-103, was extremely potent. It cleared all tumors in culture experiments and in rodent models. Eager to broaden the company's base in Europe and expand into the United States, Micromet executives aimed to list the company as public in the Frankfurt stock exchange in mid-2002.
In the late afternoon on Sept. 11, 2001, Itin and colleagues were in a project meeting in their Munich office when news started trickling into the conference room that something serious had happened in the United States. "It immediately struck me that it was obvious we were going to be at war, and it obviously will have an impact on the economy that is drastic and dramatic," say Itin. "It was clear to us that it would change the way things were going in a significant way."
Itin and his colleagues, who had been preparing forms and applications to get a public listing in Europe, now needed to come up with a way to keep their burgeoning company from bankruptcy. The company had already begun a partnership with Enzon to develop an antibody that targets inflammation. In mid-2003, Itin brokered a deal with MedImmune which "allowed us to continue the path to develop the BiTE antibodies, and to have some additional funding," say Itin.
The partnership was validation that they were indeed on to something with the BiTE technology. At the end of 2004, Itin also established a partnership with Serono (now Merck Serono) to develop an antibody that targets a number of tumors and is tailored to adjuvant treatments. "Partnering was absolutely essential. Now the tricky part is not selling the farm," says Itin.
The rights to MT-103 in the United States went to MedImmune, while Micromet retained development rights in Europe. "Preclinically, there was no question that this was very powerful technology," says Peter Keiner, executive vice president of research at MedImmune. "We were excited right from the beginning and things moved ahead pretty quickly." Even so, Micromet researchers did the bulk of the development work in the partnership, says Itin.
Working out the kinks
The Micromet team knew that they had a powerful antibody that could work at a fraction of the dosage of normal antibodies. "If we look at our patients, the amount of BiTE antibody running through blood is 60,000-fold less-concentrated than normal antibody," says Itin. So "it possesses significant amount of challenges. We needed detection tools and assays that, in a reliable way, allowed us to measure quantities of the product."
The first time around when developing BiTE antibody MT-103, the science occasionally had to take a back seat to the manufacturing. Because so much less of the antibody is secreted to a supernatant when produced in cell culture, the researchers had to develop more precise instruments to detect and purify it. Micromet needed only gram amounts for clinical trials, significantly less than typical antibody amounts, so the production scale and instrument size remained on the small side.
In early 2006, MT-103 was put into Phase I clinical trials in cancer patients who had been through at least four chemotherapy treatments and who were in relapse. MT-103 targets the CD19 antigen on many leukemias and lymphomas, with the exception of myeloma. The challenge was to produce an antitumor effect that was safe for the patient, knowing that BiTE antibodies can activate one million of the body's T cells.
In the Phase II trials, the researchers started with a low dose of 1 m/day. Patients immediately reported the flu-like symptoms common with other antibody treatments. After weeks of treatment, however, the patients' tumors had not subsided.
In going back to the drawing board the Micromet researchers realized that MT-103 needed more time in the patients' systems to rally the T-cell response to the tumors. They lengthened the dosing time to four to six weeks, increased the dose (to 4 mg/month), and spiked the early doses with steroids to minimize the cytokine response.
At the end of last year, the group presented data at the annual meeting of the American Society of Hematology. They showed that in clinical trials, MT-103 successfully or partially cleared tumors in seven of 18 patients at higher dose levels; three of these patients had a response at lower dose levels. They also reported that MT-103 cleared tumors from a variety of organs and from the bone marrow in eight of nine patients who had bone marrow tumor infiltration.
MT-103 is just the first in a family of BiTE antibodies that Micromet is pushing through the pipeline. To proceed, they'll need to expand. Itin has turned the company into one of the top biotechs in Europe, with €80 million in private equity. In 2006, Itin had spotted an opportunity to partner with San Francisco-based Cancervax, with a chance to finally integrate and get a public listing for Micromet in the United States. Micromet first appeared on NASDAQ in October 2003, closing its first day at $12.00 a share. Its stock has since dropped to about $1.00 a share. This dramatic fall is the result of a merger between Micromet and Cancervax in 2006, when Micromet essentially absorbed Cancervax's previous stock-share value, according to a recent report by Chris Kallos, a senior healthcare analyst at Zacks Investment Research. Kallos anticipates that Micromet will perform well in the next two quarters, with a target price of $2 per share.
"We were always working with US companies along the way, and wanted a proper presence in the US to drive growth in terms of clinical development, and commercially down the line," says Itin. Headquartered in San Francisco after the merger with Cancervax, Micromet moved early in 2007 to the East Coast, closer to MedImmune headquarters.
Itin and Beuerle anticipate that for MT-103's successors the process of development and clinical refinement will be quicker. The company has already endured the growing pains of a new technology. "Any biotech company that comes up with something that's truly novel will have an interesting ride," says Itin, "and we did."
Interested in reading more?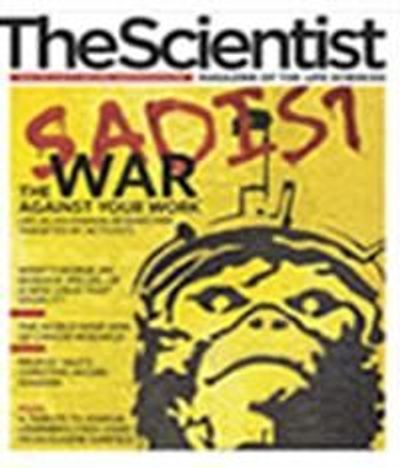 Become a Member of
Receive full access to digital editions of The Scientist, as well as TS Digest, feature stories, more than 35 years of archives, and much more!