Nanosphere's 40,000-square foot offices in Northbrook, Ill., are a maze of cubicles and laboratories, except for one corner of the building that's been cleared of all furniture. "In October we had a massive rain storm that flooded the office with four inches of water," explains William Cork, Nanosphere's chief technology officer. Cork and another colleague stayed until 4 a.m. pushing water out of the building. "Should the CTO do that? No, but in a small company ..." Cork smiles and shrugs.
"He's the type of guy that really rolls up his sleeves and gets involved in solving problems," says Nanosphere's cofounder and Northwestern University professor Chad Mirkin (who is also a member of The Scientist's editorial advisory board). Cork hasn't solved just the problem of wet floors, but the inevitable hurdles that accompany the development of new technology from concept to commercialization. After six...
From Engineer to Entrepreneur
Cork's engineering career began at Eastman Kodak while he was working on a bachelor's degree in electrical engineering and computer science at Northwestern University. Though he enjoyed working at Kodak, when the director of his division decided to cut his project (developing digital printing), Cork was disappointed. "I knew digital was the future," Cork says, "so I walked out and started my own company."
In 1983, Cork moved with four friends into a condominium in Brecksville, Ohio. He had developed a laser-based technology that would collect white blood cells. A centrifuged blood sample would be placed into a device, which would scan the tube, determine which layer contained white blood cells, and automatically extract them. Cork and his friends formed the company Prism Technologies, and assembled the technology in-house - literally. As Prism grew, Cork and his partners decided to expand by renting out the apartment next door and, without permission, knocking down a wall between two garages. "It was like a college dorm," Cork says. By 1989 the company swelled to about 30 people and $2.6 million in sales.
Cork's wife wanted to return to the Chicago area, so he decided to sell his share to his partners and moved to Illinois. Cork took a position at Baxter International as vice president for research and development in Baxter's Fenwal division. For eight years Cork directed, from concept to sales, the development of the Amicus separator, which collects and separates blood to store stem cells before a person undergoes radiation or chemotherapy. Cork says the work was extremely gratifying. "We literally saved people's lives with that technology," Cork says. "That's really motivating."
It was at Fenwal that Cork had one of his biggest learning experiences. He recalls causing a minor panic when he suggested to senior management that $1.5 million be invested into a new technology - before he explained the benefits of that investment to investors. Cork says management was given the impression that it was an expense increase without revenue added. "I should have presented it the other way around," Cork says. "Present the opportunity first. [At Nanosphere,] I'm able to articulate clearly: Here are the opportunities and here's the way to get to it."
The success of Amicus was not enough to keep Cork at Fenwal. For most of the years he had worked for the company, his division was offsite from Baxter's headquarters in Deerfield, Ill. "We made it a fun, small-company environment, and we were able to work without the bureaucracy of a big company," Cork says. But as Fenwal became successful, Cork and his 80-person team moved back to Baxter, "and that was painful." Cork says he lost the flexibility he felt in Fenwal's startup atmosphere.
Cork laughs, "I went froma very large corporate life with 80 people working for me and everything going well to 'Where do I sit?'"
Back to the Start(up)
Around the same time, in 2000, Chad Mirkin and Robert Letsinger (also at Northwestern), founded Nanosphere with the intention of taking their nanoparticle DNA probes into the medical diagnostic market. "We knew the technology was primed to change the field of molecular diagnostics," Mirkin says. "From a proof-of-concept standpoint we've demonstrated that, [but] that doesn't mean you can get a device that will get to the commercial setting in a short amount of time."
Nanosphere needed an engineering leader to focus the technology on a product, and Nanosphere's chief operating officer at the time, Vijaya Vasista (formerly the head of global marketing at Fenwal), thought Cork would be right for the job. Vasista says that Nanosphere and Fenwal were both developing devices that had hardware and consumable components.
Cork joined Nanosphere in March 2001. Though his office shifted just a few miles east to Evanston, the environment was dramatically different. Cork laughs, "I went from a very large corporate life with 80 people working for me and everything going well to 'Where do I sit?'"
The first challenge was to determine Nanosphere's product line. Cork says a large amount of data on nanoparticle probes was being generated in Mirkin's laboratory, and after a year Mirkin's team had narrowed down the new product to a sandwich assay. The assay works by hybridizing target DNA to a probe, and adding silver to amplify the signal. Cork says some of his colleagues doubted that the silver amplification would work because it is so reactive. "There's a couple words around here that turn me bright red: You can't do it, or it's impossible," Cork says. He knew that a solution existed, but finding it would require an outside perspective, so he returned to his past and hired a consultant from Eastman Kodak to solve the silver problem. It turns out, Cork says, that when silver is confined to a cartridge, "it works beautifully."
The change from big business to small start up suited Cork. He enjoys being involved in every step of developing a product. He reviews data daily that his team produces. Cork says sometimes he can't leave his office for four hours because there's a line of scientists waiting to talk to him. "For those companies that are trying to take science and turn it into a product, if the guy at the helm isn't data driven, they're not going to succeed," says Nanosphere's CEO, William Moffitt.
Growing Pains
Nanosphere's scientists, who have grown in number from seven to roughly 80 since 2001, have since developed SNP detection using the nanoparticle probes. David Segal, an assistant professor of pharmacology at the University of California, Davis, says molecular diagnostics is a growing field, and Nanosphere's detection method is perhaps one of the best available. "The real advantage," Segal says, "is having it in a kit form, and all recognition can be done in one tube."
Juan Sanchez, vice president for equity research in biotechnology and nanotechnology at the specialty investment bank, Punk, Ziegel and Company, says Nanosphere's diagnostics have the potential to change the marketplace by reducing the cost of raw materials and expensive technicians. "The main reason why I love this kind of technology is because it will allow us to do these [diagnostic] tests for $80 rather than $1,000," Sanchez says. Cork is enthusiastic about Verigene's ability to multiplex and detect a number of targets in one sample. "For things like cystic fibrosis with 26 SNPs to analyze, we can do it in one [step]," Cork says. "You could collect blood this morning and get answers this afternoon."
The government has also taken an interest in Nanosphere's technology. Early in Verigene's development the Department of Defense put out a call for proposals to develop biowarfare detection systems. Though it wasn't Nanosphere's intended market, Cork's team decided that the detection technology could be applied to detecting smallpox or anthrax. Cork says he presented the proposal to a room full of men introduced only as "Dave," and in 2002 the company was awarded a $1.5 million contract with the Department of Defense. At the time $7 million had been invested in the company, and the contract was an important milestone.
The company has now raised $102 million, $57 million last year alone. The company has also progressed in getting a product ready for market. In March of this year Nanosphere sent the FDA a 510k package to request approval to market the assay that detects SNPs in patients with hypercoagulable disorders. Cork says that certain SNPs are associated with development of deep vein thrombosis, and physicians can use an SNP profile to determine appropriate anticoagulant administration during surgeries. Several weeks later Nanosphere completed that inch-think application for detecting warfarin metabolism SNPs as well. Cork says he expects a response from the FDA in the coming months.
Cork predicts that in five years Nanosphere will continue to grow, either filling up more of the space the company already has, or moving into another building. "The challenge for Nanosphere is that we've built an innovative culture and I don't want growth to erode it." Cork has been able to avoid formal, sit-down meetings, preferring instead to meet casually in his office or walk around the facility to check up with people. If the company morphs into a larger business, the quick problem-solving such intimate discussions facilitate could be lost. When asked whether he fears if expansion might breed the dreaded bureaucracy, Cork says, "Yes. Will I let it? No."
Interested in reading more?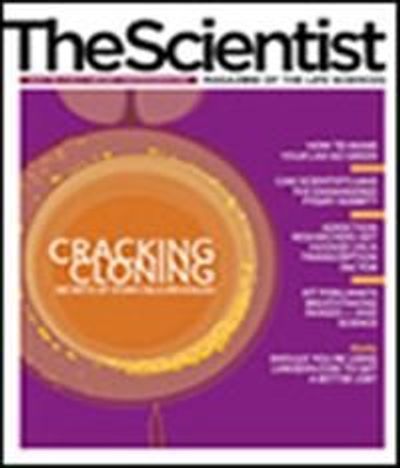 Become a Member of
Receive full access to digital editions of The Scientist, as well as TS Digest, feature stories, more than 35 years of archives, and much more!