Julie Olson has seen the future, and it is in polymers. A former Pfizer executive, Olson is the CEO of Mersana Therapeutics, a 12-person startup in Cambridge, Mass., that is developing a biodegradable, bio­inert polymer called Fleximer, which when linked to certain anticancer agents may make the drugs more soluble, less toxic to the body, and more effective in attacking tumors. In short, Fleximer, if successful, could take a drug that has failed due to high levels of toxicity and help it succeed today.
Olson fell in love with the idea in 2004, joined the company (then named Nanopharma) as its CEO, and began a crash course in how to run a small startup. It hasn't always been easy, but with Phase I testing on Mersana's first compound approaching in early 2007, Olson's colleagues say her 18 years at Big Pharma gave her...
Choosing industry
Olson, the daughter of a Seattle meat cutter, didn't see herself as the corporate type early on. As a young scientist with a bachelor's degree in biology from the Massachusetts Institute of Technology and a PhD in parasitology from Rockefeller University, she thought she was headed to an academic post. After a two-year postdoctoral fellowship, Olson applied for and was offered a job at Pfizer, she surprised herself by taking it. Olson quickly moved up the corporate ladder from research scientist studying animal health, to manager in the animal health lab, to a senior position in the licensing department, and finally as vice president of licensing in 2000-2003.
A polymer-based colorectal cancer drug earned Pfizer $910 million in 2005. Olsen says that MER-1001 could be even more effective.
Barrie Hesp, Olson's former supervisor, says that it was there she learned the skills that would later make her an ideal fit at a startup. Olson's job was to negotiate deals and initiate collaborations with startup biotech companies. "We've had people come in from the biotech world that have got no idea how to make a presentation," says Hesp, Pfizer's former vice president of strategic alliances. "[Olson] knows how to make a presentation. She knows what's required. She knows about financing. She knows how to run a business."
In particular, Olson learned about the problems that can emerge within a large organization. "Pfizer wasn't exactly small in '84, but you could do something," she says. "You could say, 'I think this is what we should do,' and you didn't have to go through 15 committees." By 2003, that wasn't the case anymore, says Olson. When her department merged with another, she took a buyout package and walked away. "Imagine overseeing a group of 20-some people at four different locations, and all the complexities of that. It became not very fun for me," she says, "and I realized it was time for me to go."
Interest piqued
Olson had no plans to work for another company but instead planned to be a consultant. Then in 2004, while doing some consulting for PureTech Ventures in Boston, Olson heard about Mikhail Papisov's invention, Fleximer, and her plans changed. Papisov, a Massachusetts General Hospital researcher, discovered Fleximer partly out of frustration. Polymer drug-delivery systems such as polyethylene glycol (PEG) are often used to deliver a drug over time, in a slow release that increases a drug's efficacy. "PEG is good when the doses are very small," says Papisov. "The drawback of PEG is [that] at higher doses it causes cell vacuolization in organs, for example, in kidneys, and many other places."
Papisov needed a polymer that was both biodegradable and bioinert, and he found it by taking dextran, a polysaccharide, and chemically cleaving off its bioreactive elements. "I stole the idea from Mother Nature," says Papisov of the polysaccharides. "What I stole is their biologically neutral substructures, and these substructures can be made fully synthetic."
The polymer, about 5 to 10 nanometers, was also large enough that, when linked to a compound, it could avoid being filtered by the kidneys and thus stay in circulation longer. Testing began, and Pete Leone, Mersana's chief operating officer, says it didn't take long before they settled on linking Papisov's polymer to camptothecin (CPT). The compound, discovered by chemist Monroe Wall in 1966, was found to be too toxic for humans and ended up shelved. But Beppino Giovanella, who studied CPT with Wall, says the drug was simply too powerful to ignore. "I've tested just about everything under the sun as an anticancer agent," Giovanella says, "and nothing is even remotely as potent a cancer agent as camptothecin." Derivatives such as Pfizer's colorectal cancer drug, Camptosar, followed and have proven to be both effective and lucrative. In 2005, Camptosar totaled $910 million in sales for Pfizer. Leone and Olson say that Fleximer-linked CPT, now called MER-1001, could be even more effective.
Not a "Big Pharma girl"
PureTech Ventures managing partner Daphne Zohar says she knew right away that Olson would be the perfect person to lead the company. "She's just what you want in a leader," says Zohar, who pushed Olson to take the job as CEO of Mersana. "She's charismatic. She connects well with people. They like her. She kind of has a presence."
Bormann says that at Pfizer, "when Julie spoke, people listened." Bormann recalls that even the company's top executives "took what she had to say very seriously." One reason was her intellect, the other her style. There is no in-your-face bluster to Olson. She is neither egocentric, colleagues say, nor bossy, but she is not soft, either. A strong negotiator, Olson is skilled in striking a perfect balance between leading and listening, says Bormann. "She understood how all the bureaucracies worked and she could smooth roughages," he says. She is "a great facilitator."
Cut loose from Pfizer and now working in the world of small startups, Olson adapted quickly to the changing business landscape. "It was like moving to a new town where you don't know anyone," she says. She lacked connections as well as experience. At Pfizer, she was a buyer, not a seller. "That was not my role," she says. But now, Olson as CEO had to not only persuade investors to support Mersana but also show them she was more than what she called a "Big Pharma girl."
"In any Big Pharma environment, in almost any position of leadership, you have a lot of people doing different things for you," Olson says. "You have someone managing travel for you. You don't make your own calendar. And as a small entrepreneur, you have to be chief cook and bottle washer." In the beginning, Olson didn't know basic but important skills such as how to make a Power Point presentation. And, she had to push herself to sell, surrounded for the first time in nearly two decades by new people and new, smaller companies to deal with. Even the culture was different. "The internal culture in Pfizer is, we're always criticizing ourselves: 'How would we do it better?' Not that we don't do that here, too," Olson says. "But in a small company, as a CEO, you tend to talk in a more positive way."
Olson, with the help of Mersana COO Leone, forced herself to be less openly self-critical, and to put a more positive varnish on things. Excelling at public speaking, Olson learned to sell to venture capitalists by simply doing it repeatedly, and also by occasionally holding her tongue. "Half the people in the room are barely more than half my age," she says. "And the truth is, they're usually unbelievable whipper-snappers who have lots of degrees and are very smart. But, sometimes, they don't know anything about pharmaceutical R&D. So you do have to bite your tongue when they ask a question that's incredibly uneducated."
Working out of a small office, Olson and Leone raised $21 million to get the company up and running last fall. The majority of the money came from Fidelity Biosciences, ProQuest Investments, and Rho Ventures. Leone says the money should carry them through 2008. Now, as Phase I testing of MER-1001 is about to begin, a second compound is under development.
The 12-person company is set to grow to 20 employees by this time next year, says Leone, but Olson doesn't want to grow too much. After nearly two decades at Pfizer, she's happy to be part of something small again. "This is a clinical compound factory. That's what this is," she says. "We have the ability to eventually take something all the way to market. But I think for the most part nowadays, a company like us, we're a front-end machine. I don't have a particular interest in becoming huge. I like small."
Interested in reading more?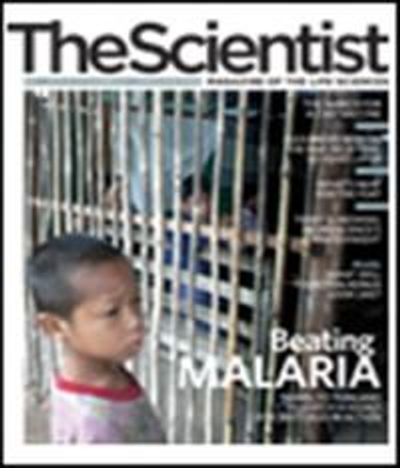 Become a Member of
Receive full access to digital editions of The Scientist, as well as TS Digest, feature stories, more than 35 years of archives, and much more!