Tim Foley Illustration
When Todd Zion began looking for funds to launch Smart-Cells, a new company developing self-regulating insulin-delivery systems for patients with diabetes, he needed to raise just shy of $1.25 million, a number that "doesn't even show up on the radar screens of big venture capital firms," he says. So he decided to forgo venture capital (VC) and instead sought out "angel" investors, wealthy individuals willing to entrust their money and share their hard-earned expertise with entrepreneurs.
Zion, who developed a nanoparticle technology for controlled drug delivery as part of his doctoral work in chemical engineering at Massachusetts Institute of Technology, had won some Small Business Innovation Research (SBIR) and other NIH grants before he sought out angels experienced in the life sciences. Zion set up shop in Beverly, Mass., and this past spring Smart-Cells closed on its first round of angel financing, attracting $1 million from two...
THE US VS. THE EU: CONTRASTS
The United States has about 225,000 active angel investors – high net-worth individuals who are often retired entrepreneurs, lawyers, or accountants, according to the CVR. In many cases they have experience in starting or running companies and want to help others do the same. Angels last year invested $22.5 billion into 48,000 different entrepreneurial ventures in the United States, according to the CVR, with 26% of the funds going to life sciences including biotech, health-care, and medical device companies. VC investments last year were in the same ballpark, around $21 billion, with 25% going to the life sciences, according to the National Venture Capital Association. But each angel investment averaged less than $500,000, far different from the $5 million to $7 million minimums that venture capitalists prefer.
Increasingly, angels are establishing formal groups to minimize their risks and improve access to good deals. Some of these angel groups are specializing in certain fields or industries, including the life sciences. "We love the life sciences and all have backgrounds in it," says Greg Scott, president of Life Science Angels, a Palo Alto, Calif.-based group that has invested in six biotech and medical device companies since opening its doors in January 2005.
In Europe, VC and angel activities generally lag behind those in the United States, says Anthony Clarke, president of the European Business Angel Network (EBAN) and managing director of London Business Angels. European venture capital totaled about €11 billion in 2004, according to the European Venture Capital Association, while Europe's 12,800 angel investors were on track to fund only around 500 deals last year, according to the latest EBAN statistics. Accurate funding amounts are difficult to get, but Clarke estimates angel activity in Europe to be about 10% of that in the United States.
According to the European Commission, a capital shortage for follow-on funding at the €3 million mark is forming between seed/startup and expansion stages; this amount is larger than many angels want to invest but too small for venture capitalists. "The result is a finance gap in the small- to medium-range deal size that slows down company growth and job creation," the commission reported in May. Among various proposals, the United Kingdom is seeking to create Licensed Enterprise Capital Funds using public-private monies to help small and medium-sized enterprises obtain financing.
AN EDGE FOR DEVICES AND DIAGNOSTICS
In looking for seed and startups to fund, angels will insist on practicality. Having a good idea, or what investors call a "science project," generally won't cut it. "There needs to be a clinical need, and you have to meet that need," says Robert Barry, founder of Uptake Medical in Seattle. His company is developing bronchoscopic lung volume-reduction treatments for emphysema and chronic pulmonary disease using $1.2 million in angel funding. "Technology for the sake of technology won't get you far in the angel world," he says.
When angels in the United States and Europe talk about investing in the "life sciences," they prefer such products as medical devices, diagnostics, and services that can be brought to market relatively quickly, as compared to drugs and biotech discoveries that require expensive clinical trials and face uncertain FDA approval. "Angels are very reticent when it comes to regulated industries," says John May, vice chairman of the Angel Capital Association and managing partner of the New Vantage Group in Vienna, Va. "If someone says we've got a Phase II clinical trial going and need $10 million, that's very tough to fund. You need tens or even hundreds of millions to develop new drugs."
But this doesn't mean pharmaceuticals are off limits. Robert Miller secured $2.2 million in angel funding to develop anti-infective and anticancer drugs based on plant-based medicines in clinical use in China. His Oxford-based company, Phynova, plans to license successful candidates to Big Pharma after winning approval under FDA's less-stringent botanical drug-review process. "We're further down the pipeline because we start with candidates having demonstrated activity and human efficacy," Miller says. "It should take less time to get to a finished drug."
Regardless of whether the product to be developed is a drug, device, or diagnostic, the scientist-turned-entrepreneur needs to remember that most angel investors will want to play an active role in the enterprise. "Angels have a psychic interest as well as financial interest," Sohl says. "This is their active investment. It's their fun money, and they want to get a buzz out of it."
How to Find Your Angels
Network. Most angels do not advertise. Get leads from articles about company startups in local business publications. Angel groups frequently hold meetings and presentations. Talk to local business associations and other scientists/entrepreneurs to learn details. Also get references from accountants, lawyers, and local businesspeople. "Angels usually hang together," says Jeffrey Sohl, director of the Center for Venture Research at the University of New Hampshire-Durham. "The good news is, if you find one, you will find 10."
Surf the Web. In the United States, the Angel Capital Association http://www.angelcapitalassociation.org offers many resources, including a directory of angel groups by state and region. The European Business Angel Network (EBAN, http://www.eban.org) in Brussels is a valuable resource for EU countries.
Do it yourself. If you do your homework, there's no need to pay a "finder's fee" for someone to locate angel investors for you – a tactic occasionally foisted on the uninitiated. "That's a waste of money," Sohl says.
Look for angel investors knowledgeable about the life sciences. "They will give you knowledge and access to customers and a whole range of benefits," says Sohl. "This value is almost more important than the capital the angels bring." Angel groups that focus on the life sciences include: Angel Healthcare Investors, Boston http://www.hcangels.com; Life Science Angels, Palo Alto, Calif. http://www.lifescienceangels.com; Tenex Medical Investors, Burlingame, Calif. http://www.tenexmedical.com.
Work in your "sweet spot." "Focus in your areas of knowledge and expertise. Don't try to be something you're not," says France Dixon Helfer. Her background in collagen research and knowledge of the medical device industry helped her raise more than $10 million in just a few months for Pegasus Biologics, her Irvine, Calif., company that produces bioimplants to repair soft-tissue defects.
Have a compelling technology that meets a clinical need. It's best to have a prototype or proof of concept, not just a good idea or science project, says Jude Paganelli, whose San Diego-based company called N Spine recently closed on its first round of angel capital. N Spine has developed four minimally invasive pedicle devices to treat spine disease. "An accomplishment speaks volumes to angels," he says.
Get investments from the 3 F's: "Friends, Family, and Fools." Angels want to see evidence of your commitment and entrepreneurial spirit before they invest. "If you can get seed money from close associates because they know you're a good scientist, you'll be more attractive to angels," Paganelli says.
Get SBIR and other grants. "Getting an SBIR is a very good indication of the quality of the company," says Alan Walton, senior partner with Oxford Bioscience Partners, a VC firm in Westport, Conn. "It's almost like a Good Housekeeping Seal of Approval."
Interested in reading more?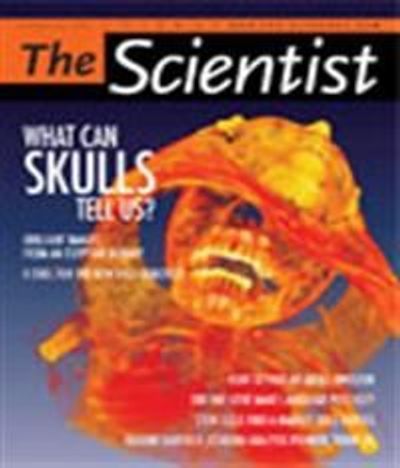 Become a Member of
Receive full access to digital editions of The Scientist, as well as TS Digest, feature stories, more than 35 years of archives, and much more!