In June, Derek Lowe got some data. Not just any data, but promising results on a new drug. An eight-year veteran of the drug discovery pipeline, Lowe had been waiting three years for this moment. As with most scientists reaching a point of experimental insight, Lowe says, "I hardly know what to do with myself." However, he's not saying this to his boss or colleagues. He's saying it to the whole world over the Internet.
Lowe is a blogger. He also works for the pharmaceutical giant Bayer. It's a unique combination that places him out on the Internet as one of the few industry insiders who is keeping a blog of their daily scientific thoughts. Blogs, (short for Web logs) seem to be exploding as private citizens "talk" on the Internet about every topic under the sun, from parenting to politics. By comparison, science blogs (or at least blogs by...
BLOGGING SCIENCE
It's impossible to get away from blogs these days, largely because they number more than nine million, with another one created every 7.4 seconds. Although it's hard to estimate how many of these are science blogs, Technorati, a real-time blog-tracking service, finds about 700,000 science blog posts on the Internet at any one time.
Starting a Science Blog
You read the literature, think about what's going on in your field, and likely have a list of topics to debate. So why haven't you started a science blog? If you're not sure how, here's a quick guide to warm you up.
1. Pick a theme to discuss, and choose a name. Whether it's about the literature, your experiments, or how science is affecting the world, select something that gets your scientific spark going. Some names that are already out there: Gene Expression, Acronym Required, YoungFemaleScientist, Pharma's Cutting Edge, and Science Nerd Depot.
2. Look for a service to host your blog. Several free services already exist such as Blogger.com or LiveJournal.com. Others such as TypePad.com and BlogIdentity.com charge a fee that ranges from $50 to $100 a year. All these services will get you up and running in no time. If you're more adventurous and technically advanced, Moveable Type is another choice. This program requires somewhere to host your site and some skills in Web publishing.
3. Start writing. Often bloggers get comfortable writing by first referencing other blogs they read and then commenting on them. (You can also add an "about" button to tell people why you're there at this point.) "Having an online diary available seems to help them [bloggers] translate daily experiences into words," says Tamara Zemlo of the Science Advisory Board. And it's a thrill to be part of an informal but scientifically valid discussion, adds Zemlo.
4. Link to other Blogs. Once you're comfortable, start linking to other blogs so that people will notice you through services such as those at Technorati.com. Also make sure your RSS (really simple syndication) feed is enabled – most blogging software will do this for you – so people will know when your blog updates. "Web logs don't happen without RSS," says Greg Tyrelle of Nodalpoint. Furthermore, this tool (as well as others) is increasingly becoming available in the biological sciences for electronically processing information (e.g., PubMed recently acquired an RSS feed).
It's easy to get started, and the more advanced features will come with time. Blogs can offer scientists a new way to process and organize scientific information, while liberally debating the implications. Feel free to join in.
One reason there are so many blogs is that blog technology is quite simple. For example, any student, scientist, or biotech employee can go to http://www.blogger.com and create a blog in a few easy steps, all for free (see side bar). "Building a Web log is pretty trivial, assuming you don't want to run your own server," says Greg Tyrelle, a postdoctoral fellow at National Yang-Ming University in Taiwan and the creator of Nodalpoint, a bioinfomatics blog.
Apart from Lowe and Tyrelle, a few other life scientists are taking advantage of the ease of the blog format to discuss research (see list). One is Jeff Bizzaro, a biochemist who started a blog on bioinformatics.org, a 15,000-member organization that deals with the field of bioinformatics. The idea of the blog is to "create something of a utopian place for people to share ideas," says Bizzaro.
Another is the Science Advisory Board (SAB), a panel of 25,000 life science professionals that runs nine different blogs. "Scientists were saying to us that there wasn't a venue where they could freely write about theirs and others' work," says Tamara Zemlo, executive director of communications at SAB. With this in mind, Zemlo helped create blogs such as Tools of the Trade, where scientists keep a diary of their experiences with products from companies such as Roche, VWR, and NEB. Positive and negative encounters are all fair game, says Zemlo. (In the interest of disclosure, The Scientist collaborates with SAB on the annual Life Sciences Industry Awards)
Lowe, Tyrelle, and Bizzaro aren't just posting comments into a vacuum; people are reading their blogs and commenting on them. So, although only a relatively small group of scientists have blogs, hundreds of people are commenting on such blogs and thousands of other blogs that fall into the popular science category. It seems you can no longer develop a drug or bio-product, make a business decision, or publish a paper, without someone discussing it.
No editors or media organizations manage the comments or screen content of blogs, says Lowe. It's good to keep this in mind, particularly when dealing with what might be proprietary information. Some workers have lost their jobs over blog postings, including one contract worker at Microsoft, who crossed a line with information the company thought inappropriate.
Lowe has some advice: Be open with your boss. "When I started blogging, I went to my supervisor and to my company's legal department and talked to them," says Lowe. "They said, 'Well, as long as you don't set yourself up as a spokesman, then go wild."' Lowe doesn't go wild – he's shy about specifics of his work, and he doesn't talk about his company – but he still has a lot of fun.
BUSINESSES TAKES NOTICE
Businesses are paying more attention to blogs, as blogs get more attention from readers. Tyrelle's Nodalpoint gets hundreds of hits a day, Bizzaro's site get 3 million HTTP requests per month, while Lowe's In the Pipeline averages 1000 visitors on a weekday. "If I look at my site statistics, I get hits from all the pharma companies you could name off the top of your head," says Lowe.
What seems to bring people to In the Pipeline is its view on the pharmaceutical industry. Take a recent post by Lowe about Pfizer acquiring the anti-infective drug maker, Vicuron Pharmaceuticals. "I don't believe that there was much coming along in their anti-infectives portfolio," writes Lowe, who goes on to suggest that this likely isn't the end of Pfizer's upcoming deals, since "the company is facing even more patent expirations over the next few years."
Others see opportunity. Eric Gerritsen's search for a better way for the pharmaceutical industry to do research led him to blogs. "You have a huge amount of money going into drug discovery compared to only a small number of drugs approved by the FDA each year," says Gerritsen, who runs a small investment company called Global Seed Capital, which is based in the Boston area. "It looks to me like a huge productivity problem," he says.
This might be happening because information is trapped within companies and individual labs, says Gerritsen. In an effort to get it flowing Gerritsen recently created Biopeer, a blog that allows scientists from all over the world to discuss and share research. "We hope writers will use this environment to have a voice towards the global research community, which would otherwise be hard to find," he says.
At Ease with Information
Greg Tyrelle was sick of it. But he was six months into a molecular biology PhD at the University of New South Wales, Australia, and he wasn't sure what else to do. "I was kind of lost and just started to wander around," he says. Fortunately, Tyrelle had a peculiar fascination with Slashdot.org, an anything goes blog.
Slashdot gave Tyrelle an idea: "I thought, wouldn't it be great if molecular biology and bioinformatics has a site in the style of a Slashdot blog." It was 1999 at the time and Tyrelle was already fooling around with the lab server while wondering what to do with his PhD. Tyrelle set about making Nodal-point, a bioinfomatics blog that's now been active for more than five years.
Starting a blog as a scientist in 1999 situates Tyrelle as a pioneer in a new wave of communication that is only hitting the rest of the scientific community now. "I was expecting it [Nodalpoint] to become really famous," jokes Tyrelle, "and I could sell it for millions of dollars and retire." That's not how it actually worked out. Nevertheless, Nodalpoint is currently one of the most active bioinformatics blogs on the Web.
Today, Tyrelle is a postdoctoral fellow at the National Yang-Ming University in Taiwan, having finished a PhD in bioinformatics about a year ago. Posting comments and debating science on Nodalpoint is a good way to keep things fresh as he's working on his research.
Tyrelle's not quite sure where he's going to end up. "I'm kind of disillusioned with academia," he says, "so if I had to give my pick, I'd be interested in providing tools and services online for scientists, perhaps to do things like Web logging better." In this regard, Nodalpoint – named after a term in a William Gibson book for a converging point in a sea of information – is more than just a pet project.
Many CEOs and employees outside the pharmaceutical and biotech sector are already exploiting this type of information conduit. The most famous is FastLane Blog run by Bob Lutz, a vice chairman at General Motors. His blog has brought increases in customer relations and a massive boost to the company's public relations efforts. Lutz's popularity partially comes from his posts, which include customer criticisms with honest responses. In this respect, the pharmaceutical and biotech sectors may be missing out. "I think [blogging] could do a lot of good," says Lowe, "since I've had people tell me, your site is worth all the ads I've ever heard."
INFORMATION WHIZ
Here are just a few of the science blogs out there now
http://www.acronymrequired.com
http://www.acsh.org/factsfears
http://anti-ageing.us/blogger.html
http://bioinformatics.org
http://www.biologynews.net
http://www.biopeer.com
http://blog.crownstoneinsights.com
http://blogs.estcomedical.com
http://www.corante.com/livingcode
http://www.corante.com/loom
http://www.corante.com/pipeline
http://www.elementlist.com
http://girlscientist.blogspot.com
http://www.gnxp.com
http://homepage.mac.com/femtobio/plexus
http://www.huntingtons.info
http://invasivespecies.blogspot.com
http://mixingmemory.blogspot.com
http://msblog.kermitmurray.com/index.html
http://new.foresight.org/nanodot
http://www.nodalpoint.org
http://www.scienceblog.com/cms/index.php
http://www.scienceboard.net/community/blogs.asp
http://sciencemag.blogs.com/sfgblog
http://www.sciencenerddepot.com
http://www.sciscoop.com
http://www.seltekconsultants.co.uk/sciencejobsblog.html
http://startsimple.com/trend/biotech/index.html
http://www.ubcbotanicalgarden.org/research/weblog/cat_genomics.php
http://universalacid.blogspot.com
http://youngfemalescientist.blogspot.com
Others in case you need more:
http://alifeinscience.blogspot.com
http://www.biotechblog.com
http://blog.bioethics.net/2005/05/bloggers-be-afraid-of-pharma-spies-be.html
http://www.bobpark.org
http://www.canadapharmacynews.com
http://www.davidappell.com
http://www.dissolutionsolutions.net
http://www.futurepundit.com
http://homepage.mac.com/femtobio/plexus
http://www.leepotts.com/tehi
http://library.lib.binghamton.edu/mt/science
http://www.matthewholt.net/2004_06_27_archive.html
http://www.pandasthumb.org
http://pharyngula.org
http://radio.weblogs.com/0100187/2002/11/28.html
http://www.sciencebase.com/SciObs.html
http://www.world-science.net
Blogs aren't all about business opportunities; some academic researchers find a haven in them as well. "I get a lot of ideas and feel I'm at the edge of science news [because of blogs]," says Michael Imbeault, a virology PhD student at the CHUL Research Center in Quebec. Imbeault formerly ran The Scientist Blog (not related to The Scientist magazine) and now manages BiologyNewsNet. Tyrelle says that his blog also helps him sort out overflowing biological information, helping him think through its relevance to his research in the process.
Kevin Kubarych agrees, but also considers blogs a better way to use information in the lab. "As a collaboration tool it's absolutely prefect," says Kubarych, who runs The Plexus blog and will soon join the chemistry department at the University of Michigan as an assistant professor. "I expect to have a blog in my new group where we can have a collective conciseness," says Kubarych, "so when someone leaves, their work is still there in the blog."
As more academics pick up blogs, scientific publishing may also change. Not only can you bypass traditional publishing with a blog, but also tools are becoming available to better organize information. One example is Connotea, which turns PubMed and numerous journals into a social environment where researchers can organize and comment on references together, says Ben Lund, a scientist who helped design the site at Nature Publishing Group.
Even more exciting is this: How about a blog after every scientific paper published? Here scientists could debate results in real-time right on a journal's homepage. "The idea is being kicked around," says Lowe, "and it's a hell of a good idea." Nobody is there yet, but Lowe, Tyrelle, and Zemlo all hope this will soon become a reality.
Overall, science blogs run by scientists and industry insiders are just getting started. "This whole thing is still very immature," says Gerritsen. This may be due to scientists' caution about retribution, unfamiliarity with the technology, or not grasping the potential impact yet. Nevertheless, people should be jumping on blogs, says Gerritsen. "I expect to see this within the next year."
The spark that might really get things going is a blog by a famous scientist, which could add a great deal of credibility and insight (similar to what Bob Lutz did for CEO blogs). "If James Watson had a blog," says Bizzaro, "I'd read it, and I think a lot of other scientists would too."
Interested in reading more?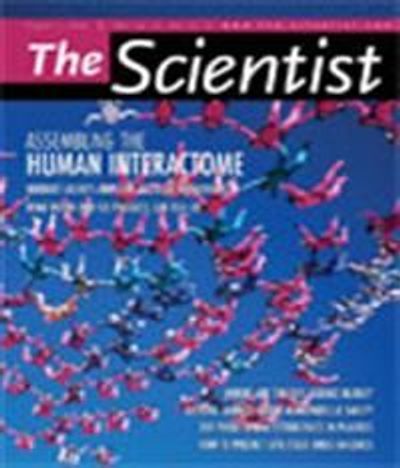 Become a Member of
Receive full access to digital editions of The Scientist, as well as TS Digest, feature stories, more than 35 years of archives, and much more!