Ya-Chun Wang's first brush with modern pharmaceuticals occurred in a chicken coop in the southern Taiwanese county of Tainan. More than 30 years ago, Wang snoozed on the floor of that coop as a three-year-old while his fowl-farming parents vaccinated their flock through the night. Rather than taking over his family's successful farm, however, the adult Wang let his scientific curiosity lead him to Taiwan's burgeoning biotech sector.
Today, he is the executive vice president and chief scientific officer at TCM (Traditional Chinese Medicine) Biotech International in Taipei, and he is piloting TCM-700C, the company's fungus-derived drug, through clinical trials for hepatitis C. In 2004, TCM-700C got the first US Food and Drug Administration investigational new drug (IND) status ever awarded to a botanical drug in Taiwan, and it is one of only a handful of botanical drugs now in FDA-approved clinical trials in the country. "This was a pretty...
Chickens to cheese
Wang's journey from chicken farm to success in drug development would take him off his family farm, to the United States and then back to Taiwan. He left his family farm as a teenager to attend a boarding school in Tainan. The young student was immediately drawn to experimental science. "When I was in high school, I really liked the chemistry lab," Wang says, "I could see all the changes and reactions."
After high school, Wang went on to study chemical engineering at Donghai University in the central Taiwanese county of Taichung. Wang served two years of compulsory military service in Taiwan after completing his bachelor's degree, then left for the United States to begin a master's degree at the University of Missouri, Columbia. There he studied biodegradable forms of packaging and fostered a growing interest in biology.
That interest led Wang to apply for a PhD at the University of Wisconsin, Madison, where he pursued a more biological focus in the lab of bioengineer Sundaram Gunasekaran. Wang acquired an intimate knowledge of the most Wisconsin of all biopolymers: cheese. "Cheese is a biopolymer material," he explains. "For this material, we wanted to know how it flowed, how it can stretch, and all the nutrition inside, so everything." Wang's PhD work explored the physical properties of cheeses such as cheddar and mozzarella. This type of research is invaluable to cheese makers and manufacturers of products such as frozen pizzas, says Gunasekaran.
His PhD advisor remembers Wang as an unassuming personality but a model graduate student. He "was a reasonably shy and timid individual, but he was very confident about his background," says Gunasekaran. "He could take on challenging problems, and he was not afraid."
During his time in Gunasekaran's lab, Wang even developed a device to quantify the viscosity of melting cheese. The first in a string of innovations that would mark Wang's career, the instrument was the first to quantify the stretching and melting of cheese and, according to Gunasekaran, is still used in food rheology labs around the world.
A baptism by fire
In 1998, Wang finished his PhD and returned to Taiwan to embark on a career in industry. Shortly after arriving home, Wang landed a job at PhytoHealth, a start-up focused on mass producing pharmaceuticals based on traditional Chinese medicines. Wang didn't know much about drug development, but his background in polymers served him well. Wang's introduction to drug development at PhytoHealth - which in 2002 became the first biotech listed on Taiwan's TAISDAQ stock market - would turn out to be a baptism by fire. "I learned lots of things in that company including research, finance, management, everything," he remembers. Wang contributed to almost every aspect of developing a botanical intravenous drug, PG2, which sought to alleviate fatigue and increase blood cell counts in chemo or radiation therapy patients.
In 1999, Wang applied for an IND from Taiwan's Department of Health, but found that neither the agency's Western nor Chinese medicine divisions were sold on the idea of an intravenous, botanical drug. "I found it quite hard," says Wang, "No one wanted to handle this case."
Undeterred, Wang submitted the IND proposal directly to Taiwan's Department of Health commissioner and worked with him for two years to build up the department's botanical drug regulations. In 2001, Wang finally secured IND status for PG2, the first botanical IND granted by the Department of Health. The drug is now in Phase III clinical trials.
While working at PhytoHealth, which is located in Taipei, Wang lived in Hsinchu, a city about 100 km south of Taiwan's capital. Wang made this trek every morning, usually leaving his home at 4:00 or 5:00 a.m. and returning to Hsinchu at 10:00 p.m. Exhausted after the intense effort to obtain an IND, Wang decided to leave PhytoHealth in 2003. "It was quite a busy and hard time for me," Wang remembers. "I had lots of breakthroughs in that company, but after four or five years, I think maybe I just needed to take a rest and decided to go back to academia."
But Wang's academic aspirations for a peaceful academic existence were short-lived.
Putting TCM on the map
Wang made arrangements to move to Taipei and teach at National Taiwan University, but only one month after he left PhytoHealth, TCM Biotech's then president, Tsu-jien Wang (no relation), contacted him with an enticing offer right up his alley. "Mr. Wang called me, and he wanted me to join this company," Wang says. "He said he wanted to file an FDA IND for a new botanical drug."
The Taiwanese government had been trying to get an FDA IND for botanical drugs through large research institutes for the past 20 years, but had failed. The challenge reignited Wang's competitive drive. "I spent my whole life in school. So I wanted to go to a different place, different culture, and different things to challenge me," Wang says. "This was a good change for me, so I just quit the professor job and went to TCM."
From his start at TCM, Wang was thinking of developing a drug that could penetrate the international market. He and others at the company thought of Cordyceps sinensis, a parasitic mushroom that has been used for thousands of years as a traditional Chinese medicine to treat kidney and respiratory ailments, as a male sexual elixir, and for immune modulation. C. sinensis grows naturally on the Tibetan plateau when fungal spores infect caterpillars, the fungus eventually filling the insect larvae's entire body and bursting out. The mature mushroom is harvested as a slender fruiting body emerging from the mummified caterpillar's head. This peculiar life history and the medicine's half-plant, half-animal appearance earned it the name "winter worm, summer grass."
Wild C. sinensis is still harvested, sold, and used as medicine in China and beyond, but the naturally-occurring fungus is not an ideal product for the international market, Wang says. It's expensive; wild C. sinensis can cost thousands of dollars per kilogram. It's also commonly contaminated with heavy metals, herbicides, or biologic pathogens.
Researchers at TCM had already isolated a pure strain of C. sinensis, and were trying to develop a fermentation process that could mass produce the fungus rapidly and cheaply. They also had an unpublished, clinical case study of 20 chronic hepatitis C patients who received C. sinensis as a complement to Western drugs interferon and ribavirin for six months and then C. sinensis alone for six months. Wang says those on the compound showed 25% more virus clearance than patients who received only the Western medications, and also experienced a decrease in side effects such as fatigue and immune suppression.
Under Wang's direction, the company developed a unique fermentation process that yields a genetically specified strain of purified C. sinensis in just two days, where fermentation previously took seven to nine days. The key to Wang and his team's success is a fermentation medium - he won't reveal the ingredients, which are protected under Taiwan's Trade Secrets Act - that catalyzes this rapid growth and eliminates the need for using wild C. sinensis to produce TCM-700C. Wang remembers learning that his team had developed the successful fermentation process. "After they told me we can grow this material in two days I said, 'Oh. Pretty good,'" he says. "I think I was quite excited."
"With our resources in Taiwan, we cannot compete with the big pharmaceutical companies, like Pfizer or Roche. We have to think about all strategies." --Ya-Chun Wang
The result was pure C. sinesis mycelia, the main ingredient in TCM-700C. The company says it can sell the drug for about $1000 per kilogram. After scaling up production and conducting toxicity and pharmacology testing, TCM filed the IND and were successful in 2004. The drug is now in phase II trials. Wang knows that if he is to successfully inject a botanical drug into the international market, he has to first convince Western doctors of its viability. "For traditional Chinese medicine, most Western doctors don't accept this kind of product. But if you can provide them lots of evidence, like human clinical trial data or some kind of pharmacological study results, they will accept them."
Now TCM is poised for success in Taiwan and beyond. Last year Taiwan's Ministry of Economic Affairs awarded the company a $586,000 grant for the ongoing clinical trials of TCM-700C. The company's total capital was around $4 million at the end of 2007, about one-third of its market value. TCM projects its annual revenue to reach $10 million within five years, and has a current burn rate of about $2 million per year.
Wang knows that proving TCM-700C's effectiveness as a complement to modern hepatitis C treatments also opens doors for collaborations with Western companies. "After we finish the first two clinical trials, if the efficacy is pretty good and the side effects are pretty low, and it can reduce the side effects from the conventional treatment, we want to cooperate or transfer technology with some Western pharmaceutical companies," Wang says.
Wang gets high marks from his staff. "He's willing to learn. He's willing to listen. So he's a good boss in general," says Tate Fu, a project manager. Lillian Huang, TCM's research and development manager and special assistant to Wang, agrees. "He never says, 'I'm busy. Sorry I can't talk to you right now,'" she says. "Anytime you can find him and get an answer when you want."
Jeannie Tsai, TCM's CEO, says that Wang has the skills and expertise to take TCM-700C onto the international market. "I think Wang has the ability to do that because he has a global vision about the biotech business and he knows the next stage we need to do."
Interested in reading more?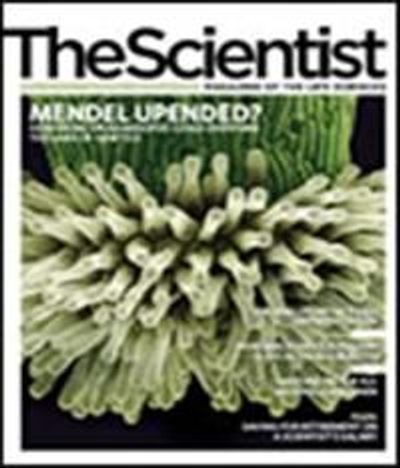 Become a Member of
Receive full access to digital editions of The Scientist, as well as TS Digest, feature stories, more than 35 years of archives, and much more!