It was the beginning of 2002, and employees of Renovis, a biopharmaceutical company based in San Francisco had many reasons to celebrate. They had just received $35 million in financing, and had another $10 million in the bank – enough to last several years. But CEO Corey Goodman was uneasy. The company was focusing its efforts on finding early drug targets and was a long way away from potential revenue, a strategy Goodman could see was quickly becoming unattractive to investors. Goodman knew the company needed to find a way to make money more quickly – and soon. "As good as the science was at Renovis, we needed to change or we were going to fail," he recalls. "We decided we had to go shopping."
Case study: From biological to buyer
When London-based SR Pharma's only product, a biological that showed early promise in treating tuberculosis and cancer, did not...
WHY MAKEOVER?
Although makeovers happen in a variety of ways and for a variety of reasons, some types occur more often than others. Many companies, for instance, are forced to undergo drastic changes if their business model centers on therapeutic products that fail in clinical trials. Other common causes of makeovers include failures in business plans or business models, such as when a product does not generate enough revenue, or a business strategy no longer holds any promise.
Case study: One company becomes two
Last year, the leaders at Pharmacopeia, the New Jersey biopharmaceutical and software company, made a bold decision: it decided to split into two companies, with each focusing on one platform. Now, Pharmacopeia is strictly a biopharmaceutical business, and another company, Accelrys, focuses on the software side in San Diego, California. Leslie Browne, President and CEO of Pharmacopeia notes that the two companies decided to separate to focus more on each business, and so investors will know exactly where their money goes. One advantage of a makeover, Browne says, is you already have people, a set of technologies, and customers you can use to get a newly-designed company off the ground. However, a disadvantage is that, unlike an unknown entity that's starting from scratch, a company doing a makeover doesn't have the "luxury" of disappearing to make changes, since it's already in the public eye, and perhaps even on the stock market, Browne notes. "It's like driving a car at 60 miles an hour, and trying to change the wheels," he says.
Once a company decides to undergo a makeover, often it will "go vertical," meaning they change their business model from being a platform company to a discovery/development company. For instance, like Renovis, San Francisco-based Exelixis shifted from a genomics company to a drug discovery company in 1999, and filed for 3 investigational new drugs (INDs) last year and this year, and expects to do the same in 2006.
Another category of makeover describes what happens when companies like Renovis take the "great leap forward," as Fambrough calls it, moving from a early development company to a drug seller, by in-licensing a late stage or commercial asset from another company. Another, less common type of makeover occurs when a company changes its platform entirely.
For companies that recently announced makeovers, it's too early to say whether or not the move was a successful one, Smith notes, adding that there will likely be "troubled times" when a company makes changes, such as lay offs or relocations." Many companies will likely also make mistakes along the way, she notes. "You can't make omelets without breaking eggs," she says. "I think there are a lot of eggshell omelets before they start to make a better omelet."
As a result, for every success story, there's likely many other companies that quietly disappear after a failed makeover. Notes Fambrough: "I'm quite certain there are more failures than successes in doing makeovers."
Six Tips on How to Survive a Makeover
Planning a facelift or two? Experienced execs give their advice.
From Sirna CEO Howard Robin:
1. Ignore previous attachments to the way things have usually been done, and be completely willing to change.
2. Try to keep talent during the makeover, so that you don't lose valuable, trained workers.
3. Capitalize on and work with what the company is already good at doing.
From Oxagen CEO Payton:
4. If a makeover is planned, do it fast. If it's delayed, often staff begin to get disgruntled.
5. Make sure every board member is completely behind the transition, so there isn't any "grumbling at the water cooler" that could undermine the momentum.
6. consultant to advise you through the process can be very helpful.
"Repositioning" Companies Find Ways to Make Compounds a Commercial Success
What do you do when a promising compound sails through Phase I clinical trials and then stalls in later studies? With the costs of drug development and clinical trials growing quickly, it's too wasteful to simply leave one of the 200 compounds that fail clinical trials every year on the shelf. Nowadays, more companies are turning to repositioning – also known as reprofiling or repurposing – in which a drug is developed for a certain disease but ends up being used for a completely different indication. That's what happened to Pfizer's Viagra, which began life as an anti-hypertensive but didn't do well in Phase II trials.
Viagra's repositioning was the result of an unexpected side effect observed in a high-dose safety study But the idea of not waiting for such serendipity has become so popular that about two dozen companies have sprung up to fill what they say is a growing need. The field has already spawned one conference, the Drug Repurposing and Repositioning Conference, which will hold its second annual meeting in January 2006. Some companies, such as Gaithersburg, Md.-based GeneLogic, partner with drug companies and develop compounds that have failed Phase II or III trials and then return them to the drug companies' pipeline in exchange for milestone payments. Other companies such as Emeryville, Calif.-based Kinemed license or buy failed compounds from pharma companies, and develop them in the hopes of bringing them to the market themselves.
None of these repositioning companies has yet brought a drug to market, but they expect a big payoff. "There are two main reasons why this idea has become popular now: the prohibitive cost and time involved in bringing a new drug to market and the improvements in technology that make it possible to study multiple targets simultaneously," says GeneLogic CEO Lou Tartaglia. The strategy, Tartaglia says, has become the "dominant method to address attrition and increase productivity."
"A large number of targets have been obtained from genomic research and repositioning can be valuable for prioritizing them," says David Fineman, president and CEO of KineMed, which looks for alternative drug candidate targets by examining metabolic pathways implicated in various diseases. Such companies can be flexible in their target approaches and have the advantage of working only with compounds that have proven safe in Phase I trials or, in some cases, have already been approved for other indications. They don't have to bear the costs of the thousands of compounds that didn't even make it to Phase I, according to Peter Daly, CEO of Dublin-based repositioning company Neurocure.
About half of the companies prefer to work with approved drugs. Neurocure develops new uses for known drugs with a focus on central nervous system markets. The company uses strategies including testing novel combinations of drugs and new dosing ranges. Cambridge, UK-based Arachnova focuses on therapeutic switching – finding new uses for existing drugs.
While most companies focus on drugs that that have been approved or have at least shown to be safe, others don't mind taking on compounds that may have failed safety trials. Rockville, Md.-based Vanda uses pharmacogenetics to define subpopulations of patients with favorable drug responses, and Cambridge, Mass.-based Xanthus Lifesciences is an oncology drug development company that focuses on developing optimal, non-toxic dosing of toxic drugs.
GeneLogic has 17 drug candidates in its drug repositioning program. Sosei, a Japanese company with a reprofiling focus, has 16 compounds in its product pipeline. Xanthus has two products in Phase I and one in pre-clinical testing, while Neurocure and Arachnova both have one compound each in Phase I and II trials and one in a preclinical stage. "If even 10% of shelved compounds are repositioned into beneficial drugs, the returns would be great," says Chizuke Koseki, head of the drug reprofiling platform of Sosei.
Such expectations aren't lost on venture capitalists. The average repositioning company has raised about $110 million, mostly from VCs, according to industry reports, and most are privately held. However, GeneLogic is publicly traded, and Boston-based Combinatorx, which develops new medicines from combinations of approved drugs, plans to reschedule an IPO that was shelved in March. The company declines to comment on specifics, as did analysts who cover repositioning companies.
- Usha Sankar
Interested in reading more?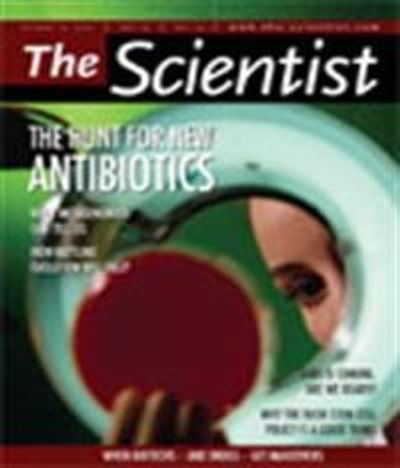 Become a Member of
Receive full access to digital editions of The Scientist, as well as TS Digest, feature stories, more than 35 years of archives, and much more!