He sees us coming, head out of his stall at Santa Anita racetrack in Arcadia, Calif., ears forward to catch the sounds of voices and the crinkling cellophane that heralds his favorite, peppermints. Four days earlier, Greg's Gold won again, pushing his earnings to $951,000 and setting a track record for 7 furlongs on the closing weekend at Hollywood Park.
None of that seemed likely two years ago. In 2005, Greg's Gold ended a race he won with a bowed tendon. "The ligaments were just shredded," says the horse's trainer, David Hofmans, "and that usually means the end of a racehorse's career." The tendon and ligaments will heal with time off, but the resulting scar tissue reduces flexibility, and the horse is slowed down significantly.
"The initial results need to stand the test of time. I am waiting for...
Hofmans and veterinarian Wade Byrd didn't want the horse's career to be over. Byrd had a solution: After administering a local anesthetic, he made an incision under the horse's tail and removed a pad of adipose tissue, which he sent overnight to a company called Vet-Stem, in Poway, Calif. There, technicians washed the adipose tissue in a phosphate-buffered saline solution and added collagenase and hyaluronidase in an attempt to isolate stem cells. Vet-Stem returned the mixture in a refrigerated container in less than 48 hours, and Byrd injected the cells at the site of the shredded ligaments.
Ten months later, Greg's Gold won his first top-tier stakes race since the injury. He's now raced eight times, winning three and placing in all but one of his races. Hofmans says he would recommend the treatment for other horses: "Absolutely, I think it's the only treatment for this kind of injury."
The company has clearly impressed trainers and veterinarians. Since its founding in 2002, Vet-Stem has treated almost 3,000 horses, according to CEO Bob Harman, including racehorses; polo, dressage, and eventing horses; cutting, roping, and barrel-racing horses; and show horses. (For previous coverage, see www.the-scientist.com/article/display/15804.) George Harmening, a Maryland veterinarian, has treated three racehorses and three dressage horses so far. He says he will use the technique as often as he can in horses that have ligament and tendon injuries. Every horse he's treated so far has had a favorable outcome.
The evidence, largely anecdotal, hasn't convinced everyone yet. In some cases, horses have come in for treatment under false names, which is a common problem: No one wants a competitor to know when their horse has a bowed tendon. "We really need an indication of how many horses have been treated and what the actual success rates are," says Larry Bramlage, a veterinarian with Rood & Riddle in Lexington, Ken.
Rood & Riddle uses Vet-Stem's technology when requested, but it hasn't had the successes reported elsewhere. "The recurrence rate is high and the treated tendon is still weak," says Bramlage, who explains that when a tendon forms in a young horse (or human), it's flexible, but over time loses that flexibility and does not regain it. "The initial results need to stand the test of time. I am waiting for evidence that the cure rate is sustained over time."
The original idea for using stem cells was that they would differentiate into tendon and ligament cells. That's proven wrong, says Vet-Stem advisory board member Art Caplan, who studies stem cell therapeutics at Case Western Reserve University. The stem cells seem to calm the inflammatory reaction and then organize for the self-repair of the damaged tissue. "We had no idea of the trophic effect the stem cells would have," says Harman.
Caplan acknowledges that it's not clear why the technique works: "Clinicians do things because they know or suspect they work; it may take us [researchers] 20 years to explain why."
Caplan acknowledges that it's not clear why the technique works: "Clinicians do things because they know or suspect they work; it may take us [researchers] 20 years to explain why."
The lack of clarity and transparency frustrates Lisa Fortier, who studies stem cell applications in cartilage regeneration in the horse at Cornell Veterinary School. "The way Vet-Stem works makes it very difficult to gather data. Academics are data driven but don't have as extensive a client base as a company like Vet-Stem does, but we keep detailed records." Fortier says she worries that if, over time, the Vet-Stem method does not hold up, people will discard treatments using stem cells as something that doesn't work.
Vet-Stem has also expanded its treatment to dogs. In a recent issue of Veterinary Therapeutics (8:272-84, 2007), the researchers report on a randomized, double-blind study of dogs with chronic osteoarthritis of the coxofemoral joints. They conclude: "This multicenter study shows that intra-articular administration of adipose-derived stem and regenerative cell therapy decreases patient discomfort and increases patient functional ability." Owners of three of the dogs participating in the study were considering euthanasia before the dogs were treated, and those three dogs have improved.
The company is in the process of setting up a pilot study with five investigators (all DVMs in internal medicine), for dogs with chronic inflammatory liver disease. In the meantime, Vet-Stem has an agreement with the Central Veterinary Research Laboratory in Dubai, UAE, to offer the treatment to horses in the United Arab Emirates, Kuwait, Saudi Arabia, and Qatar - countries that are hardly strangers to high-end horses. Vet-Stem is also offering a small pilot program to horse breeders: storage of umbilical-cord perinatal cells for future use in case of injury or disease. Five doses of these cells will be cryogenically stored for each foal's lifetime, for $3,000.
Back at the track, Greg's Gold, like the Energizer bunny, is raring to go, according to Hofmans. He ran in the San Carlos Handicap, a race for 4 year olds and up at 7 furlongs at Santa Anita on February 16. He placed second in that race, nipped at the wire by Surf Cat. He raced again in the San Portrero Handicap on April 5, winning this time, defeating two other Grade I winners, and becoming racing's newest millionaire with earnings of $1,067,923. He will race twice more before the Breeders Cup Sprint in October. He is also starring in Vet-Stem's latest advertising.
Interested in reading more?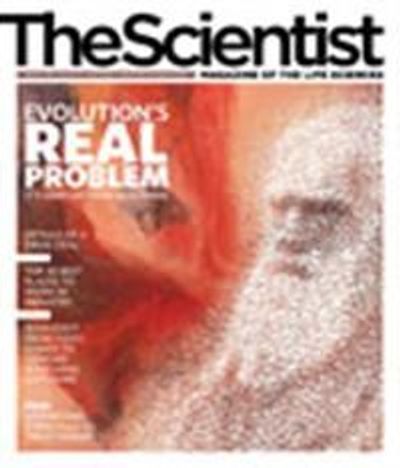 Become a Member of
Receive full access to digital editions of The Scientist, as well as TS Digest, feature stories, more than 35 years of archives, and much more!