Cells have evolved numerous ways to detect viral infection and set off the immune system's alarms. Extracellularly, Toll-like receptors spot double-stranded viral RNA, while inside the cell retinoic acid-inducible gene I ( RIG-I ) and melanoma differentiation-associated gene 5 ( Mda-5 ) are responsible for detecting viral RNA. Ultimately, through a sequence of activating events - with the complete set of steps yet to be characterized - all roads lead to interferon production, but some viruses are able to evade the system by exploiting weak links.
Inside four weeks, in 2005, four independent groups identified a missing link in the chain from the initial detection of viral RNA to the activation of downstream kinases. Two of the resulting publications are Hot Papers. Lead by Zhijian (James) Chen at the University of Texas Southwestern Medical Center,...
Idiosyncrasies
In 2004 two groups identified the initial detection elements that signal the presence of intracellular viral RNA. Immediately investigators around the globe began searching for downstream proteins in the pathway. Chen says he had "no idea" his group was racing neck and neck with several others to identify RIG-I's adaptor.

Each paper makes slightly different observations about the adaptor. For example, Tschopp's group found that Cardif binds to a certain kinase complex called IKK, whereas Chen's group found no direct interaction between the two. Shu's team found the adaptor required the signaling protein TRAF6 to activate a transcription factor, while Akira's group found the opposite. There are numerous disparities, but Akira says that overexpression experiments can cause inconsistencies. Several groups are working to resolve precisely the proteins with which the adaptor associates. Recently, investigators found that the signaling protein TRAF3 associates with the adaptor and is essential for antiviral immune responses on the RIG-I pathway, 5 while Hiscott's group identified another adaptor in the pathway that operates on a kinase complex downstream of the first adaptor. 6
Exploitations
Perhaps the most significant distinction among the papers was the observation by Chen's team that the adaptor has a mitochondrial transmembrane segment, which is necessary to signal the immune response (see "Mitochondrial immunity," The Scientist , 21(1):58, 2007). "Before, we never knew mitochondria were involved in the immune response," Chen says. "It was something of an enigmatic observation at the time," says Hiscott.
It turns out that the adaptor's association with mitochondria is the Achilles' heel of the viral RNA detection pathway. Tschopp's group showed that a serine protease from hepatitis C cleaves the adaptor, leaving only an impotent segment in the mitochondrial membrane and thereby blocking the cell's antiviral response. "It's one of the reasons why hepatitis C establishes chronic infection in human," Chen says.
Hiscott's group followed up in 2006 and proposed that the hepatitis C protease disrupts an association between the adaptor and one of the cell's kinase complexes, IKK epsilon. 7 "How important this is for innate immune signaling remains to be resolved," Hiscott says. It is still unclear why the adaptor has to be on the mitochondrial membrane to work, says Chen.
Researchers are also trying to identify which of the other viruses short circuit the immune response system and succeed with infection. Chen says he is working on herpes and respiratory syncytial virus, while others this year have found that hepatitis A operates similarly to hepatitis C by proteolyzing the adaptor, chopping it off the mitochondria, and disrupting the immune response. 8
These Hot Paper findings also have implications for neurodegenerative disease research. Yue Huang, a researcher in Glenda Halliday's laboratory at New South Wales University in Randwick, Australia, says the findings support a hypothesis of sporadic Parkinson disease that involves viral infection and mitochondrial dysfunction. However, Huang writes in an e-mail, "the signaling cascade mediated by MAVS/VISA in PD remains unknown."
References
1. R.B. Seth et al., "Identification and characterization of MAVS, a mitochondrial antiviral signaling protein that activates NF- κ B and IRF 3," Cell , 122:669-82, 2005. (cited 127 papers) [PUBMED]
2. L.G. Xu et al., "VISA is an adapter protein required for virus-triggered IFN- β signaling," Mol Cell , 19:727-40, 2005. (cited in 108 papers) [PUBMED]
3. T. Kawai et al., "IPS-1, an adaptor triggering RIG-I and Mda5-mediated type I interferon induction," Nat Immunol , 6:981-8, 2005. (cited in 127 papers) [PUBMED]
4. E. Meylan et al., "Cardif is an adaptor protein in the RIG-I antiviral pathway and is targeted by hepatitis C virus," Nature , 437:1167-72, 2005. (Cited in 135 papers) [PUBMED]
5. S.K. Saha et al., "Regulation of antiviral responses by a direct and specific interaction between TRAF3 and Cardif," EMBO J , 25:3257-63, 2006. [PUBMED]
6. T. Zhao et al, "The NEMO adaptor bridges the nuclear factor- κ B and interferon regulatory factor signaling pathways," Nat Immunol , 8:592-600, 2007. [PUBMED]
7. R. Lin et al., "Dissociation of a MAVS/IPS-1/VISA/Cardif-IKKepsilon molecular complex from the mitochondrial outer membrane by hepatitis C virus NS3-4A proteolytic cleavage," J Virol , 80:6072-83, 2006. [PUBMED]
8. Y. Yang et al., "Disruption of innate immunity due to mitochondrial targeting of a picornaviral protease precursor," Proc Natl Acad Sci , 104:7253-8, 2007. [PUBMED]
Data derived from the Science Watch/Hot Papers database and the Web of Science (Thomson ISI) show that Hot Papers are cited 50 to 100 times more often than the average paper of the same type and age.
T. Kawai et al., "IPS-1, an adaptor triggering RIG-I and Mda5-mediated type I interferon induction," Nat Immunol , 6:981-8, 2005. (Cited in 129 papers) [PUBMED]
E. Meylan et al., "Cardif is an adaptor protein in the RIG-I antiviral pathway and is targeted by hepatitis C virus," Nature , 437:1167-72, 2005. (Cited in 136 papers) [PUBMED]
Interested in reading more?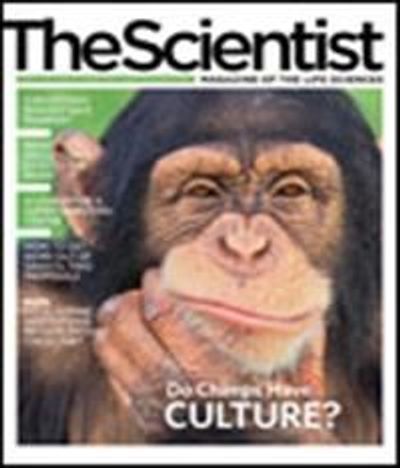 Become a Member of
Receive full access to digital editions of The Scientist, as well as TS Digest, feature stories, more than 35 years of archives, and much more!