Richard Evershed and Nicola Temple
Bloomsbury Sigma, April 2016

We modern humans place an inordinate amount of trust in the people who produce, package, ship, and market our food. And all too often that trust is betrayed. Living ever farther from the sources of nature's bounty leaves space for deception, fraud, and malfeasance to creep into the supply chain. In Sorting the Beef from the Bull, biogeochemist Richard Evershed of the University of Bristol in the U.K. and biologist and science writer Nicola Temple tell some of the most egregious tales of food fraud that science has helped expose.
From the unimaginative—advertising horse meat as ground beef, or fobbing off inferior wine as a superlative vintage—to the rather inventive, such as manufacturing phony eggs from a combination of chemicals and algae-derived powders, Evershed and Temple explore...
Martin Stevens
Oxford University Press, May 2016

While humans may be masters of deception and intrigue, other species have millennia on us. Several times over, evolution has favored genes that confer upon their carriers the ability to appear as something they are not. Caterpillars that look like snakes, cuckoos that lay their eggs in brown cowbird nests, and orchids that lure pollinators by smelling like female insects constitute just a taste of the trickery on display in Cheats and Deceits, a book by University of Exeter ecologist Martin Stevens.
Surveying the sneakier twigs on the tree of life, the book highlights specific instances of deceptive anatomy and behavior in the context of recurring themes or strategies that have arisen independently throughout evolutionary history. Stevens ends the book by considering how the continued study of deception in the natural world will help researchers understand basic biological principles—for example, appreciating how sensory systems work by studying plants or animals that exploit the perceptual quirks of predators, mates, or competitors.
By Drew Harvell
University of California Press, May 2016

Whether art imitates life or vice versa is open for debate. But that art can inspire science is indisputable, at least in the case of Cornell University ecologist Drew Harvell and her tireless quest of marine discovery. In A Sea of Glass, the author relives her journey to the far corners of the planet to seek out the creatures that inspired glassmakers Leopold and Rudolph Blaschka, a father-and-son team that spun graceful, glassy forms to life 150 years ago, fueled by their passion for marine invertebrates.
"I first saw it twenty-seven years ago, broken and dusty, its knowing eye cocked up at me, suckered tentacle stretched across the bottom of its box," Harvell writes of her introduction to the Blaschkas' forgotten art in a storage warehouse outside of Corning, New York. "I was discouraged to see the octopus so damaged, with shattered tentacles and a gaping hole above the eye; it looked to be beyond repair."
But Harvell saw that glass octopus as a metaphor for the fragility of marine life, and it inspired her to "use our glass collection as a time capsule and to see how many of the living representatives we could find in today's oceans." In the richly illustrated book, she recounts finding all of the living representatives of the Blaschkas' menagerie. While the data are still being crunched, Harvell does report that a few species are considered endangered and that biodiversity in the Mediterranean (where the Blaschkas collected most of their muses) has dramatically declined over the past 20 years. (You can see the Blaschkas' ocean-inspired works in person at the Corning Museum of Glass, where they'll be on display from May 14 through January 8, 2017.)
By Thomas D. Seeley
Princeton University Press, May 2016

In addition to serving as a primer on the behavior and biology of honeybees, Following the Wild Bees just might give readers an intellectually (and physically) stimulating new outdoor activity to take up, just in time for the balmy days of summer. The latest book from Cornell University bee biologist Thomas Seeley is part paean to nature and part practical guide to the lost art of wild-bee hunting.
Seeley adroitly relays the tricks and techniques of tracking wild bees, which involve locating patches of flowers humming with honeybees, capturing and feeding the insects, releasing them, and following them back to their hive, where the hunter can observe the comings and goings of the inhabitants. The author—who also keeps his own hives of domesticated bees—writes most passionately about excursions that end in the pinpointing of a single, wild bee–laden tree among a forest of similar potential habitats. "Like most beekeepers, I love the honey bee colonies that I keep in my hives, for they are easily observed and studied," he writes. "But I am in love with the honey bee colonies that live in the woods."
Interested in reading more?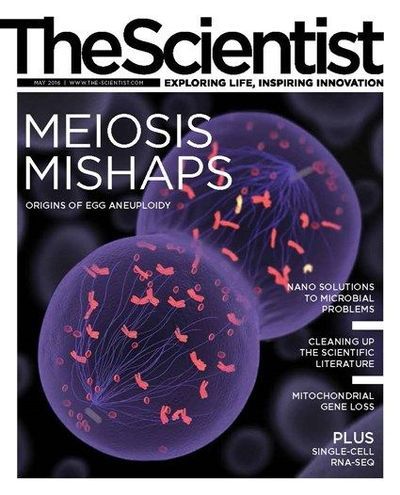 Become a Member of
Receive full access to digital editions of The Scientist, as well as TS Digest, feature stories, more than 35 years of archives, and much more!