By Justin Gregg
Oxford University Press, December 2013

Marine biologist Justin Gregg really loves dolphins. He loves the cetaceans so much that he's devoted his career to studying the fascinating ways in which they communicate. But he's not so enamored that he's afraid to demystify some of the prevalent myths that surround dolphins and their apparently intelligent ways.
The scientific evidence, argues Gregg in Are Dolphins Really Smart?, is ample enough to evoke a healthy fascination and respect for the marine mammals' cognitive capabilities. After all, research has shown that dolphins form complex social hierarchies, transmit behaviors through populations via nongenetic means, display nuanced and representative vocal patterns, and in some populations, exhibit rudimentary tool use. Eschewing the pervasive and nonscientific popular opinions regarding dolphin intelligence, playfulness, and peacefulness, Gregg instead dissects the scientific literature on dolphin behavior.
The picture...
By Allen St. John and Ainissa G. Ramirez
Ballantine, November 2013

It's that time of year again. NFL action reaches a fever pitch with that quintessentially American holiday, Super Bowl Sunday, right around the corner. Newton's Football serves as an informative time-out from the gridiron action to consider the science involved at every level of the game.
Journalist Allen St. John and engineer Ainissa Ramirez cover the basic physics of the game—momentum, mass, force, etc.—but also answer interesting queries such as: How do 300+-lb, 6'6" linemen build and maintain those impressive bodies? and, What can monkey behavior tell us about why head coaches are reluctant to go for it on fourth down?
Newton's Football serves a heaping helping of smart science and snappy writing about a game that is too often viewed as an intellectually vapid clash of titans.
Oren Harman and Michael R. Dietrich, editors
University of Chicago Press, December 2013

Life science can start to feel like a pretty insular world to those who spend countless hours at lab benches. Specific disciplines operate inside of conceptual silos, PIs from diverse fields suckle at the same crowded NIH teats, and a limited cadre of thought leaders set research priorities for decades within some areas of biology. It's helpful, then, to remember that the life sciences have been shaped and promoted by nonbiologists. That's the crystalline message of Outsider Scientists, a collection of essays edited by science historian Oren Harman and science philosopher Michael Dietrich, who compare biology to "a duck-billed platypus—something that appears chimeric, yet is fully rooted in its own historical lineage of accumulating adaptations, tinkering, and change."
The essays are portraits of those tinkerers who shaped biology without first amassing pedigrees in the fields they impacted. Harman and Dietrich cleverly parse these sketches into six parts: outsiders before the discipline of biology even coalesced as a science, outsiders from the physical sciences, outsiders from mathematics, outsiders from the human sciences, insider-outsiders (biologists who switched fields within the life sciences), and outsiders from informatics.
Each section introduces the reader to voices that have changed and challenged biological dogma throughout the centuries. Some of the names are familiar and canonical—Mendel, Pasteur, Pauling, Chomsky—and others less so: Nicolas Rashevsky, Elaine Morgan, Ilya Metchnikoff. Each portrait, though, is a fascinating look at how the uninitiated (or semi-initiated) are sometimes precisely the right people to inject fresh thinking into this ever-morphing field of scientific inquiry.
By D. F. Swaab
Spiegel & Grau, January 2014

Ever since René Descartes wrote "Je pense, donc je suis" (the French original of the Latin "Cogito ergo sum" and the English "I think, therefore I am") in 1637, scientists and philosophers have grappled with the question of whether the ability to ponder our existence proves that existence. Skipping most of the philosophy, Dutch neuroscientist Dick Swaab, in his latest book, We Are Our Brains, traces the no less thought-provoking and complex development of the human brain from its genesis in developing embryos to its almost inevitable degradation in old age.
Drawing on his own years of research and the work of others, Swaab paints an intimate portrait of the brain, leaving out nary a detail of its function or malfunction. Near-death experiences, memory, morality, aggression, and autism are the subjects of just a few of the cranial vignettes Swaab constructs. He even winds his way back around to the philosophical, devoting a chapter to the "illusion" of free will, in which he evokes the wisdom of Nietzsche, Spinoza, Darwin, and Stanley Kubrick's Dr. Strangelove.
Interested in reading more?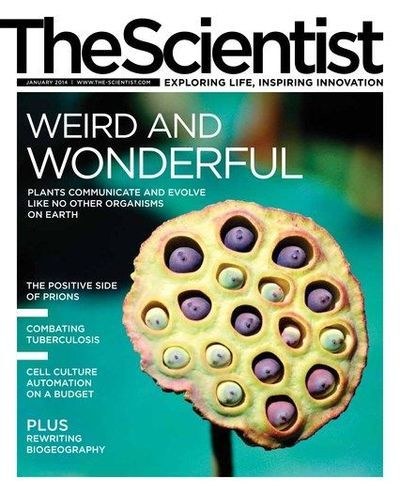 Become a Member of
Receive full access to digital editions of The Scientist, as well as TS Digest, feature stories, more than 35 years of archives, and much more!