By Aldo Leopold, Edited by Curt Meine
Library of America, March 2013
"Acts of creation are ordinarily reserved for gods and poets, but humbler folk may circumvent this restriction if they know how. To plant a pine, for example, one need be neither god nor poet; one need only own a shovel." That voice—filled with folksy directness and playful literary loft—is Aldo Leopold's, from his 1949 classic A Sand County Almanac, a poetic memoir and "land ethic" manifesto. This spring, The Library of America adds to its editions of Muir, Thoreau, and Audubon a definitive volume of Leopold's writings: Sand County, more than four dozen previously uncollected public talks and essays, and newly transcribed selections from his journals and letters, all edited by premier Leopold scholar Curt Meine.
Anyone interested in ecology as a science, nature...
By Amy Stewart
Algonquin Books, March 2013
Just 30 pages into The Drunken Botanist, I'd already learned more about the biology, technology, and cultural history of making alcoholic drinks than I'd known all my life. Hops are related to cannabis, agave to asparagus. Yeast is one of the earliest domesticated organisms (but brewers still treasure the flavor enhancement from wild varieties that colonize their vats or fall in on insects). Tequila stills originated in the Philippines. Apples have twice as many genes as we do. The first (and toxic) "head" of gin distillation yields an industrial cleaner. Reading out loud, I had everyone at the family dinner table making lists of whom to give the book to.
But when Amy Stewart has covered the basic alcoholic alchemy—transmuting barley, corn, and rye to beer and whiskey; grapes to wine and brandy; rice to sake; potatoes to vodka; sugar cane to rum; bananas, tamarind, cassava, and more into exotic brews—with ample asides on artisanal potatoes, the best oak species for casks, etc., she's still just getting started. Two more sections detail the botany and culture of herbs, barks, fruits, and flowers used for infusing and flavoring beverages. Lore lovers, pull up a bar stool and prepare to drink it all in.
By Bryant Austin,
Foreword by Sylvia A. Earle
Abrams, April 2013

Pick up this beautiful large-format book, and a humpback whale calf meets your eye. Open to the frontispiece: a sperm whale nails you with a look of such intent and sapience that you feel spoken to. Against all odds, photographer Bryant Austin has succeeded in becoming an "ambassador" between land and sea, giving the viewer an intimate experience of contact with intelligent nonhuman life—alien in scale and milieu, yet kin.
In 2004, a humpback mother gently tapped Austin's shoulder with her 2-ton, 15-foot-long pectoral fin. Her exquisite control bespoke such awareness of his vulnerability and value that he felt obliged to return the favor. Could he convey whales' presence with enough immediacy to get humans to control our harmful behaviors, such as choking the oceans with plastic? (Only 1% of anthropogenic whale mortality, he says, is from hunting.) On little money and less sleep, supported (like a young whale) by his mother, Austin struggled to assemble high-resolution, life-size (10'×40') portraits of multi-ton individuals. His lens required getting within a few feet—trusting and earning trust. Exhibited full size in whaling nations Norway and Japan, the book's two head-to-flukes portraits are double foldouts, supplemented by a trove of staggering close-ups.
By Monte Reel
Doubleday, March 2013
Historical novelists often use a Forrest Gump–like fictional character as an entrée to another era's atmosphere and real-life luminaries. To lead us deep into a pivotal moment in intellectual history and its social consequences—the mid-1800s, when evolution challenged religion as the arbiter of man's place in nature—nonfiction writer Monte Reel found such a character who really existed. A diminutive adventurer of childlike enthusiasm, who as a boy fetched up on an African riverbank like Moses, Paul Du Chaillu achieved fame in New York and London as the first European to penetrate the African interior and see, shoot, and stuff wild gorillas. As such, he crossed paths not only with Darwin and his detractors, but with Abraham Lincoln, Sir Richard Burton, P.T. Barnum, and more, and his 1861 best seller influenced Dickens, Thackeray, Conan Doyle, Jack London, and the creators of Tarzan and King Kong. And his evidence—lionized, discredited, rehabilitated—was claimed by creationists and evolutionists, Victorian moralists and proto-bohemians, racists and abolitionists. Du Chaillu had a secret: he was part black himself. This is the history of ideas as rip-roaring adventure story.
Interested in reading more?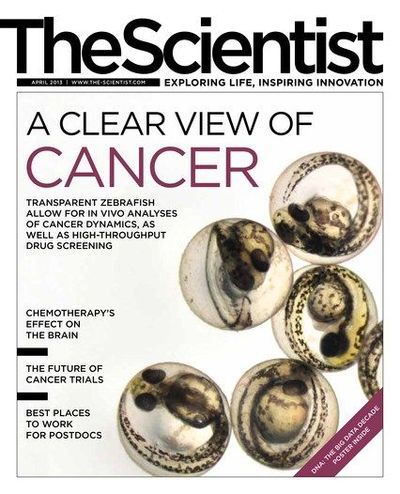 Become a Member of
Receive full access to digital editions of The Scientist, as well as TS Digest, feature stories, more than 35 years of archives, and much more!