By John Marzluff and Tony Angell
Free Press, June 2012
YouTube videos of crows playing with kittens, fashioning tools, or using traffic to crack nuts (prudently waiting for the light to change before feasting) have given millions a glimpse of the remarkable intelligence of corvids, the family that also includes ravens, magpies, rooks, and jays. Now, to the growing shelf of books on these feathered prodigies by Bernd Heinrich, Candace Savage, and Lyanda Lynn Haupt, wildlife biologist John Marzluff and artist-naturalist Tony Angell make a new contribution that probes the adaptive roots of corvids' ingenuity, sociability, and affinity with humans.
Deftly folding neuroscience into anecdote and legend, Gifts of the Crow links corvids' brain chemistry and anatomy (meticulously illustrated by Angell) to their abilities to play, deceive, plan, imitate, recognize human friends and foes...
Houghton Mifflin Harcourt, May 2012
Early in this enthralling guide to "reading" our natural habitats through the sounds and actions of birds, Jon Young, an ecologist-educator trained in Native American and African tracking traditions, seconds the assertion of a colleague that such primordial systems of nature awareness are "the origin of science." And in What the Robin Knows, Young leads science by the hand back to its roots. He shows us not only what to listen and watch for at a "sit spot" that could be in our own back yard, but, more importantly, how: with wide-angle "deer hearing" and "owl vision," augmented by "fox walking" and "raccoon touch." By slowing, softening, and deepening our presence, we can make ourselves safe for the birds, and then for other elusive wildlife, announced by the avian "sentries." The simmering, intimate "baseline" of everyday bird business is perturbed in intelligible ways by the approach of different intruders or predators, triggering "a wave of alarms followed by a tunnel of silence." We can all—even lab rats!—relearn this rich language to our benefit, says Young, because our brains were made by and for it.
Princeton University Press, December 2012
Sometimes it takes an artist to create a masterpiece of scientific communication with the general public. Katrina van Grouw's formal training is in natural history illustration; her passion is for birds and their portrayal, historical and contemporary. Her chops as a bird anatomist and taxidermist earned her a curatorial perch in London's Natural History Museum. But her dream was to create a book of bird anatomy for artists, a project long deemed "too birdy" by art publishers and "too arty" by bird-book publishers, she says on her website.
The Unfeathered Bird is not just for aspiring Audubons. It's perhaps no surprise, though a great pleasure, that the 300+ drawings—of skinned birds, their muscular and skeletal anatomy exposed in lifelike poses—are extraordinary, a sort of 2-D bird "Body Worlds." (All specimens died naturally, van Grouw avers.) The surprise is the text. Lucid, colloquial, packed with information, and leavened with humor, it brings a grasp of bird evolution and adaptation within any reader's reach. Surveying the vast range of structural and sensory variation within class Aves, van Grouw relates fine details of eyes, bill, skull, tongue, wishbone, pelvis, tail, and feet to a bird's habitat, food, and behavior. The result: a magnificent—and accessible—monograph on biodiversity.
Princeton Architectural Press, May 2012
The mysterious italicization of "Other" in this handsome volume's title might be a veiled allusion to la difference: the aspiring Audubon in question was a woman. But the title is misleading, in that only 5 of the 68 exquisite hand-colored lithographs of birds' nests and eggs reproduced here are her own finished work. The rest is largely a memorial collaboration by family and friends—not that that diminishes its documentary value or beauty.
Genevieve Jones's story, unearthed by Joy Kiser, is lugubriously Victorian. The cherished daughter of a nature-loving Ohio doctor, she received a genteel home education, revealing fierce talents for art, science, and music. Unusually tall, with cheeks crimsoned by rosacea, she finally fell in love at 29, but her father nixed her suitor because he drank. Desolate, Jones saw Audubon's bird engravings at an exposition and resolved to fill a void she'd long noted: meticulous depictions of nests and eggs. No sooner had she made a triumphant start—subscribers to the serialized publication included once and future US Presidents—than she died of typhoid in the summer of 1879, at age 32. Her brother and parents saw the work through—her mother, Virginia, transforming herself by force of grief from a sentimental amateur to a near Audubon in her own right.
Interested in reading more?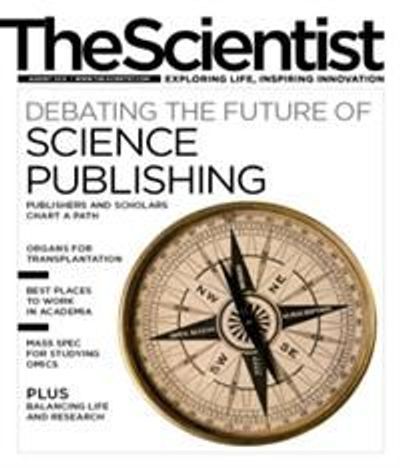 Become a Member of
Receive full access to digital editions of The Scientist, as well as TS Digest, feature stories, more than 35 years of archives, and much more!