by Stephen Wilson
Thames & Hudson, April 2010
Art + Science Now is a comprehensive compendium of work from today's best bio artists. The book is cleverly partitioned into chapters that highlight pieces from different realms of bio art, ranging from molecular and human biology to robotics and information. More than 180 pages showcase eye-catching artwork produced since 2000. Accompanying each photograph of bio art is a brief write-up by the late Stephen Wilson, who was a conceptual and information arts professor at San Francisco State University and coeditor of the art and science journal Leonardo. Wilson's keen eye and expansive grasp of bio art trends shine through in Art + Science Now, which contains work by more than 250 artists from all corners of the globe. A thorough visual reference work for the avid bio-art fan or a newcomer to the genre, the...
Eduardo Kac, editor
MIT Press, September 2009
In Signs of Life, one of the most respected and best-known bio artists, Eduardo Kac, compiles essays from prominent voices in bio art, including those of artists, philosophers, and academics who speak to the role of art in making sense (and making use) of the biotechnology revolution that has so changed our world in the past 50 years. While it contains intriguing ruminations on the purpose and utility of bio art in coming to grips with the awesome power of biotechnology, the book also charts the history of the incorporation of emerging biotechnologies into the world of art and aesthetic expression. One of the most interesting articles included in Signs is a 1936 instructional piece by Alexander Fleming, the Scottish biologist whose 1928 discovery of penicillin won him a share of the 1945 Nobel Prize. In the essay, Fleming—a true forefather of bio art—gives the recipe for his "germ paintings," intricate colored "drawings" substituting bacterial cultures for ink and paper disks for canvas.
Sean Caulfield, Curtis Gillespie,and Timothy Caulfield, editors
Department of Art and Design, University of Alberta, July 2011
This companion book to a touring exhibition of the same name, Perceptions of Promise is a thought-provoking exploration of how our human culture pins both hope and fear on biomedical innovation. The work is a collaboration of researchers, artists, and scholars, and comprises a collection of essays interspersed with color plates featuring paintings, installations, sculptures, photographs, and computer-generated images. Each touches on the human psyche's connection to life-sciences breakthroughs—particularly stem cell research—and the diverse array of contributors consider every angle of the relationship. Some of the more intriguing writing and artwork in the book blurs the line between science and art. "The creativity of science and the creativity of art are, at some level, about exploring fundamental topics," writes biologist Peter Rugg-Gunn in one of the essays. "Stem cells are one of those topics." This concept is brought to visual life by photographs of the installation "End Point," by Sean Caulfield and Roy Mills, University of Alberta art faculty members who blend large-format drawings that invoke scientific diagrams of the Middle Ages with hulking sculptures in steel, wood, fabric, and glass.
by George Gessert
MIT Press, April 2010
Evolution has endowed our biosphere with a dizzying variety of color, shape, form, and pattern. Every living corner of the globe is virtually bursting with eye candy. To say that life on Earth can be beautiful is a profound understatement. But some of biology's most visually appealing variation has actually been wrought by human hands. Green Light celebrates the aesthetic virtue of living things and explores the role that we've played in manipulating evolution for our own ends—domestication, science, and art. In a refreshing departure from the usual chewing over of the ethical and political aspects of this evolutionary tinkering, author and bio artist George Gessert instead focuses squarely on the intrinsic beauty of living things and how aesthetic value itself acts as an evolutionary force in art, agriculture, and science. Call it survival of the prettiest. Gessert devotes the most space to plant life, as it has been the most widely domesticated and forms the core of his own artwork. But he offers other examples of beauty driving the artificial selection that humans apply to the organisms we've woven into our cultures—Japanese roosters with 20-foot tail feathers; a slew of domesticated pets, including gerbils, swordtail guppies, and cockatiels; and even fluorescent bunny rabbits.
Interested in reading more?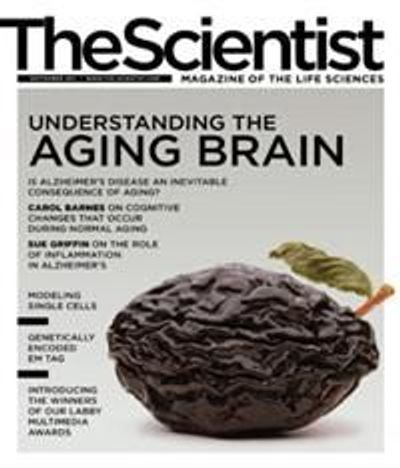 Become a Member of
Receive full access to digital editions of The Scientist, as well as TS Digest, feature stories, more than 35 years of archives, and much more!