by Ian McEwan
Nan A. Talese, March 2010

Nobel Prize-winning physicist Michael Beard lives off his reputation. Balding, fat, and on the far side of fifty, he won his award a long time ago, and physics has moved on in ways mysterious and impenetrable to him. Beard struggles to keep up with his own brilliant students and is desperate to build an enduring legacy. He finds himself in charge of a new department—housed in a new building constructed with taxpayer money—and tasked with nothing less than finding a solution to the energy crisis and slowing the rate of global warming.
On top of these pressures, Beard's life changes after he avoids being charged for murdering one of his fifth wife's lovers by framing someone else. He takes a trip to the Arctic to witness the effects of global warming firsthand, and gradually his desire for a legacy meshes with...
by Jerold M. Lowenstein
iUniverse.com, September 2010

When an attractive San Francisco-based primatologist comes down with a recurrent fever, Dr. Tony Miller is intrigued enough to follow her back to Africa to try to root out the cause of the strange disease. Raised by missionary parents and as much at home in the jungle as in the corridors of UC Berkeley, where she is a professor, Suzanne Albrecht has been studying the communication and sex lives of bonobos. She is desperate to return to her research—and keen to have Miller along as her personal physician in case the fever worsens. Miller dreams of making a discovery akin to the one that traced the origin of HIV to chimpanzees.
Naturally, the pair manages to get entangled in a local rebellion, but they escape thanks to Albrecht's Dr. Doolittle-like skills, which she wields even as her fever rapidly worsens. The "dark X" of the title refers to a strange purplish mark that appears on the chests of those—humans and apes—infected with what turns out to be a new type of "fractal" RNA virus. Albrecht is saved, although Miller cannot take the credit. Eventually they return to the City by the Bay, where the "will they/won't they" question of their putative romance, complicated by Miller's professional ethics, is resolved.
The Dark X is a quick read—and an informative one, too, if you are interested in diagnostic procedures, primate genetics, and bonobo biology. This is the debut novel for Lowenstein, a San Francisco-based physician specializing in nuclear medicine. He and his wife, an anthropologist, have spent time in Africa observing great apes and monkeys in their natural habitats.
by Stuart Clark
Birlinn Polygon, April 2011
Although they sat on different sides of the Catholic/Protestant religious divide, Galileo Galilei and Johannes Kepler were joined in their scientific rigor, in their support for Copernicus, and in being distrusted by religious authorities. Galileo narrowly avoided being convicted of heresy for daring to claim that the Copernican system was more than simply a hypothesis. Kepler, nominally Lutheran, was ostracized by his church for being unable to accept the literal presence of Christ in the sacrament—but he could not fully assent to the Calvinist doctrine of predestination. This left Kepler between a rock and a hard place, unable to find permanent employ within the Holy Roman Empire, yet unprotected by powerful Lutheran forces—a severe disadvantage as the Thirty Years War ravaged Europe in the seventeenth century.
Nonetheless, Kepler managed to revolutionize astronomy with his tables and calculations, formulating laws that accurately plotted planetary orbits—even if it took Isaac Newton to describe the mechanisms involved. In this fictionalized history, Clark paints a sympathetic picture of this giant of astronomy, deftly showing how he struggled with his tutors and paymasters, yet remained true to his convictions. For Kepler, the universe was wondrous yet understandable, a way for man to know God; this insistence on believing the evidence kept him (and Galileo) two steps ahead of the dogma-bound Jesuits. A tale this full of excitement, danger, and drama can only be based on real life. Stuart Clark has wrought a stunning novel that will leave you impatient for the next two books in the trilogy.
by Paul McEuen
The Dial Press, March 2011
After the end of the Second World War, the US Navy discovers the last remaining sample of a Japanese fungal doomsday weapon. A young British soldier and expert mycologist is on board to advise the US military. Fast forward to the present day, and this same soldier, now a world-renowned Nobel Laureate at Cornell University, finds that the fungus—called Uzumaki, or "Spiral" in Japanese—has come back to haunt him.
McEuen's debut novel is a page-turner, a thriller, a race against time to discover exactly who is after Uzumaki and what they want to do with it. Is it the Chinese, Al Qaeda—or the US Government itself? What is the role of the shadowy Unit 731? Ex-Army engineer and physics professor Jake Sterling finds himself tangled in a web of modern biology and state-of-the-art nanotechnology, in a treasure hunt for the deadliest terrorist weapon ever conceived, and more critically, for the secret of how to neutralize it.
Interested in reading more?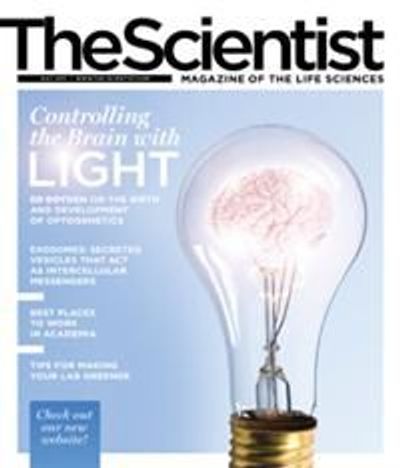 Become a Member of
Receive full access to digital editions of The Scientist, as well as TS Digest, feature stories, more than 35 years of archives, and much more!