FLICKR, CONNOR212
Excelling in industry is not easy, especially if you're a woman. According to a 2010 study of New England biotech firms, females comprised only about 12 percent of biotech founders, despite earning about half of the biological science PhDs. And women are equally underrepresented at the senior management level, holding just 12 percent of senior executive positions in the world's top drug companies and 22 percent of the senior management jobs in biotech, according to a 2007 report in Pharmaceutical Executive.
"[Women] are just going to hit more hurdles," says Joanne Kamens, executive director at Addgene, a nonprofit plasmid repository in Cambridge, Massachusetts. "They can even hit outright discrimination. It still happens, and it can be career-debilitating."
But just because the odds are stacked against women doesn't mean there isn't room for success. The Scientist spoke with three women who are thriving in biotech and polled them...
Joanne Kamens: Science Roots
Education: Bachelor's degree in biology, University of Pennsylvania; PhD in genetics, Harvard University
Title: Executive director, Addgene
Other positions:Founder of the Massachusetts chapter of the Association for Women in Science; Director of the Boston Mentoring Program of the Healthcare Businesswomen's Association
Joanne Kamens
KENNETH FAN
Joanne Kamens is still a scientist at heart. After earning her PhD, she spent 15 years in the pharmaceutical division of the chemical company BASF (acquired by Abbott in 2001), where she worked her way up from bench scientist to group leader for molecular biology. Then, after restructuring at Abbott took away some of her research group's flexibility for doing basic, "fun" research, she was ready for a change.
While still at Abbott, she had taken an interest in RNA interference—now a standard technique in many molecular biology labs. She started attending RNAi conferences, where she met Dmitry Samarsky, who worked at a company that made RNAi reagents. "It was the early days of RNAi, before there was off-the-shelf stuff," Kamens says, so she offered to beta test some of the company's products.
Not only did Samarsky help set her up with "speaking gigs," but in 2007 she took a job as research director of his new company, RXi Pharmaceuticals, a small biotech that was working to develop custom RNA interference reagents. She knew right away it was just the new challenge she had been looking for, and gave notice at Abbott.
Kamens now works as the executive director of Addgene, a nonprofit plasmid distributor, with the goal of making custom plasmids accessible to scientists around the world. Although there is a business aspect, she's working a lot more closely with academia, which she's welcomed. "Addgene interacts with academic labs primarily," she says. "It's kind of full circle for me."
Rachel King: Business to Biotech
Education: Bachelor's degree in French, Dartmouth College; MBA, Harvard Business School
Title: Founder and CEO of GlycoMimetics
Other positions: Serves on the board of the Biotechnology Industry Association (BIO); Member, Maryland Life Sciences Advisory Board (appointed by Governor Martin O'Malley)
Rachel King
Growing up in the Ohio countryside, Rachel King took a quick liking to nature. "I had a dissecting kit and a microscope," she says, and loved to examine things she collected in the woods. King considered going to medical school, but decided on business instead. She eventually wandered back to science, however, taking on a project with a biotech company while working at the consulting firm Bain and Company.
Despite having almost no biology training, King has excelled in the biotechnology arena—becoming part of senior management at Gaithersburg, Maryland-based biotech Genetic Therapy, Inc. (later acquired by Novartis) before founding GlycoMimetics, a company focused on developing small-molecule drugs for rare diseases, in 2003.
The key to her success, she says, has been attending scientific lectures at the companies where she has worked, and sitting down with the scientists afterwards to ask for explanations of concepts she didn't understand. "I'm not trying to be a scientist," she says, "but I can talk about our scientific story." Her layman's approach helps her translate the company's science to investors and even to trained scientists, who need a digest of ideas outside their specialty, King notes.
"I really can't think of anything else I would rather do," she says. In addition to the business and the science, the promise of helping patients desperate for novel therapies "makes the whole proposition just incredibly meaningful."
Daphne Zohar: Entrepreneur Extraordinaire
Education: Bachelor's degree in entrepreneurship, Northeastern University, Boston
Title: Founder and managing partner of PureTech Ventures
Other positions: Technology Development Fund Advisory Board of Children's Hospital Boston, Tufts University School of Medicine Advisory Committee for Drug Discovery and Development.
Daphne Zohar
PURETECH VENTURES
Daphne Zohar was 16 years old and living in Boston when she started her first company—selling watches from the Soviet Union that depicted symbols of perestroika, the Soviet political movement during the 1980s that is often cited as the end of the Cold War. "I imported them, and went door-to-door to different stores to distribute them," she recalls. And she earned a profit.
Zohar then moved on to hosiery—designing a compact package about the size of a lipstick container. After patenting the product, the now 20-year-old inventor-entrepreneur licensed it to a bigger company. Next it was olive oil, then a "sneaker" for horses. And in 2004, she began her current venture—a company to help others start up life sciences companies.
There are many of aspects to launching a company, she says—negotiating a complex license with a tech-transfer office, reading literature to understand the competition, and finding the funding. "As one individual, you may not be optimized to do all of those things," she says. Zohar founded PureTech Ventures because she saw an opportunity in "institutionalizing the process of founding a company." Based in Boston, PureTech brings together experts in those various areas to help translate research from academia into successful commercial enterprises. So far PureTech has helped launch 16 companies.
"I've always been drawn to the concept of starting companies," Zohar says, "bringing together different components to realize the vision."
Interested in reading more?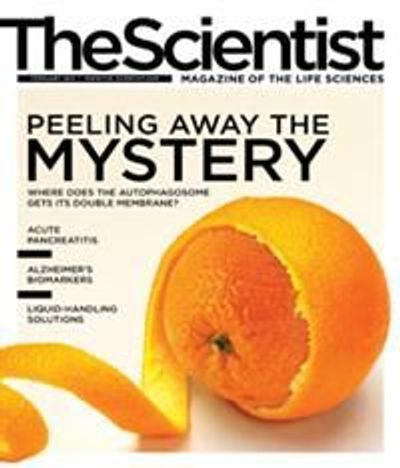 Become a Member of
Receive full access to digital editions of The Scientist, as well as TS Digest, feature stories, more than 35 years of archives, and much more!