© ISTOCK.COM/ANAMAD
In September 2016, Facebook cofounder and billionaire Mark Zuckerberg and his wife Priscilla Chan announced an exceedingly ambitious plan to "cure, prevent, or manage all diseases by the end of the century." Zuckerberg and Chan pledged $3 billion to be disbursed by the Chan Zuckerberg Initiative (CZI), the charitable foundation they had launched the year before.
With that announcement, the CZI joined the ranks of a handful of other philanthropic mega-donors pumping cash into biomedical research labs. The Bill and Melinda Gates Foundation, for example, has devoted more than $40 billion to research on malaria and other infectious diseases that strike hardest in the developing world, while the Michael J. Fox Foundation has contributed more than $700 million to understanding Parkinson's disease. Others, like the CZI, have much broader goals. But one attribute unites the major players on the philanthropic science-funding scene: they all serve as alternatives...
The National Institutes of Health (NIH) and other government agencies demonstrate an almost innate wariness of uncertain outcomes, says Gerald Fischbach, Distinguished Scientist and Fellow at the Simons Foundation, a philanthropic organization that funds basic science. In fact, many government/federal agencies now require that scientists state in their proposals how their research will be "transformative." This push comes from continued fiscal belt-tightening that limits the number of applicants government science agencies, especially the NIH, can fund, Fischbach notes. "When the study sections can give out from two to five grants each cycle out of 150 [applications], there's a real bias against risky research."
Private funders, on the other hand, have the freedom to build longer time lines into the projects they fund, which means returns on investment need not be immediate. As a result, philanthropic money is often essential to getting uncertain projects off the ground, with government dollars coming in at a later stage in the research once a clearer finish line emerges.
"When I was at the NIH as the director of the [National Institute of Neurological Disorders and Stroke], almost every new grant that we funded, they had developed preliminary data from a private source," says Fischbach. "Private foundations have the benefit of not depending on the traditional routes of grant review and they are less risk-averse."
Perks of private funding
The Human Cell Atlas is one recent example of how philanthropic funders are playing major roles in propelling basic life-science research. Officially launched in late 2016, the project aims to characterize and explore every cell type in the human body—and is expected to take decades to complete and involve many labs scattered across the globe to profile the human body's estimated 37 trillion cells. Given its massive scale, it likely would not have been possible without support from private funding organizations—namely, grants and cooperation from the CZI for 38 pilot projects—says Anthony Philippakis, chief data officer at the Broad Institute of MIT and Harvard University who is heading up the Broad's involvement in the research endeavor. "[It's a] great example of how philanthropy can kick-start ambitious projects and move very quickly," he says.
The support of the CZI is especially important given the international nature of the project, Philippakis notes, as non-US scientists typically face a much steeper hill to climb than their American counterparts in tapping into NIH funding. CZI's president of science Cori Bargmann agrees that coordinated private support made it easier to encourage the international collaboration and long-term vision that serve as key ingredients of the Human Cell Atlas's sweeping goal. "If you really want to have an atlas of the whole human body, you want people to be using some common frameworks and putting their data into a common platform so that you can compare data that people are getting from different places together," she says. "That was something that didn't seem like it was going to happen on its own."
Bargmann says the Human Cell Atlas grew from a wide web of labs that were independently seeking to characterize different cell types using money from a hodgepodge of funders, both public and private. Pulling all of those loose threads together into a cohesive whole and generating tools and techniques that could be shared between all those labs was the perfect fit for a philanthropic funder with a broad mandate such as CZI. "We stepped in because we saw an area that was exciting, because we saw a field that good leaders and great scientists were starting to get interested in that could use support to put it together," she says.
In mapping the cellular makeup of the human body, Bargmann adds, the CZI hopes that the Human Cell Atlas will also lay the technological and methodological groundwork for future life-science research projects. "Building tools is a way of accelerating everyone's research," she says. "The Human Cell Atlas is an example of a tool that we think can have a great effect in making a lot of different research in a lot of different diseases move more quickly."
Jeremy Freeman, CZI's director of computational biology, agrees, emphasizing that tools for data management and analysis will be especially important and also likely to be widely applicable to future research projects. And CZI is uniquely positioned to oversee the development of such tools, given the experience of the funding body's cofounder, he adds. "So this might be, for example, infrastructure for lots of labs to take the data that they're generating and share it and make it broadly and openly available with the rest of the scientific community."
Tapping all sources
The CZI is not the sole funder of the Human Cell Atlas; the project also involves a host of other private sources of money, as well as governmental support. As many people involved in the private funding of science are quick to point out, the goal is not to replace or supplant the crucial role that government dollars play in the research enterprise. "When you think about the role of how Chan Zuckerberg fits with other funding bodies, especially NIH or its equivalents in other countries, it's really synergistic," says Philippakis.
The bulk of research dollars still comes from the government. According to statistics from the Science Philanthropy Alliance, an advocacy group that seeks to increase philanthropic support for basic research, private sources gave about $2.3 billion to basic science in 2016, while federal science agencies contributed approximately $40 billion. "There's no way that philanthropic funding can compete with federal funding," says Marc Kastner, president of the alliance.
But at the institutional level, philanthropic funding can fill gaps left by flagging budgets at federal funders, says Rick McCullough, vice provost for research at Harvard University. "We've seen, like every university, declines in federal funding over the past five years or so—anywhere from 1 to 2 to 3 percent. Other universities I've heard from have seen swings as large as 12 percent drops in their federal funding. We've been working really hard here . . . at trying to make that up through nonfederal resources." Funding from private foundations, for example, has increased at Harvard by about 112 percent since 2007 for research across all disciplines, he says. "We've been able, then, to hold our research funding essentially flat over the last five years by aggressively going after these kinds of sponsors."
While philanthropic dollars can add value to basic science, such funding mechanisms also diverge from the goals and protocols employed by major public funders. "One of the major differences is that when it's a federally funded grant, there's a very formal process of peer review and scoring and feedback," says Philippakis. "For a lot of philanthropic organizations, the process is often a little bit more lightweight and doesn't have quite the same level of rigidity." This, Philippakis adds, can free up scientists to alter plans, change course, or tweak protocols as data emerge from their research.
For this and other reasons, the types of research funded through these different channels also vary, with private organizations often supporting more projects with no immediate return on investment, says Kastner. "Philanthropists are able to . . . take a longer-term view. That sounds at first sight ironic that the federal government has a shorter-term view, but it's again this issue of reporting to the Congress about the efficacy of their investing. In many agencies, the grants are three years, and that means that after the first year, you have to start preparing the next proposal."
Hand in hand with wanting to see more-immediate returns on investment, federal agencies are less likely to fund high-risk research. "That's what we are sorely missing—a chance for people almost to do the play side of science, of taking that idea that has very high risks, but has the potential to really unveil something very important," says David Scadden, the director of Massachusetts General Hospital's Center for Regenerative Medicine. "And that's where I think these foundations can get in."
Setting an example
Private granting sources are likely to only become more important as basic research continues to face a rocky federal funding environment. The plateauing budgets and stagnant granting success rates seen at US federal science organizations over the past several years have been thrown into even starker relief by the Trump administration's seeming lack of enthusiasm for funding basic research. This summer, in a somewhat cryptic memo on science spending priorities for fiscal year 2019, the administration noted that federal science agencies should fund research that "can result in the development of transformative commercial products and services."
As institutions and researchers weather what Harvard's McCullough calls "a period of 'capital-U' uncertainty," funding for foundational and basic research becomes a rising concern. "I worry that the downturn in federal research support will likely winnow out to some degree other very high-quality research institutions because they may not be able to make up that difference," McCullough says.
While philanthropic dollars are extremely unlikely to ever take over the primary funding role of federal budget allocations to US science agencies, Kastner says he is hopeful that private funders might demonstrate some of the benefits of a new model for supporting science. "I think philanthropy is more important than ever," he says. "It's most important for setting an example for the Congress, for showing the Congress that it's important to take risks and to take a long-term view when you're talking about science, and not to look [only] for short-term applications."
Organization

Areas Funded

Total 2016 Research Support

Bill & Melinda Gates Foundation
Global development, global health, US education, global policy and advocacy
$4.6 billion
Howard Hughes Medical Institute
Basic biomedical research, science education
$663 million
Chan Zuckerberg Initiative
Science, education, affordable housing (with a focus in the San Francisco Bay Area), criminal justice reform
$600 million
Simons Foundation
Mathematics and physical sciences, life sciences, autism research, outreach and education
$231.7 million
Gordon and Betty Moore Foundation
Environmental conservation, science, patient care,
especially in the San Francisco Bay Area
$288.4 million
Alfred P. Sloan Foundation
Research and education related to science, technology, engineering, mathematics, and economics
$74.3 million
The Wellcome Trust
Science, culture and society, innovations, strategy
£502.7 million ($663.6 million)
Interested in reading more?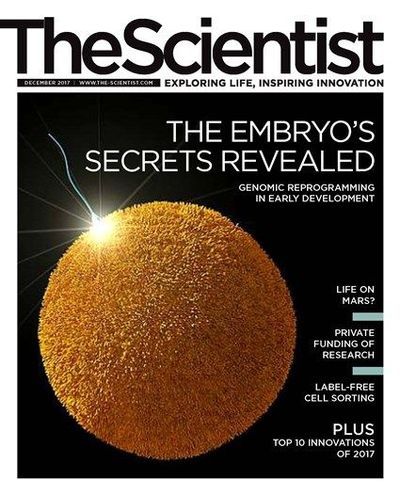 Become a Member of
Receive full access to digital editions of The Scientist, as well as TS Digest, feature stories, more than 35 years of archives, and much more!