Unionization on campus is on the rise. According to a list assembled by the Washington University in St. Louis Undergraduate and Graduate Workers Union, the number of graduate and undergraduate student unions certified by the US National Labor Relations Board (NLRB) or other employment boards has jumped by more than 50 percent in the last five years or so—from fewer than 40 to more than 60—taking the total number of students represented from around 90,000 to more than 120,000.
Disputes over reasonable pay, workplace protections, and affordable housing for teaching assistants and other staff have always been at the heart of these efforts, which trace their philosophy back to social movements of the 1960s. But for many university employees, the combined pressures of a global public health crisis and pay freezes or budget cuts at academic institutions across the US have brought a new sense of urgency. "People are fighting because in this pandemic and this austerity period in higher education, it's fight or flight," doctoral candidate Andrea Haverkamp, then president of the Coalition of Graduate Employees at Oregon State University told The Washington Post in mid-2020. "When push comes to shove, workers stick up for themselves."
I was really happy with the turnout . . . and also the strength in which we won that "yes" vote.

—Tricia Wu, University of Washington
Many groups that have succeeded in unionizing have been able to negotiate formal contracts with their employers to enshrine better pay and employee protections—although it can take years to reach such agreements. In several cases, unionized workers, frustrated by what they see as academic institutions' stalling or unreasonable objections to certain demands, have taken more-direct action to speed things along. Walkouts by workers at Harvard University and Columbia University disrupted teaching and other campus activities in 2021, for example; both eventually concluded in the negotiation of employment contracts that went on to be ratified by union members. Other institutions have yet to come to the negotiating table—Yale University, for instance, has long refused to recognize its local graduate student union as a bargaining unit.
A handful of unions certified in the US in the last year now find themselves at the beginning of this complex process. The Scientist caught up with members of three newly recognized workers' organizations about their journey so far and about what they hope their unions can help them achieve in the future.
Mykaila Ostrom
Staff Scientists Organize at UW
As a graduate student researcher and teaching assistant at the University of Washington (UW) in Seattle, Cara Margherio worked under union protection for student employees. Then she completed her doctorate, and everything changed. "I finished my PhD in 2015, moved into a staff role, and lost all those protections," says Margherio, now a research scientist in sociology at UW. Under the student union umbrella, she says, the pay rates are clear for each job title. But the system for professional staff is more opaque, requiring managers to consult with administrators to determine salary adjustments. As a result, "research scientists [at UW] are paid on average 23 percent below market rates," Margherio says.
To push for change, Margherio became one of several organizers seeking to form a new unit for staff scientists within United Auto Workers (UAW) Local 4121, which already contained two bargaining units—one for UW student employees and another for postdoctoral scholars. UW staff scientist Tricia Wu became an organizer about six months before Margherio, mainly because she "was looking for a way to make UW a more equitable place, not just on an individual level, but a systemic level," she says.
Last December, after more than two years of campaigning, the group reached a milestone. Wu says that out of the more than 1,400 UW staff scientists included in the proposed bargaining unit, the majority supported unionizing based on a count of signed authorization cards, documents that unions use to demonstrate prospective members' endorsement. The result enabled organizers to formally petition the Washington State Public Employment Relations Commission to allow them to unionize. However, UW challenged whether several hundred staff that the university considered managers should qualify as members of the new bargaining unit, Margherio says.
Nicole Iranon
Delays from this challenge impelled the group down another path: an election. On June 8, 2022, 916 staff scientists cast ballots, 206 of which were challenged by UW on voter eligibility grounds, leaving 606 in favor of unionizing and 104 against. "I was really happy with the turnout . . . and also the strength in which we won that 'yes' vote," Wu says. She and Margherio, who are both now part-time employees of UAW Local 4121 in addition to their UW positions, say they're excited for the group to start negotiating. The unit recently held nominations for its bargaining committee, and is collecting information from members to establish priorities. Preliminary results indicate particular interest in improvements in salary, transparency in promotions, and equity, Margherio says. "At this point, it's really about pushing the university to come to the bargaining table."
University spokesperson Victor Balta tells The Scientist in an email, "The UW respects the rights of research scientists and engineers to organize and we look forward to bargaining with this unit in good faith."
UNM Graduate Employees Initiate Negotiations
Students at the University of New Mexico (UNM)—including those employed by UNM through teaching or research assistantships—began discussing unionizing as early as 2018, although the pandemic put a pause on a large-scale push until students were back on campus in 2021. Then, word of mouth led to walkouts and rallies. A petition calling for better pay, comprehensive health benefits, grievance policies for harassment or discrimination, and better employment contracts garnered more than 1,600 signatures. In December of that year, an official card count found that a majority of students in the bargaining unit supported the formation of a union affiliated with the United Electrical, Radio and Machine Workers of America.
UNM Grad Workers
The university appealed the decision, arguing that graduate students aren't employees, but rather work on contract. "It's the classic thing to do to grad students," says Michael Mann, a sixth-year PhD student in biology. "We're employees when they want us to be and then we're not when it's not advantageous for them." The state's labor board sided with the students. Shortly after, the university dropped its appeal and agreed to sit down with union representatives.
In an email to The Scientist, UNM spokesperson Cinnamon Blair says that the university is now "happy to be engaged in constructive negotiations with [the student union] to establish a first collective bargaining agreement," and that the initial appeal of the labor board ruling was never "a reflection on the value of our graduate student employees and their contributions to UNM."
It means that we are coming together to help ourselves get a more dignified workplace.

—Natalie Moncada, University of California, Los Angeles
Bargaining committee member Ramona Malczynski, a third-year PhD student in geography and environmental studies, tells The Scientist that she has experienced many of the challenges that students are trying to address. A recent union report found that roughly 60 percent of respondents have had to tap into personal savings due to low wages; 65 percent have deferred medical care because of inadequate coverage; and almost 80 percent say they are unhappy with how the university handles harassment or discrimination complaints.
As a public school, "if you're not treating grad workers right, then you're not contributing to the public good," Malczynski says, adding that "if we have more time to focus on our studies, do our assistantships well, and get the experience that we need," students—and particularly those of low socioeconomic status, who are particularly affected by the challenges the union wants to address—may have an easier time supporting themselves.
The bargaining committee met with UNM representatives for the first time this May, when the university tentatively agreed to recognize the union, Malczynski says. They met again in June, and most recently in August. Mann says that the first discussion topics concern actions that won't cost the school money, such as adding explicit language in student contracts to outline employment expectations and making grievance procedures more enforceable. "I want a good first contract so that grad students who come after me are able to have a better time and can focus more on their research as opposed to everything beyond," he says.
UC Student Researchers Maintain Momentum
Natalie Moncada became acutely aware of accessibility problems at her workplace shortly after starting her PhD in molecular, cellular, and integrative physiology at the University of California (UC), Los Angeles, in 2019. As a transgender student transitioning during her second year, Moncada says, she had to walk at least five minutes from her workplace to access a gender-neutral bathroom; some students in other departments had to go to a separate building. Had she been a teaching assistant and thus protected by a union-negotiated contract, she could have requested that the university make facilities more accessible. But "as a [graduate student researcher], I don't have that ability," she says. "Seeing that difference and experiencing that difference . . . really hurt my productivity in a lot of different senses."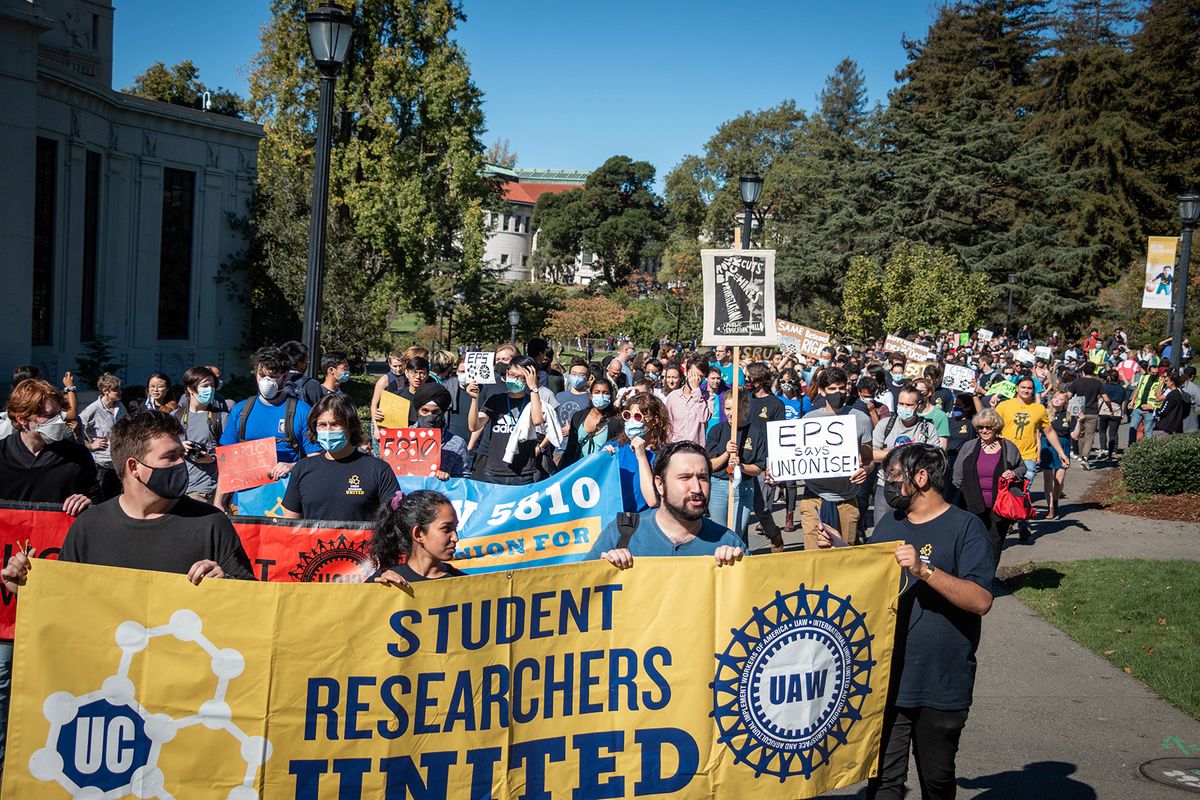 Reed Yalisove
After learning about unionization efforts for student researchers across the UC system in 2020, Moncada got involved, motivated by a desire to improve workplace accessibility and other issues such as housing that affect her and other students, she says. Becky Martin, a graduate student researcher in electrical and computer engineering at UC Santa Barbara, tells The Scientist over email that "with the cost of housing ratcheting higher and higher and our pay atrociously low, we frequently face rent burdens of well over 50%"—i.e., more than half of their pre-tax income each month goes toward accommodation. "I have had several close friends need to drop out because they couldn't find affordable housing."
UAW
While campaigning was hindered by COVID-19 lockdowns, the team found ways to communicate, such as through socially distanced doorstep meetings and phone banking. In May 2021, the group, an affiliate of United Auto Workers (UAW), submitted more than 10,000 signed union cards to the state public employment relations board. UC pushed back, arguing last summer that students funded by external fellowships or trainee grants were not employees and therefore should not be included in the unit. The stand-off dragged on, despite support for students from the rest of the university community and even members of California's congressional delegation. In November, the union polled members about whether to go on strike. More than 10,000 people cast votes, and strike action was approved with 97.5 percent in favor.
If you're not treating grad workers right, then you're not contributing to the public good.

—Ramona Malczynski, University of New Mexico
In the end, though, the walkouts never went ahead. On December 8, UC agreed to recognize the union, with graduate student researchers, including fellows and trainees, being defined as employees and included in the new bargaining unit. UC Office of the President spokesperson Erika Cervantes tells The Scientist in an email that, last summer, "UC fully supported our [graduate student researchers'] right to be represented by a union," but that it was important to define who qualified as a student employee—something that she says was clarified by the December agreement. She adds: "We highly value these employees' role in supporting our students, faculty, and mission."
Recognition of the group, which represents some 17,000 workers across the state, is significant to researchers such as Moncada. "It means that we are coming together to help ourselves get a more dignified workplace," she tells The Scientist. Following elections in January 2022, the union assembled a bargaining team composed of two representatives from each UC campus. Cervantes tells The Scientist that UC's goal in negotiations with this and other staff bargaining units across the university is to come to a "multi-year agreement that recognizes these employees' essential contributions to the UC community by ensuring fair pay, family-friendly benefits, and a supportive and respectful work environment."
Moncada, a representative for UCLA, says that current priorities in negotiations include improving campus accessibility for people with disabilities and tackling workplace discrimination and bullying. "I feel very hopeful" about the union's ability to drive change, she says. Martin is similarly motivated. "This is a years-long project that has brought together scores of students across the UC system," they say. "Our commitment is unwavering, and we are far from done."