North Carolina-based freelance writer Kelly Rae Chi became fascinated by the controversial idea that synapses weaken overnight, resetting the brain and improving learning the next day. But the effort to synthesize all the ideas in the field—the result of which is presented in "Disappearing before Dawn"—disrupted her sleep. "At some point in the process of writing this I was screaming in my sleep," she says. The hypothesis has gained traction since it was first put forward in 2003, she says, noting that it was exciting to highlight an idea that "has gained so much prominence in the sleep field over such a short period of time." Chi, a former intern at The Scientist, has written articles for Scientific American, Nature Methods, and other publications. After studying neurobiology and physiology, she earned a masters in medical journalism from the University of North Carolina at Chapel Hill....
Allan Pack, a professor at the University of Pennsylvania's Center for Sleep and Respiratory Neurobiology, started out as a pulmonologist. But after leaving Britain to join the faculty at the University of Pennsylvania in Philadelphia, he quickly became intrigued by obstructive sleep apnea, finally homing in on basic questions about why we snooze. In 1991, he helped establish the first multi-departmental sleep center in the United States. His current work is trying to piece together "what are the functions of sleep, and what is sleep for," he says. In "The Gears of the Sleep Clock", Pack describes research in his own lab which suggests that "master clock" genes that regulate circadian rhythms don't tell the whole story.
After refusing to take sexual harassment awareness training "as a matter of principle," University of California at Irvine molecular biology professor Alexander McPherson was prevented from using funds from an already-awarded National Institutes of Health grant. McPherson's lab uses techniques like x-ray crystallography and atomic force microscopy to uncover the structure of immunoglobulin and other biological molecules. In an opinion in "A Matter of Conscience", he explains why he is willing to let research in his lab grind to a halt to protest the training. He claims the state-mandated, two-hour, online quiz on sexual harassment awareness does little to combat the problem. "You could miss every single answer and you still passed," he says.
The career of Michael Morgenstern, illustrator of the feature "The Gears of the Sleep Clock", has followed an "intricate, winding" path, he says. He earned an undergraduate degree in film from Syracuse University, but after a bout of cancer, he lost his right arm and left the field. Seeking creative ways to use his left hand, he began making newspaper and photo collages and selling them to New York galleries. "I started developing as a visual artist, but as I progressed, I realized I had more to learn." he says. He earned a master's in education to teach visual arts and started illustrating full-time over 13 years ago. He has designed artwork for The New York Times, the New Yorker, and many other publications, and currently lives in Cherry Hill, New Jersey.
Interested in reading more?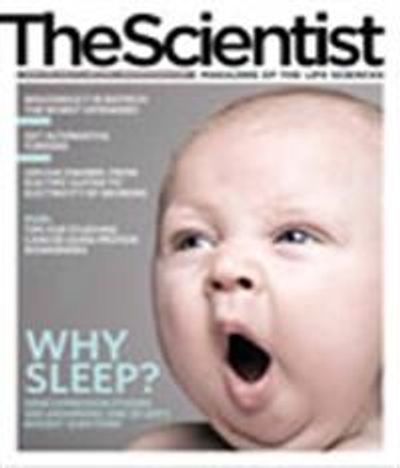 Become a Member of
Receive full access to digital editions of The Scientist, as well as TS Digest, feature stories, more than 35 years of archives, and much more!