Associate editor Andrea Gawrylewski has graced the pages of The Scientist for more than three years, starting as an intern in October, 2005, fresh from journalism graduate school at Columbia University. Since then, she has written on the order of 200 articles for every section of the magazine and online, including seven features. Her favorite—and most challenging—piece, "Mendel Upended," (February 2008), described how the behavior of an Arabidopsis gene appears to overturn the classical laws of genetics. "The genetics were really complicated. But it was a really interesting field," Gawrylewski says. She is leaving The Scientist to become a development editor for the W.H. Freeman, where she will be editing science textbooks.
Last summer, as the senior science and health reporter for the Philadelphia National Public Radio affiliate, WHYY, Kerry Grens visited the Henke family, whose son suffers from fibrodysplasia ossificans progressiva (FOP), a rare genetic disorder that...
After suffering through business classes as an undergraduate, Joseph LeDoux, a professor of neuroscience and psychology at New York University, detoured into psychology through a class on people's purchasing decisions. In 1999, results from his lab challenged the long-held theory that memories, once formed, are static. Instead, he recounts in "Manipulating Memory", they found evidence that the act of remembering can alter the memories themselves. "It definitely ruffled feathers," he says. As lead singer and guitarist for The Amygdaloids, Joseph rocks out in science-themed numbers like "The Trace," a riff on memory storage and reconsolidation. He wrote the song when a fellow scientist challenged him, saying he didn't believe LeDoux could write a song about Yadin's theory of the dominant trace.
As one of the veterans of the magazine, Managing Editor Jeffrey Myers helped transform it since 2000 from a 40-page, tabloid-sized biweekly to a nearly 100-page monthly with "much more in-depth reporting and great art." He says he loves the monthly challenge of putting each issue together, juggling graphics, advertisements, and editorial content "with an eye to keeping production deadlines." He has overseen more than 250 issues of The Scientist, including supplements. He's proud of the many awards The Scientist has won under his watch, including the 2008 Magazine of the Year Award from the American Society of Business Publication Editors. Myers is leaving The Scientist to become a project manager in Audubon, Pa., for Almac Clinical Services.
Interested in reading more?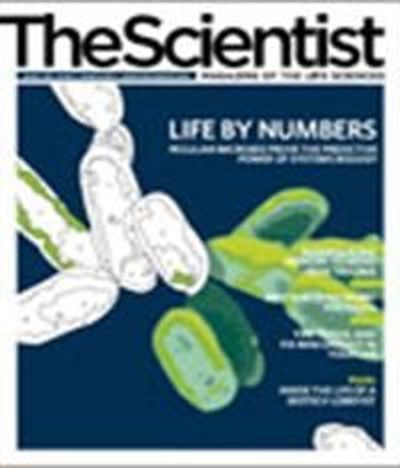 Become a Member of
Receive full access to digital editions of The Scientist, as well as TS Digest, feature stories, more than 35 years of archives, and much more!