Billions of identical cells come together to shape the body of molecular and developmental geneticist Gad Shaulsky. That fascinates him. The question of how different cells compete and cooperate to form whole organisms drives Shaulsky's research at Baylor College of Medicine in Houston, where he is an associate professor. "How come proliferation and survival, which are the most fundamental requirements of life on earth, are being restrained in multicellular organisms - and societies in general, for that matter?" he asks. Israeli-born Shaulsky received his PhD from the Weizmann Institute of Sciences in Rehovot in 1991 before coming to the US for a postdoc at UC San Diego. Shaulsky dissects the genetics of the social amoeba, "Dicty," to pick apart the social nature of multicellularity.
Amy Coombs is a freelance science writer and editor living in Santa Cruz, California. Coombs has freelanced as a writer and broadcaster while working...
Berlin-based photographer Edgar Zippel studied photography at the University of Essen, and now works mainly in journalism and portraiture with a strong focus on medical and scientific photography. His work has appeared in National Geographic, Rolling Stone, Bild de Wissenshaften, and Merian, among other magazines. Zippel stepped behind the lens for our feature article on the Max Planck Institute for Molecular Genetics. "The funny thing about science today is that it's pretty abstract and hard to really see anything, so you have to focus on the people," he says. "You can have machines, but in the end, the results are only delivered by human beings."
When he was in high school, Sandeep P. Kishore visited relatives in India, and traveled around the country with his grandfather's best friend. A few days after parting ways, Kishore's older guide fell into a coma from malaria, then died soon after. "The fact that I lost someone who was sleeping right next to me, presumably bitten by the same mosquitoes as me?that sort of got me interested in parasitic diseases," he says. He is enrolled in the Weill Cornell Medical College/ Sloan-Kettering Institute/Rockefeller University Tri-Institutional MD-PhD program, and writes about the need to include Africans in student-led global health efforts for neglected disease. "You can't sit in your dorm room in Manhattan and talk about what Africans need."
Interested in reading more?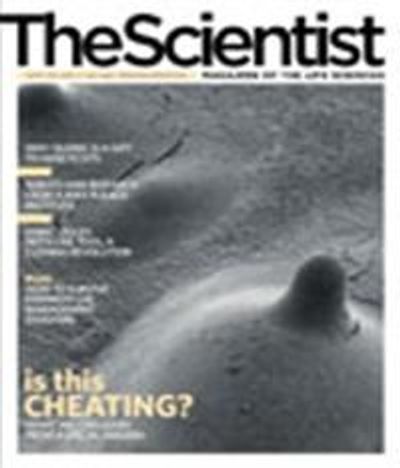 Become a Member of
Receive full access to digital editions of The Scientist, as well as TS Digest, feature stories, more than 35 years of archives, and much more!