Journalist and author Fran Hawthorne has covered health care and business for more than 20 years for the New York Times, Fortune, Worth and Newsday among others. She is also the author of four books, including Inside the FDA, and most recently, Pension Dumping, published in April. In Diverting a Diet Drug, Hawthorne explores how a pharmaceutical company transitioned a weight-loss drug from being prescription-only to over the counter. "I was very concerned that drug companies and the FDA would turn the public loose on this so-called 'miracle' drug to treat obesity," she says. "I wanted to follow up to find out what was being done to protect the public."
Eric Smith trained as a statistical physicist, but he says he's done some "relatively serious dabbling" in a large range of scientific areas, including oceanography, microwave engineering, and statistical acoustics. In 2000, Smith joined the Santa Fe...
Toby Freedman started her career as a molecular biologist, but transitioned into business as an entrepreneur, recruiter, and writer. In 2006 Freedman started her own recruiting firm, Synapsis Search, and last year published her first book, Career Opportunities in Biotechnology and Drug Development. "I just didn't feel there was any comprehensive guide to explain where people with advanced degrees go in industry," she says. In The Industry Roads Less Taken, Freedman draws on her experience and research, including hundreds of phone interviews with senior managers, to offer tips for how to land the hottest jobs in industry.
Margaret Guthrie joined The Scientist in January 2007 as the editorial administrator, obtaining permissions and image rights as well as proof-reading and writing articles. "It's a great situation, because I get to write about what interests me, and so many parts of science fascinate me," she says. Before joining the magazine, Guthrie says she did "a little bit of everything" - she has been a news editor, a book editor, a journalist and an author of eight cookbooks. In Win, Place, or Cell, Guthrie profiles a California company called Vet-Stem which uses stem cell therapies to treat injured racehorses and arthritic dogs.
Glasgow-based artist Michele David is not your typical landscape painter. Her abstract images focus on the patterns and textures found within coastal, desert and geothermal environments. David has won several prestigious awards and travel grants that have taken her around the world. In 2000, she visited active volcanoes in Hawaii that formed the inspiration for her 2001 painting "Lava Pool," featured on the cover and in Before Darwin. Lava are the "guts of the earth," says David, who describes her painting as "nature's forces right there in front of you."
Interested in reading more?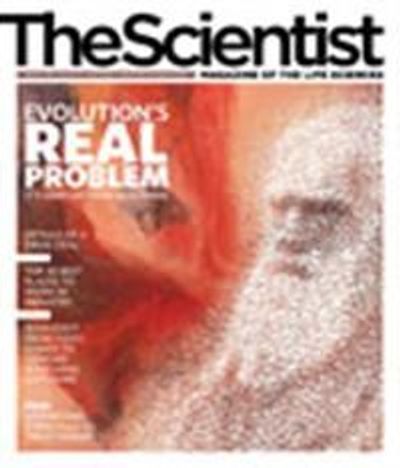 Become a Member of
Receive full access to digital editions of The Scientist, as well as TS Digest, feature stories, more than 35 years of archives, and much more!