Brian Stauffer is a Miami-based illustrator who blends photography, paintings and found objects to explore contemporary social issues. His work regularly appears on the covers and pages of The New York Times, Time, Rolling Stone, and New Scientist, among others. In 2005, his portrait of George W. Bush for The Nation was voted one of the top 40 magazine covers of the past 40 years by the American Society of Magazine Editors. On the cover of this issue and in Losing your Lab, Stauffer gets under the skin of a scientist who loses his grant funding. "I tried to put myself in the shoes of this scientist who is working to do something valuable but feels helpless," he says.
As a young PhD student in physics at the University of Leiden in the Netherlands, Antoine van Oijen discovered molecular biology by accident. After developing a...
In 2003, Alison McCook found herself living in New York without a job after Reuters Health announced it was closing down her division. Ivan Oransky, former deputy editor of The Scientist, happened to be in the Reuters office the day of that announcement, and invited McCook for lunch to discuss her career prospects. Little did she know that, five years later, she would be assuming his role as deputy editor of the magazine. Always with an eye to the human side of science, as covered in Losing your Lab, McCook reveals what happens when well-established researchers lose their continuation grants from the NIH. "I want readers to really see the scientists we write about as people and not just scientists," she says.
Elie Dolgin joined The Scientist as an intern in March, after finishing a PhD in evolutionary genetics at the University of Edinburgh. For his dissertation, he studied the effect of different mating structures on the genetics of C. elegans. While spending tedious long hours in the lab picking over worms, he listened to science podcasts on headphones, which sparked his interest in science journalism. In the last months of his PhD, he freelanced for publications such as Science, Nature, and New Scientist. "It was a welcome distraction from writing up my thesis. And my funding had run out," so it was a good way to make some extra cash, he says. In Wistar Melanoma Lines, 1977-present, Dolgin writes about the first melanoma cell lines, housed at the Wistar Institute.
Interested in reading more?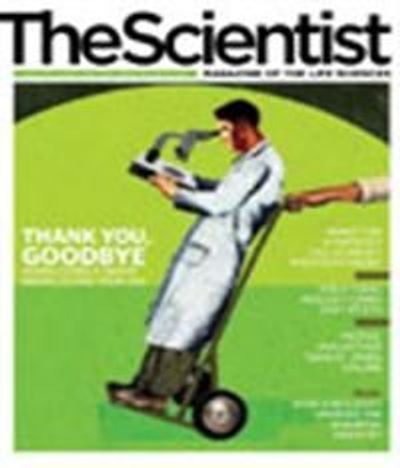 Become a Member of
Receive full access to digital editions of The Scientist, as well as TS Digest, feature stories, more than 35 years of archives, and much more!