Kenneth Buetow is the director of the National Cancer Institute Center for Biomedical Informatics and Information Technology. He is also an intramural researcher at NCI, working on genomics. In 2004, Buetow and colleagues launched the cancer Biomedical Informatics Grid (caBIG) to help researchers manage and integrate the ever-growing dataset of clinical, genomic, imaging, pathological, and proteomic observations (Click here to read about it ). caBIG now involves 1000 people, from 80 institutions, employing 40 software tools to incorporate all types of research information. "What's been rewarding is how enthusiastically received the [tool] has been by the broader biomedical community," he says.
Michael Stebbins has worked as a legislative fellow in the US Senate, a public policy fellow at the NHGRI, and a senior editor at Nature Genetics. Currently he is the director of biology policy for the Federation of American Scientists and the president of the Scientists and Engineers...
Ivan Oransky has been at The Scientist since 2002 - first as web editor, then web editorial director, and finally deputy editor. This month, he leaves us for Scientific American, where he'll be managing editor, online. "The magazine has come a long, long way since Richard and I started within a few months of each other," Oransky says, noting Editor Richard Gallagher. "During our tenure, the staff has won major awards from the American Society of Business Publication Editors and FOLIO. It's a great magazine produced by a great team, and I'll be keeping a close eye on it, just as every competing magazine editor should." In "A Jewish pig geneticist" Oransky writes about a Jewish geneticist who happens to work with pigs and shrimp.
P. Michael Conn is the associate director and senior scientist of the Oregon National Primate Research Center. He is also professor of physiology and pharmacology and of cell biology and development at Oregon Health and Science University, where he investigates the cellular and molecular action of hormones in the pituitary gland and central nervous system. He co-authored, with James Parker, The Animal Research War, publishing in May 2008, which chronicles his first-hand experience with animal rights activists out to sabotage his career. An excerpt appears in "The War on Animal Research". "Jim and I wrote The Animal Research War to bring this silent war to the attention of the public since, if animal extremists win it, the real losers are all those struggling with disease." (Conn's headshot has been obscured at his request, to avoid disseminating his picture to violent activists.)
Interested in reading more?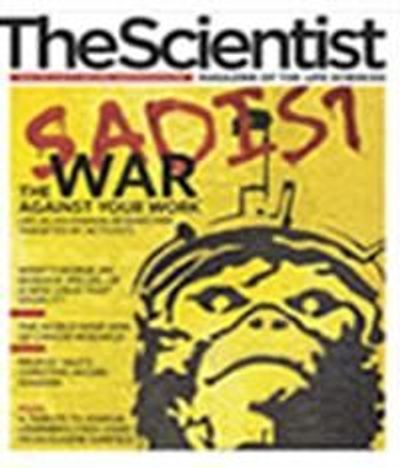 Become a Member of
Receive full access to digital editions of The Scientist, as well as TS Digest, feature stories, more than 35 years of archives, and much more!