Stuart Blackman completed a PhD in evolutionary biology at the University of Edinburgh in 1995 and immediately began working as freelance writer. He has since written for Nature Publishing Group, New Scientist, BBC radio, and The Scientist. On page 17, Blackman writes about a marine bacterium that produces dimethyl sulfide (DMS)- a major source of sulfur in the earth's atmosphere and a long-missing link in the climate system. Some have dubbed the gene for DMS "the weather gene." "I'm so amazed by climate science," says Blackman, "and that researchers are creating climate models and yet we know so little about the processes that create climate."
Ming Chen received a PhD in biochemistry from the State University of New York in 1989. He has been at Bay Pines VA Medical Center since 1993, where he is director of the neurology of aging research laboratory. His research focuses on...
Part of The Scientist production team since October 2006, Bryan Satalino has been a graphic designer for the past five years, with a BFA in graphic design from the College of Saint Rose in Albany, NY. For the June issue he has enjoyed "fleshing out the visual structure" for the green lab story on page 26 "I try to be as environmentally responsible as possible, so this feature was something that I was especially interested in."
Simon Frantz joined The Scientist in January 2007 as web editor. Previously he did lab work on the genetics of cardiovascular diseases, left to become a health journalist at WebMD, and several assignments later became the news editor at Nature Reviews Drug Discovery. "One of our main online goals at The Scientist is to embrace the evolution that media is going through, and find ways to become more engaged with the scientific community," says Frantz. "The stem cell feature in this issue (p. 34) is one way in which we hope to address this. This feature is the first of many articles in which the community's input will help determine the final product."
Manasee Wagh completed an internship with The Scientist last month. This coming fall she will graduate from Temple University with a Masters degree in journalism, having previously worked for five years as an engineer designing and testing hardware for Honeywell. Wagh was an intern at the Philadelphia Inquirer last fall. "To write for a science publication is a whole different world than writing for a general audience," Wagh says she realized during her time at The Scientist. "You have to get down to the nitty-gritty of science."
Interested in reading more?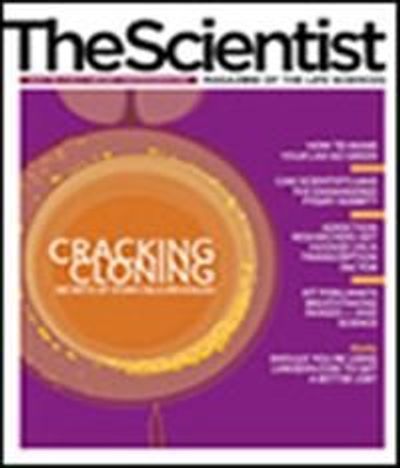 Become a Member of
Receive full access to digital editions of The Scientist, as well as TS Digest, feature stories, more than 35 years of archives, and much more!