Alexander Rich elucidated the double helix structure of RNA 50 years ago. "The puzzle came straight out of the Watson and Crick paper," says Rich. "There's a statement in there that says it is probably impossible to form this structure with ribose rather than deoxyribose." On page 34, Rich describes that discovery, as well as what's next for the field of RNAi and others related to his findings. Rich earned an MD from Harvard in 1949 and went on spend five years at CalTech working with Linus Pauling. He continued to study nucleic acids at MIT, where his lab remains today.
Staff writer Kerry Grens joined The Scientist in September after two years as the health and science reporter for New Hampshire Public Radio. Before that, she earned a master's degree in biology from Stanford. On page 18, she writes about why researchers have attached condoms to robotic...
Cytomegalovirus isn't an obvious choice for vaccine development, notes Alan Dove in his piece on page 40 that resulted from a visit to Philadelphia's Wistar Institute, where researchers are working on a CMV vaccine. Dove, who earned a PhD in microbiology from Columbia and has since written for publications including Nature Medicine and Nature Biotechnology, says that "now researchers are going back with modern molecular tools and they are revisiting" targets they missed the first time around, noting the golden age of vaccine development 50 years ago.
Merrill Goozner was the Chicago Tribune's chief correspondent for Asia from 1991 to 1995. He left the Tribune in 2000 to write The $800 Million Pill: The Truth Behind the Cost of New Drugs. Goozner traveled back to Thailand to observe clinical trials of the anti-malarial artemisinin, which he writes about on page 26. Patients traveled for days to sit in rooms without doors or windows, waiting to be treated. "The central headquarters was a modern facility," says Goozner, now Integrity in Science Director at the Center for Science in the Public Interest. "But these clinics were a rough environment."
Intern Juhi Yajnik received a master's degree in cell biology at the University of Texas at Austin and completed the University of California, Santa Cruz science writing program. She's written for Science Now and Symmetry, a publication of the Stanford Linear Accelerator Center. Her career change, she says, is fitting for her "whimsical" nature by allowing her to "query the brightest minds in the world" to explore a little of everything. She's already found, however, that scientists "often do not express criticism about other people's work on the record," which worries her.
Interested in reading more?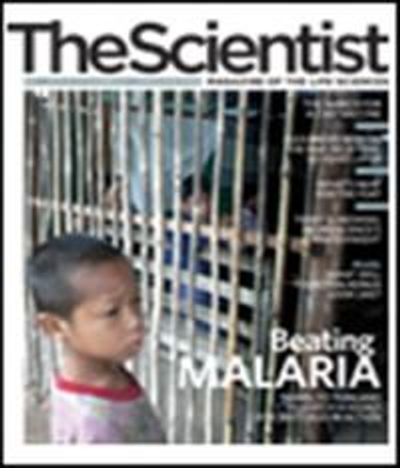 Become a Member of
Receive full access to digital editions of The Scientist, as well as TS Digest, feature stories, more than 35 years of archives, and much more!