Harold Varmus is president of the Memorial Sloan-Kettering Cancer Center since 2000, and took the position after serving for more than six years as director of the NIH. The 1989 Nobel Prize winner is also a cofounder of the Public Library of Science and a member of the Science Initiative Group (SIG). On page 24, he makes the case for Global Science Corps, a SIG program that aims to place well-trained scientists and engineers in the research centers of developing countries to collaborate with their hosts on topics of local concern.
H. Steven Wiley, director of Pacific Northwest National Laboratory's Biomolecular Systems Initiative, has been performing quantitative studies of the epidermal growth factor receptor since he first modeled its binding and internalization in 1982. On page 52, he writes on the future of systems biology. "In the last 25 years, we've learned an enormous amount based on genomics,...
When The Scientist sent correspondent Stephen Pincock to Botswana, Namibia, and South Africa to report on research there (see p. 44), he "had really very little idea what I was going to find." Pincock, who has been with The Scientist for two years, first as news editor, says he discovered that in a "period of relative stability," government officials across Africa are coming to the realization "that science isn't something you get once you become a rich and developed country, it's something that helps you achieve those goals. After decades of under-funding, scientists are optimistic for the potential for change."
Staff writer Ishani Ganguli joined The Scientist as an intern in June 2005. On page 28, she focuses on science podcasts, and finds that researchers' perceptions are generally enthusiastic - but still mixed. For instance, some scientists said they didn't have time for podcasts, while others claimed they were time-savers. Ganguli got a taste of this first-hand. "I've found that podcasts are actually pretty easy to incorporate into your schedule," she says. "I could do a lot of the field research for the story while riding the subway or going shopping."
Phil Cohen has written for the International AIDS Vaccine Initiative, the Atlanta Journal Constitution, New Scientist, and the British Medical Journal. On page 36, he marks the 25th anniversary of the first report of HIV in the CDC's Morbidity and Mortality Weekly Report - what scientists and clinicians knew then, and "how those observations were developed over a quarter century." The fight against AIDS is now reaching a "turning point," he says, as "huge resources are being brought to bear [and] huge pieces of the science are coming together."
Interested in reading more?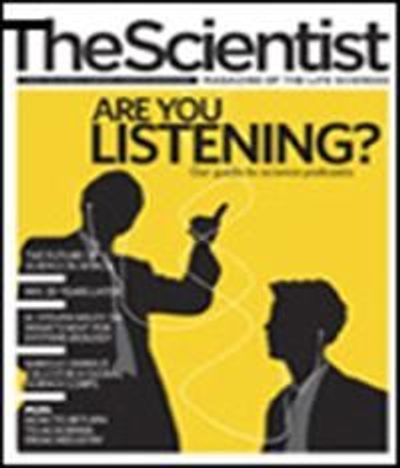 Become a Member of
Receive full access to digital editions of The Scientist, as well as TS Digest, feature stories, more than 35 years of archives, and much more!