As a biology major undergrad at the University of Denver, Troy Randall took an immunology course that he found "incredibly interesting." Now, as an immunology researcher at the University of Alabama at Birmingham (UAB), Randall realizes that he "probably understood nothing about it." His interest in immunology drove him to study the subject as a doctoral student at Duke University, where he met his wife, Frances Lund, with whom he now runs his lab at UAB. One aspect of his current research involves understanding belly fat's role in generating an immune response, and how that function gets disrupted by ovarian cancer.
As a nine-year-old, Selene Meza-Perez grew interested in science while watching Carl Sagan's television show Cosmos with her father. "Instead of looking at the sky" Meza-Perez swapped her telescope for a microscope, she says, to study biology. She wound up completing her doctoral studies at the National...
In "Belly Fat Has a Role to Play in Fighting Infections," Randall and Meza-Perez write about the evolving understanding of a fat deposit called the omentum.
---
Katinka Hustad
In 2006, after training as a clinical neuropsychologist at the University of Oslo, Ylva Østby began working with epilepsy patients at Oslo University Hospital. Initially interested in psychology, she was drawn to basic neuroscience and took up doctoral work in a laboratory at the university, where she studied the development of brain structures and memory formation. As a postdoc at the same university, Østby currently studies "how memories are experienced in our consciousness," particularly in patients with memory dysfunction and epilepsy.
When her older sister Hilde suggested that she write a book, Østby said, "If we could do it together, I would do it." The result is their newly published Adventures in Memory.
Cappelen Damm
The process of writing a book for the general public has been "eye-opening," says Østby, adding that it helped her get a fresh perspective on the neuroscience of memory. Further broadening her outlook, Østby is working with researchers from the University of Oslo's Department of Literature on a study on the interplay between cognition, emotion, and literature.
From the time she was 10 years old, Hilde Østby was a storyteller—at least to her sisters. Now, as a freelancer, she writes for Aftenposten, Norway's largest newspaper, and other outlets, while also exploring several book ideas. "In my professional life, I've never had so many stupid quarrels," Hilde says of writing a book with her sister. The elder Østby, who has a master's degree in the history of ideas from the University of Oslo, adds that the book's coauthors have really been working on parallel subjects their whole careers. Read an essay based on the Østby sisters' collaborative effort, Adventures in Memory: The Science and Secrets of Remembering and Forgetting.
---
When Sukanya Charuchandra was in high school, she made the decision to follow in the footsteps of her parents, who were both involved in the scientific enterprise. Her father sold and serviced laboratory equipment, and her mother was a geneticist. "One of my teachers showed us a video of the heart and how the heart muscles look from the inside," Charuchandra recalls. Fascinated by the physiological insight, the young student rushed home to relay her excitement to one of her older sisters. "I remember describing it to her and telling her that it's all so exhausting. I just wished the poor thing could take a break."
She first earned a bachelor's degree in life science from St. Xavier's College in Mumbai, her home town. But after getting a master's degree in biotechnology from Maharaja Sayajirao University of Baroda in Gujarat, Charuchandra, disillusioned with the realities of laboratory work, decided to take her own break. She took a year off of school instead of forging on to do a PhD and discovered that science journalism might be a way for her to parlay her academic achievements into a nonresearch career.
After getting a master's degree in science journalism from Boston University in 2017, Charuchandra freelanced and did internships at Boston Children's Hospital and for the Johns Hopkins University Office of Communications. She started as an intern at The Scientist this May and has written numerous pieces for the website and the print magazine. "Just being able to put out so much . . . it taught me a lot," she says. Read her story, "Ancient Teeth Tell the History of Equine Dentistry," one of several articles she authored in this issue.
Interested in reading more?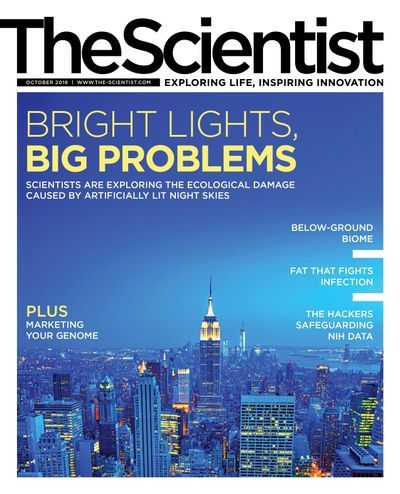 Become a Member of
Receive full access to digital editions of The Scientist, as well as TS Digest, feature stories, more than 35 years of archives, and much more!