SWETA VANGAVETI Arun Richard Chandrasekaran liked animals as a child growing up in India, where he earned an undergraduate degree in zoology from the American College in Madurai. After realizing his career options were limited to teaching, Chandrasekaran pivoted to nanoscience. "It was something new and different, and I just wanted to try it," he says. He studied three-dimensional DNA crystal structures for his master's degree at the University of Madras in Chennai. Chandrasekaran then moved to the U.S. to do a PhD in chemistry at New York University. There, he worked with DNA motifs that self-assemble into three-dimensional DNA crystals in the lab of Ned Seeman, who Chandrasekaran refers to as the father of DNA nanotechnology. Later, during a postdoc at the University at Albany, he worked on developing an assay for nucleic acid detection with Ken Halvorsen. Chandrasekaran now lives in Boston, where he's a senior...
---
ROBERT SCHERZERAs a child, Emily Monosson says she was always covered in sap. Her father would wash it off with gasoline, and she would resume climbing trees or cavorting in the field next door. "I loved to be outside," she says. Monosson would also play chemist with "all the nasty stuff from under the sink," a childhood foray into chemistry that eventually led to her passion for toxicology. "I sort of stumbled upon it," she says of her career. After completing an undergraduate degree in biology at Union College in New York, Monosson began a microbiology PhD program at Cornell University, though she was not set on the field. Quickly realizing her zest for microbiology was tepid at best, she switched her focus to toxicology after taking one class. "I was hooked, and realized that was what I wanted to do." Tapping into her love for the outdoors, she eventually settled on environmental toxicology. Her writing career, which is now her main focus, began after she had gotten her doctorate and become a mother, during a self-described career trough. Monosson edited and wrote essays for Motherhood, the Elephant in the Laboratory: Women Scientists Speak Out, and eventually wrote her first book, Evolution in a Toxic World, which quickly inspired her second, Unnatural Selection: How We Are Changing Life, Gene by Gene. Her most recent book, Natural Defense, centers on maintaining human and agricultural health while reducing dependence on traditional antibiotics and pesticides. Read her essay based the new book.
---
DANIEL SWANSONAggie Mika never really considered a career in science until she was in college at Arizona State University. When her dad began having some health issues, she was faced with the language barrier posed by medical jargon. "I didn't understand anything," she says. "I took it upon myself to do a lot of research, and then really fell in love with medicine and biology." Mika switched her major from journalism to psychology/premed, thinking she'd become a doctor. But upon joining the behavioral neuroscience lab of ASU's Cheryl Conrad, she again switched gears—this time to focus on the research itself. In Conrad's lab, Mika studied how psychological stress can change the physical structure of hippocampal neurons. "I became obsessed with that," she says, and after obtaining her undergrad degree, Mika began a graduate program in a stress physiology lab at the University of Colorado, Boulder. Having focused entirely on neuroscience in college, however, she had to take a step back and teach herself some of the basics of human anatomy and molecular biology—an experience that whet her whistle for science communication. She started a blog with some fellow graduate students, and upon meeting a science writer at a seminar, realized she could focus her career on just the communication part of science. As The Scientist's current intern, Mika has written about all things life science for both the print and online sides of the publication, and last month covered the American Society for Microbiology meeting in New Orleans. In this issue, check out her stories on fish migration (here), the evolution of bioluminescence in marine organisms (here), and new techniques for defining immune cell subtypes (here).
Interested in reading more?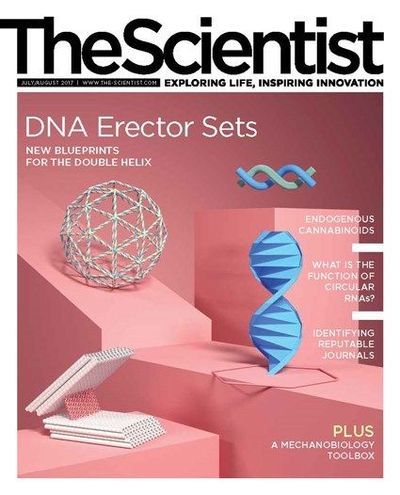 Become a Member of
Receive full access to digital editions of The Scientist, as well as TS Digest, feature stories, more than 35 years of archives, and much more!