COURTESY ANDREA CRISANTIAndrea Crisanti is a professor of molecular parasitology at Imperial College London and editor-in-chief of Pathogens and Global Health. He got his start in immunology, primarily researching malaria. Crisanti graduated from Sapienza University of Rome with a medical degree in 1979, served two years as a medical officer in the Italian army airborne division, and then earned his PhD from the Italian National Research Council. At the time, the push to develop a malaria vaccine was progressing slowly, so Crisanti turned his attention to the vectors of the malaria parasite, mosquitos, a focus he believed could more quickly yield actionable results. Crisanti and his colleagues began tinkering with mosquito genomes using techniques developed in fruit flies, first producing mosquitos resistant to infection by the malaria pathogen and then exploring approaches such as gene drive. Without prior research in mosquitos to draw upon, "we had to invent...
---
COURTESY TONY NOLANTony Nolan is a senior research fellow at Imperial College London, where he has been developing techniques to stop the spread of malaria using gene drive in mosquitos since 2008. As an undergraduate at Imperial College, he was introduced to parasitology and drawn to the college's robust malaria research program. He undertook a PhD at Imperial with Crisanti that resulted in the first successful transformation of a mosquito germline. After that, Nolan and his colleagues went on to establish the fundamental techniques for engineering a gene drive, but the process of targeting a particular gene could take months on end. When the CRISPR gene-editing technique came onto the scene, the field accelerated by leaps and bounds and Nolan is now optimistic about its future. "In general, we have the major breakthroughs we need, we're just sorting out the details, the logistics, and getting regulatory approval," he says.
Crisanti and Nolan discuss the latest advances and applications in gene drive technology in "Using Gene Drives to Limit the Spread of Malaria."
---
COURTESY JOHN LOIKEJohn Loike, a frequent contributor to The Scientist's Critic at Large column, is director for special programs at Columbia University's Center for Bioethics. Loike spent the first stretch of his career as an immunologist after receiving a PhD in pharmacology from the Albert Einstein College of Medicine. In 1997, Loike ran some tests on samples from Dolly, the famously cloned sheep, and he began to notice that the press, despite making a stir over Dolly, did not always accurately portray the science involved. "It triggered my social responsibility, and I began writing about the ethical dimensions of technology," he says. After publishing articles about science ethics for several years, Loike was offered a position teaching a bioethics course at Columbia University. These days, he labors to convey to students the importance of contextualizing scientific decisions within their cultural backdrop. Every year, for example, he leads a small group of students on a two-week trip to Bangkok to observe cultural attitudes toward issues such as contraception and sex education.
In "Ethical Considerations of Three-Parent Babies," first published online on December 22, Loike and his coauthor Nancy Reame offer perspectives on mitochondrial replacement therapy.
---
FUTURE VINTAGE STUDIOSCordelia Fine is a professor of history and philosophy of science at the University of Melbourne in Australia. Fine studies the implications and often faulty scientific underpinnings of gender bias. She was appointed to Melbourne Business School in 2011 as an associate professor before taking her current position in January 2017. Fine studied psychology as an undergraduate at Oxford University and went on to earn a master's degree in criminology from Cambridge University and a PhD in psychology from University College London. She began investigating gender bias a decade ago, after noticing that neuroscientific research was frequently misinterpreted, misapplied, or overstated in the service of gender myths, which led to her 2010 book Delusions of Gender. Her research currently focuses on differences in risk-taking between genders and the consequences of gender essentialism for social attitudes.
Cordelia Fine offers an essay based on her latest book, Testosterone Rex: Myths of Sex, Science, and Society.
Interested in reading more?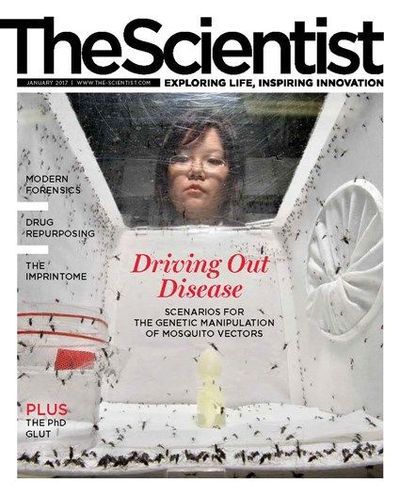 Become a Member of
Receive full access to digital editions of The Scientist, as well as TS Digest, feature stories, more than 35 years of archives, and much more!