On a whim in high school, Katherine Muller shadowed a researcher at the Buck Institute for Research on Aging in California. "He said that the thing he loved most about his work is that he's constantly learning things," she recalls. "That really appealed to me." Muller dove into science as an undergraduate at Oberlin College, graduating in 2010 with dual degrees in biology and music, concentrating in music history and theory. After earning her master's in plant biology from Northwestern University in 2013, Muller entered a PhD program at the University of Minnesota. She joined Ford Denison's lab because of his applied agricultural research focus, and now investigates the mechanisms used by rhizobia to cheat and undermine their cooperative relationship with legumes.
Garrett Hardin, author of "The Tragedy of the Commons," gave a talk at Evergreen State College in the early 1970s, planting seeds in the mind...
Muller and Denison explore the diversity and purposes of cooperative systems in "The Evolution of Cooperation."


Dan Dominissini earned his undergraduate degree from Tel Aviv University (TAU) in 2007. He elected to remain at TAU for his PhD in molecular biology under Gideon Rechavi, researching RNA posttranscriptional modifications. After obtaining his degree in 2013, he joined Chuan He's lab at the University of Chicago as a postdoc, interested in He's chemistry-based approach to RNA epigenetics. "The field of RNA modification was warming up," Dominissini says. "The challenge is now the identification and localization [of such modifications], and chemistry is the right tool for this." Dominissini is currently developing techniques that help make the modified nucleotides in RNA visible for study.
When he was 20 years old, Gideon Rechavi saw himself as a physician. But after earning his MD from TAU in 1981, he realized that high-level clinical medicine required a strong scientific background. Rechavi returned to graduate school at the Weizmann Institute of Science and obtained a molecular oncology PhD in 1987. He created and headed the department of pediatric hematology and oncology at the Sheba Medical Center in Tel Aviv, and in 2003, established the Sheba Cancer Research Center, which he currently directs. Rechavi combines clinical practice with translational cancer and genomics research. Over the last decade, he developed an interest in RNA epigenetics. "We're involved in very basic research knowing that one day it will have practical implications," he says.
Growing up in China, Chuan He had an early interest in physics and chemistry, and he never truly left those fields behind. He graduated from the University of Science and Technology of China in 1994 with a bachelor's in chemistry and completed a chemistry PhD at MIT in 2000. After two years of postdoctoral work at Harvard University, He joined the faculty at the University of Chicago, where he transitioned from chemistry into epigenetics—particularly focused on how RNA modifications can affect gene expression. "It's really a desire to discover something new," he says. He and his colleagues reported the first RNA demethylase and the first reversible RNA methylation in 2011, which sparked the field of RNA epigenetics. In 2013, he was named a Howard Hughes Medical Institute investigator. "That was huge—it allowed us to explore new fields of science," he says, including the function of an adenine DNA methylation in eukaryotes.
Dominissini, Rechavi, and He discuss the roles of modified RNA bases in the regulation of gene expression in "RNA Epigenetics."
Interested in reading more?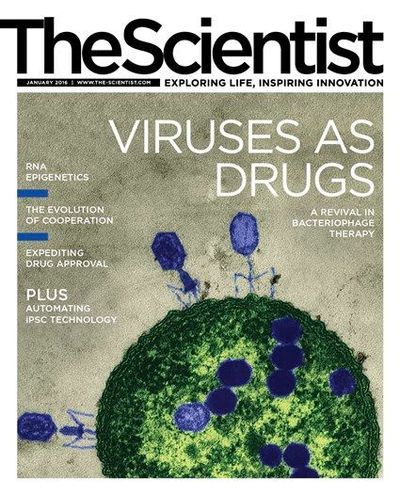 Become a Member of
Receive full access to digital editions of The Scientist, as well as TS Digest, feature stories, more than 35 years of archives, and much more!