While Eufemia Putortì studied for a cellular physiol­ogy exam as an undergraduate at Vita-Salute San Raffaele University in Milan, Italy, she saw an image of a vault, an enigmatic, nanoscale cytoplasmic particle, "opening like a flower" and was struck by how beautiful it was. Two years later, she joined the lab of senior lecturer Massimo Crippa to write her thesis about these mysterious, keg-shape structures. But since elementary school, Putortì has wanted to write about science even more than do it herself. "I like telling people how beautiful science can be," she says. So rather than end with a scholarly dissertation few might read, Crippa suggested Putortì turn her thesis into a story about the discovery of these poorly-understood organelles. "Vaults are highly underestimated," he says. "There's still very little known except to specialists."
As a child Crippa remembers "taking everything apart, even ballpoint pens, to see how they...
---
David Casarett completed his medical training at Case Western Reserve University in Ohio, where he also "sneaked across the street" to graduate school to study medical anthropology. While on a fellowship researching medical ethics at the University of Chicago, Casarett grew interested in palliative care decisions. "Many difficult questions that arise at [the] end of life become ethical issues because nobody thinks about them or talks about them with patients," he says. Containing stories of electrocuting chickens and nose-freezing, Casarett's newest book, Shocked: Adventures in Bringing Back the Recently Dead, explores the extreme methods people use to attempt to resurrect the dead or prolong life. But a more somber question underlies the bizarre tales. "The larger issue for me is to think not about specific treatments but more generally about how these treatments should be used," he says. Casarett's research has centered on improving health care for patients at the end of life, and he leads CHOICE (Coalition of Hospices Organized to Investigate Comparative Effectiveness), a national research network that aims to optimize hospice care. Casarett, who in 2008 received a Presidential Early Career Award for Scientists and Engineers, now practices palliative medicine and teaches at the University of Pennsylvania, where he heads the Hospice and Palliative Care program. He writes about his second book in an essay here.
---
As a biochemistry major at the University of Iowa, Nicholette Zeliadt's first piece of science writing was a presentation about pathogenic prions for a course in technical communication. Later, she moved to the University of Minnesota for her PhD, where she studied how carcinogenic chemicals modulate intracellular signaling pathways. During her doctoral research, Zeliadt began to explore a career in science writing. On a mass media fellowship from the American Association for the Advancement of Science, she spent the summer after completing her PhD in New York, doing an internship at Scientific American. "I had the time of my life," says Zeliadt, who went on to write for PNAS for more than two years. Now a Brooklyn-based freelancer, her work has also appeared in Nature Medicine and other publications.
A regular Lab Tools columnist, Zeliadt enjoys exploring and writing about new research techniques. "It allows you to see the creative side of science in action and learn about a part of the scientific process that isn't discussed very often." Reporting for a previous Lab Tools on mass spectrometry ("Moving Target," June 2014) introduced her to the many kinds of software people have developed to streamline the design of mass spec-based proteomics experiments, the subject of "Tailoring your Proteome View."
Interested in reading more?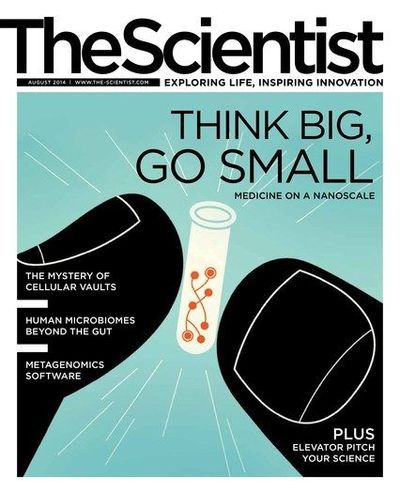 Become a Member of
Receive full access to digital editions of The Scientist, as well as TS Digest, feature stories, more than 35 years of archives, and much more!