Trained as a marine biologist, Patricia Brennan spent time aboard a research vessel in the Galápagos Islands studying cetaceans before she began graduate school at Cornell University. There she studied tinamous, birds common in Central and South America. One day during field work in Costa Rica, "I saw this thing hanging off the bird's cloaca," she says. Brennan soon realized it was a penis. "I had no idea birds had penises. It wasn't anything on anyone's radar." Delving into avian sexual morphology, she realized it was a rich area of research that few were exploring. Since then, she has studied sexual morphology and sexual conflict among birds, focusing on ducks. Brennan, a research assistant professor at the University of Massachusetts Amherst, also studies the genitalia of other vertebrates such as snakes, which have two penises, and bats. In her feature "The Hidden Side of Sex," Brennan investigates the...
---
As a research scientist at the National Institutes of Health (NIH) in the early 1990s, Dean Hamer shifted his focus from studying gene regulation to investigating the genes associated with sexual behavior. At the time, "the technology was just getting good enough to study complex traits," he says. His research soon landed him in the middle of a politically and socially charged debate about sexual orientation. He wrote about his findings for the general public and continued to work at the NIH until his retirement in 2011. Hamer now serves as an NIH scientist emeritus and is involved in research into HIV microbicides that can prevent transmission. He recently created a documentary film, Kumu Hina, about a native Hawaiian transgender teacher and cultural icon. In his opinion article, Hamer argues that researchers studying the genetics of sexual orientation should be aware of the social and political implications of their findings.
---
Michael Bailey became interested in studying human sexuality while he was in graduate school at the University of Texas at Austin. After earning his PhD in 1989, he moved to Northwestern University, where he currently is a professor of psychology. "I have been in the confluence of science and politics several times," he says of his research into the genetic basis of sexual orientation. Early on, in 1991, he sparked political controversy with a twin study on sexual orientation, and in 2003, he published The Man Who Would Be Queen, a book about sex and gender. In 2002 he was attacked by social conservatives for using pornography to study sexual arousal and sexual orientation. In 2011, he allowed his university human sexuality class to view a live sex demonstration. Using fMRI, Bailey is currently studying brain activation in heterosexuals, homosexuals, and bisexuals viewing erotic imagery. In an opinion article, he writes about the slippery slope of linking gay and transgender rights to scientific evidence.
---
Menno Schilthuizen has loved bugs since childhood. In high school, as an amateur entomologist, he classified countless insects, an activity he continued as a graduate student at Leiden University in the Netherlands. Schilthuizen now studies insect and snail morphology as a researcher at Naturalis Biodiversity Center, a natural history museum and research institute in Leiden. He has written for the general public since 1994 and describes his aim as "entertaining" the general public. "You could call it informing, but it's feeding a natural curiosity that exists in many people about how nature works," he says. Schilthuizen currently investigates asymmetries in genitalia and other body parts, as well as the evolution of the shell shapes of snails that live in limestone outcroppings in Southeast Asia. He writes about his new book, Nature's Nether Regions: What the Sex Lives of Bugs, Birds, and Beasts Tell Us About Evolution, Biodiversity, and Ourselves.
Interested in reading more?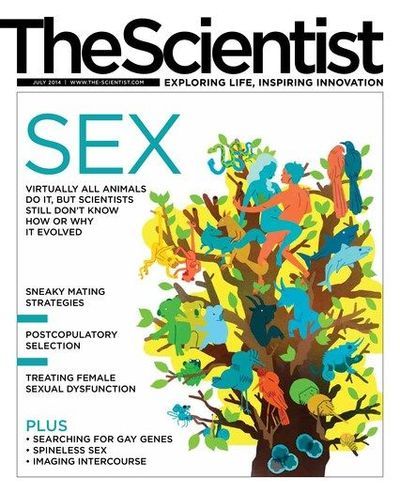 Become a Member of
Receive full access to digital editions of The Scientist, as well as TS Digest, feature stories, more than 35 years of archives, and much more!