Poet/scientist Katherine Larson thrives on diversity. Though she's passionate about science—entering and subsequently exiting four separate PhD programs in fields as diverse as conservation genetics and paleontology—Larson's never been able to stomach devoting her life to one particular discipline. "Being able to sample from a number of different fields has been really rewarding to me as a poet," she says. Larson explores the benefits of having a curious and unsettled mind in her Reading Frames essay, a piece in which she explains the delicate balance between science and art on display in her most recently published poetry collection, Radial Symmetry. "I think the dialogue between the unconscious and conscious mind is really crucial," she says. "It's a difficult balance to strike to make a project artistic without being didactic."
Over the last 40 years, Thomas Finger has studied just about every sensory system in fish. He has an...
After a postdoc at the Monell Chemical Senses Center in Philadelphia, Beverly Tepper (top) became fascinated by smell and taste, and soon began to study how these senses influenced dietary choices and obesity. She started using questionnaires, but was frustrated that none of the results were adequately explaining "why some liked fat more than others," and so she turned to genetics. That research led her and coauthor Kathleen Keller to look at a number of genes involved in taste preference and bias towards fattier foods, which they discuss in their feature article, "Sensing Fat." Both authors say their research has influenced how they eat and think about food. "I'm a supertaster," said Tepper; "my partner is a nontaster. You would think domestic tranquility would not be within our grasp." On the contrary, she says, it has given both a reason to push the boundaries of their adventurousness with food.
Interested in reading more?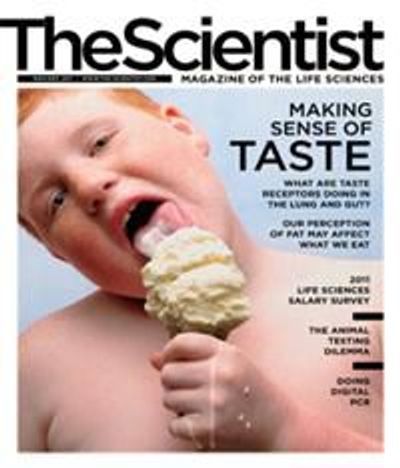 Become a Member of
Receive full access to digital editions of The Scientist, as well as TS Digest, feature stories, more than 35 years of archives, and much more!