From the age of three, Geoffrey Burnstock's nine pugilist uncles taught him to box his cousins in the back garden. But he had a different career path in mind: research. In the 1970s, he pioneered the concept of ATP's double life as both an intracellular energy molecule and an extracellular signaling molecule—a concept scientists rejected for 20 years but have now accepted with great enthusiasm. He named ATP's action as a neurotransmitter "purinergic signaling," a theory that a colleague once called the "pure-imagine" hypothesis. Burnstock is now President of the Autonomic Neuroscience Centre at the University College Medical School, London. "I'm a bit on the bold side—I love coming up with provocative hypotheses." See his latest provocation about how purinergic signaling may explain acupuncture's effects in "Puncturing the Myth."
Carol Barnes began grad school in psychology, but a phone call from her mother shifted her direction—her grandfather...
Sue Griffin was the only female in her PhD program in physiology. "I didn't care," she says. "Being a token is great—however you get your chance." During her first faculty position, she defended the hotly contested theory that amyloid plaques characterizing Alzheimer's disease are the end result of the action of inflammatory cytokines produced by microglia—the brain's macrophages. Forty years later, she says the brain's immune response is still overlooked. Read her story,"What Causes Alzheimer's?" about inflammation's role in this disease. Among numerous other titles, she counts professor of neurogeriatrics at the University of Arkansas for Medical Sciences.
Despite being born into a thespian family (her father is a director and playwright, her mother a fiber artist), Jessica P. Johnson's interest in the environment led her to pursue an undergraduate biology degree at Cornell University. Since graduating in 1996, she's trapped rattlesnakes in San Diego, run fermenters at a biofuel start-up company, and obtained a master's degree in environmental microbiology from the University of Massachusetts, Amherst. Jessica is currently studying science journalism at Boston University and serving as The Scientist's summer editorial intern. In addition to writing about our multimedia awards—the Labbies—she's tackled this month's Scientist to Watch. "For the first time I feel like I found the right place for me," she says.
Interested in reading more?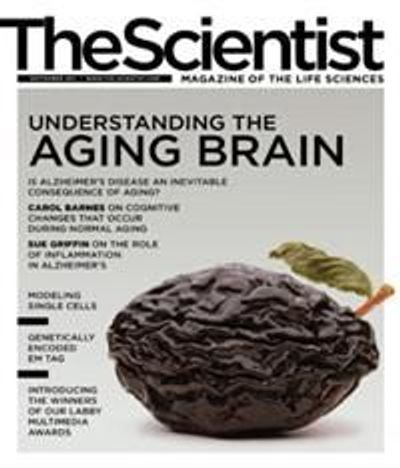 Become a Member of
Receive full access to digital editions of The Scientist, as well as TS Digest, feature stories, more than 35 years of archives, and much more!