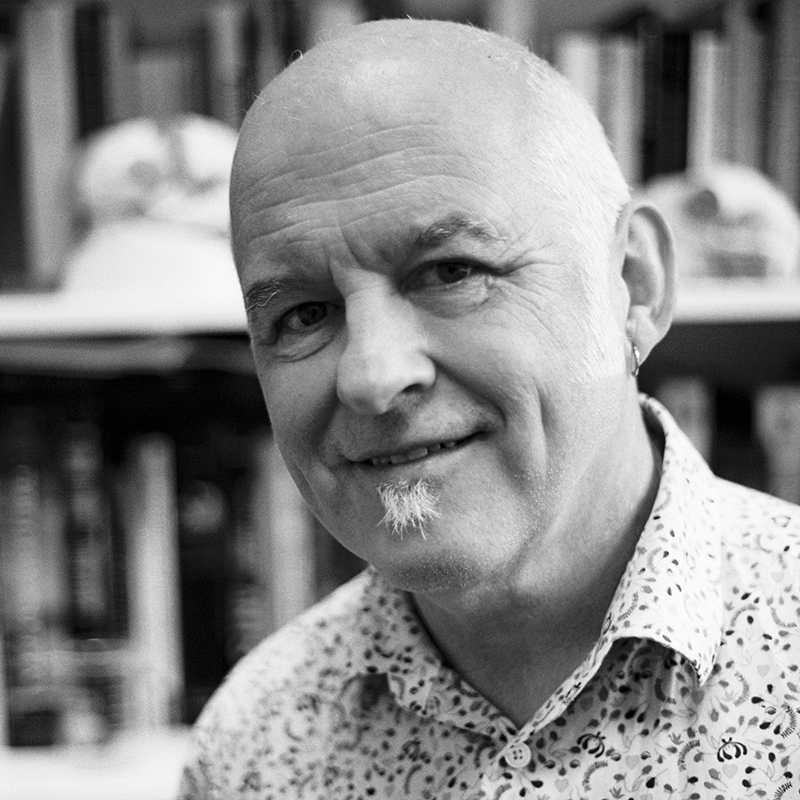 Stuart Phillipson
In the 1970s, evolutionary neurobiologist Matthew Cobb decided to study psychology because he wanted to understand "how and why animals and people behave the way they do." When he stumbled upon an article in New Scientist about the memory-impaired Drosophila mutant named "dunce," he was struck by "the idea that you could use genes to get at fundamental behaviors like learning and memory." Cobb completed his PhD in psychology and genetics at the University of Sheffield in the UK in 1984, and has dedicated the last 40 years to studying how genes and evolution shape nervous systems and behavior. His main focus has been olfaction in Drosophila larvae. Cobb's research has shown that different odors activate the same neuron in different ways, eliciting a range of responses even in a genetically altered larva with only a single neuron in its nose.
Cobb is also a science historian...
Cobb is also a science historian whose new book, The Idea of the Brain, explores how metaphors frame much of our understanding of science and especially the brain, which has been described as telegraph systems, telephone exchanges, and more recently, computers. Cobb says that neuroscientists are now admitting that the computer metaphor may no longer be very useful. Read about how the brain's memory machinery is not computer-like, and how researchers are still seeking to understand where in the brain memory resides.
---
Amelia McDermott
Jared Cooney Horvath found his way to science through the art of filmmaking. A decade of writing scripts in Los Angeles taught him that every character he created represented some aspect of himself, and that's when he started looking at neuroscience and psychology as vehicles for expanding self-knowledge. "If I learn about the brain," he wondered, "will I become a better screenwriter?" This question pushed him into realms he never could have imagined: the more he studied the brain, he says, the more he wanted to understand the process of learning. First he became a teacher, then he pursued a master's degree in education, and he went on to earn a PhD in cognitive neuroscience.
Now, as a research fellow at the Melbourne Graduate School of Education and St. Vincent's Hospital Melbourne, Horvath studies the science of learning and explores how to translate those insights in the classroom. He's especially interested in our relationship with technology and what impact it's having on memory retention given the digitalization of education. Horvath is out to challenge the common assumption that tech is ruining our memories. "Computers aren't doing much of anything," he says. "We're turning our brains into mush because of the way we're choosing to use computers." In this issue, Horvath delves into the complexities of how memory works in the digital age.
---
First & Orange Photography
In her Denver, Colorado, high school, Lucy Conklin was drawn to both science—physics in particular—and art. So she studied both at Bucknell University in Pennsylvania. After she graduated in 2008, she followed some friends to New York City, where she took her first science illustration class, at the American Museum of Natural History. Then she took an animal drawing course that took place after hours in the museum. She used those experiences to build her portfolio and apply for the Science Illustration Certificate Program at California State University at Monterey Bay.
After 10 months of coursework, she returned to Colorado in 2012 for an internship at the Denver Museum of Nature and Science, and then did an internship at the Exploratorium in San Francisco, where she drew illustrations of various critters, plankton collections, egg fertilization, and more. She also began freelancing for magazines and other clients and eventually moved back to Monterey to teach science illustration at California State University and the University of California, Santa Cruz. She did her first infographic for The Scientist back in 2015, and has been a regular contributor since. In this issue, working from Denver where she moved last year, Conklin depicts how researchers are using optogenetics to manipulate the thoughts of mice. "One of my favorite parts of science illustration is I get to learn little bits and pieces about whatever science it is," she says. "The one I'm working on now, implantations of memories in mice—that just seems really cool."
Interested in reading more?
Become a Member of
Receive full access to digital editions of The Scientist, as well as TS Digest, feature stories, more than 35 years of archives, and much more!