Opinion: Fixing Science's Human Bias
It's time to accelerate the conversation about why the research community is still not diverse.
© ISTOCK.COM/CREATIVEARCHETYPE"We out here. We've been here. We ain't leaving. We are loved." These words rang through the Yale University campus twice this past year: first in the fall, when a series of racially charged incidents sparked protests demanding that the school affirm its commitment to diversity; and again in the spring, when after months of "listening sessions" the university and its governing body, the Yale Corporation, announced that John C. Calhoun Residential College would not be renamed, meaning the college would continue to honor the ardent racist.
Yale students, faculty, and staff are not alone in their fight to increase diversity in academia and, specifically, in the sciences. When second graders are asked to draw a scientist, the results are overwhelmingly outdated: old, white, and male. These caricatures reflect the cultural notion that women and minorities don't belong in science. Despite the fact that many...
Social scientists, authors, and artists have repeatedly documented the extensive challenges that come with identifying as anything other than a heterosexual white male. When students are contacting prospective professors to do research projects, those with "white-sounding" names receive more replies (J Appl Psychol, 100:1678-712, 2015). In undergraduate biology classes, male students underestimate the academic performance of their female peers, making males the de facto "stars" of the classroom. And one study found that, although introductory biology classes were 60 percent female, only 40 percent of the discussion came from female voices (CBE Life Sci Educ, 13:478-92, 2014).
These problems persist through school and into the job search. In reviewing applications for a lab manager position, faculty considered an applicant with a male name more competent, hirable, and worth a larger salary than an applicant with a female name, even when the resumes they read were otherwise identical (PNAS, 109:16474-79, 2012). By the time they defend their theses, white men are less likely to change their preferences to non–tenure track positions than their peers, who often seek other career options. And at the postdoctoral level, a stage during which mentorship is crucial, elite male faculty tend to train fewer women.
Social scientists, authors, and artists have repeatedly documented the extensive challenges that come with identifying as anything other than a heterosexual white male.
Finally, those women, minorities, and members of the LGBT community who do make it into research careers continue to face an uphill climb. Black researchers are less likely to receive a National Institutes of Health (NIH) R01 than their peers (Science, 333:1015-19, 2011). Nearly half of female scientists of color report having been mistaken for a custodial worker or staff member. And at any stage of a woman's career, she will likely deal with harassment from her supervisors or peers. Such bias and exclusion are made worse by personal insecurities and self-doubt. "Social identity threat"—the fear of fulfilling negative stereotypes about a group or failing to fulfill positive ones—causes stress, reduces performance, and prevents women and minority groups in STEM from achieving their full potential.
While these examples deal with classical notions of race and gender, every facet of an individual's identity, including sexual orientation, gender identity, disability, and socioeconomic status, can make pursuing a career in science challenging.
The good news is that there are initiatives that are taking steps in the right direction. Since 1995, the Science, Technology and Research Scholars (STARS) program at Yale University has supported underprivileged and underrepresented students by facilitating mentorship, networking, research opportunities, and professional development. On a larger scale, the American Astronomical Society and its parent organization the American Institute of Physics have developed resources and outreach to improve the status of minorities in astronomy, and other professional societies are tackling the issue as well. Even more broadly, federal agencies have had long-standing initiatives to increase the diversity of the research pipeline, funding undergraduate lab experiences and educational programs for women and minorities. Confronted with the funding gap for minority researchers, the NIH has begun to look critically at the grant review process, and has acknowledged the importance of recognizing where implicit bias may be harming certain applicants.
But such efforts are proving insufficient in shifting the trend lines. As last fall's protests at Yale and this spring's faculty letter demonstrate, there is a demand to further interrogate entrenched inequality in and around academia. We echo that demand for accountability. The university's failure to rename Calhoun College is a clear statement that inclusion is not yet prioritized by the upper levels of campus administration.
At an even higher institutional level, we feel that funding agencies should take a hard stance against scientists who are found guilty of creating a hostile environment for their colleagues. A scientific career is challenging enough without the added barriers of prejudice, harassment, or indifference. Mentorship is built on trust, and scientists already place a great deal of trust in one another to produce honest and reliable data. Funding agencies should make it clear that holistic and inclusive mentorship should be equally valued.
Most important, however, is to remember what individuals can do to solve this problem. We feel strongly that anyone who wishes to become a scientist should have that opportunity. We support the efforts currently underway at Yale and elsewhere, but the wheels of these institutions turn slowly. Change must begin today, and it starts with us. We need to remember that everyone carries their identity into the lab, classroom, and field; for some, this is a heavy burden. We must acknowledge the inequality that surrounds us, and how our own unconscious bias contributes to it. We must then confront our own subjectivity and engage in conversations about diversity, rather than ignoring it or intellectualizing it.
Edward Courchaine and Sarah Smaga are graduate students in molecular biophysics and biochemistry at Yale University. They are members of the Yale Science Diplomats, an organization of graduate students and postdocs working to improve science communication and advocacy. The Science Diplomats, particularly Kenneth Buck, Richard Crouse, Bryan Leland, Amanda Pellowe, and Savannah Thais, researched and contributed to this article in collaboration with Women in Science at Yale, the Yale Graduate Chapter of oSTEM, and the Yale League of Black Scientists.
Interested in reading more?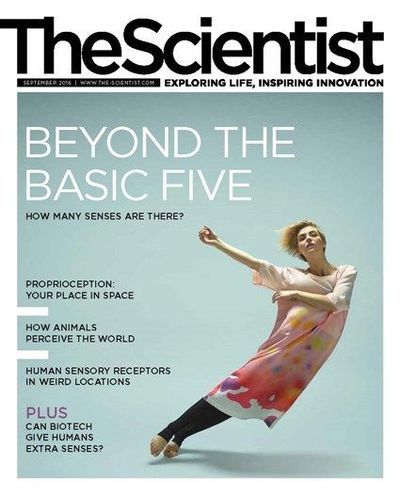 Become a Member of
Receive full access to digital editions of The Scientist, as well as TS Digest, feature stories, more than 35 years of archives, and much more!